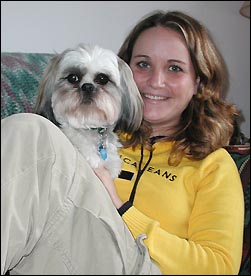 The war against terrorism isn't always glamorous. Just ask Tina Morri, whose job in protecting America against future terrorist attacks involves half-day shifts, tedious patrols, and long days away from home.

Morri, who is engaged to Paynesville native Lance Louis and has lived here for the past 18 months, is a member of the Air National Guard. Since Monday, Sept. 24, nearly two weeks after the attacks of Sept. 11, she has been on active duty, patrolling an air base in Duluth.

Morri joined the Air National Guard while in college at the University of Minnesota-Duluth in April 1998. She took a year off from college to complete basic training and technical training. She was trained in security forces, more commonly known as military police.

Just like the security for commercial airlines, security at the air base has tightened considerably since the fateful day in September when the World Trade Center and the Pentagon were attacked by hijacked commercial airliners. Personnel at the base and security measures are several times greater, according to Morri. "Just way more security than we've ever seen at the little Duluth base," she explained.

"It's a 100 percent different operation than it was," she added. They now have more fully armed soldiers at the entry gate, more patrols, more stations, and tighter operating procedures.

Typically, her unit runs 12-hour shifts, from 6 a.m. to 6 p.m. "It's a long day," she said. By the time she's done, she's just glad to have a shower and a good night's sleep at a hotel. "My home away from home is the Holiday Inn," said Morri who receives a salary and separate per diems for food and lodging.

Her unit has vehicle patrols, guards checking entries and departures at the main gate, and stations throughout the base. They have built shacks to provide some protection from the elements, but being in a vehicle is still Morri's preference.

She's thankful for the mild winter so far, which has been very nice for someone who spends 12 hours outside with minimal physical activity.

"It's really boring," she said. "It's not what most people think." She does a lot of reading and listens to a portable radio while on patrol in full combat gear.

Morri has heard rumors that a small, rural base, like Duluth, could be targeted by a future terrorist attack, but her unit hasn't seen anything happen since Sept. 11. "Nothing is happening," she explained. "Not that we want anything to happen."

"The only difference (at the base) is the planes are going up daily," she added. Since Sept. 11, the military has flown more than 13,000 fighter patrols over the United States, according to the Associated Press. But the Pentagon announced last week that the around-the-clock patrols may be cut back because of the strain on personnel and planes.

Another rumor in her unit is that security will never go back to what it was. To do that, members like Morri might be there for quite some time. Normally, her commitment to the Air National Guard is one weekend a month and two weeks per year. But once she is called up, she's at the mercy of the military.

Originally, they were told they would be active for 30 to 90 days. As of now, her unit has been told they will be on active status until Sept. 30, but that could change. "We have our orders for a year but it could go either way, shorter or longer," she explained.

"If I bet on less time," she added, "I'll just be disappointed. It's getting to be long, but it's going to be longer."

Her main concern is a certain weekend in August, when she and Lance are scheduled to be married in the Twin Cities. Morri, who grew up in Vadnais Heights, has been busy doing last-minute wedding preparations early to make sure everything is set beforehand. Then she'll only need the actual weekend for the wedding. "I'm assured by everyone that I'll get off for the weekend I need," she said. "I'm just trying to be positive," she continued. "Hopefully it'll all work out. I don't think the honeymoon will happen. That will have to wait."

After she was called up, she worked for several weeks on a four days on and two days off schedule. Members of her unit now work four days and then have four days off, which would be enough for the wedding weekend. Members of her unit may soon be allowed to take vacations, which would be even better.

Morri plans to use her active status as a benefit in a couple ways. While home in Paynesville, it has given her chances to work on her and Lance's house, and it will allow her to pick up some more credits toward her college degree, which she did not finish at UMD.

Because she's on active status, the military pays a larger share towards college, and Morri plans to use this by taking some independent studies through St. Cloud State University. She has time to study at work.

Despite her active status, Morri said she has few insights into the outcome of the war on terrorism. Security personnel in Duluth know less than the general public gets from television, she said. "I do the same thing everyday. They're not going to tell me anything. I'm pretty low on their list."

One thing that does seem clear to her is that her unit will lose some members once their active status is done. Morri is one of four young women in her unit. None of the women have kids, but many of the men in her unit have families. "I'm there, I'm mad, I'm far away, and I don't have kids," she said. "I can't imagine that. It'd be hard."

In her unit, no one can quit the guards at present, even if their time is up. Security personnel who were already out were called back into the Air National Guard. But a lot of people are talking about not re-upping when their enlistment ends, she said. "From some people – the ones who were so 'gung ho' – I never thought I'd hear that," she explained.

Tina always told herself that she would stay in the Air National Guard as long as she lived in Duluth. When she moved to Paynesville, she was leaning against re-upping in April 2004, when her initial enlistment ends. Now she's sure. "Now I can definitely, 100 percent for sure say that (I won't reenlist)," she said.

At least Duluth is only a three and a half hour drive, though. Twenty members of the Air National Guard clinic staff were assigned to Florida for a year.
---
Contact the author at paypress@lkdllink.net • Return to News Menu
Home | Marketplace | Community
---