Local officials, businessmen, and residents, as well as representatives from Willmar and MnDOT engineers, met with Congressman Mark Kennedy and a representative from Congressman Collin Peterson's office last week in Paynesville to discuss getting federal funding for Highway 23.

Kennedy, who used to represent Paynesville and Willmar but whose new district includes Paynesville and St. Cloud, said that $500,000 in seed money was included in the House appropriations bill last year that did not pass the Senate.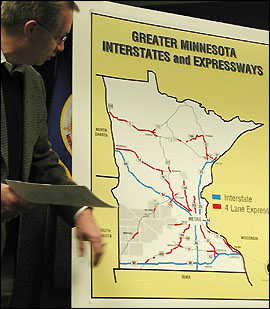 This summer, he explained, Congress will pass the six-year federal road bill. While 95 percent of the $30 to $40 billion bill will go in block grants to state highway departments like MnDOT, five percent of the bill goes to high-priority projects.
MnDOT District 3 Engineer Dave Trooien points to "hole," a lack of four-lane roads in southwestern Minnesota.
The "hole" in four-lane highways in southwestern Minnesota could help give Highway 23 such priority status. While most other areas of the state have four-lane roads, southwestern Minnesota does not, except for four-lane bypasses on Highway 23 around Willmar and Marshall.
Willmar had previously lobbied to make Highway 12 a four-lane road, but when that failed turned their attention to Highway 23.
Right now, MnDOT is making Highway 23 into a four-lane road from I-94 to Richmond. Work is mostly done between Rockville and Cold Spring, with the remainder to be completed in the next two years. (This project, in Stearns County, is in MnDOT's District 3, based in Brainerd and covering the central part of the state.)
MnDOT's District 8, based in Willmar and covering the southwestern part of the state, also is planning to turn Highway 23 into a four-lane road from Willmar to New London, with bids soon to be let and actual construction to begin.
Currently, the future route of Highway 23 is being studied in Paynesville in an Environmental Impact Statement (EIS), conducted by an engineering firm hired by MnDOT. Since the boundary between Districts 3 and 8 is the Stearns-Kandiyohi line, Paynesville is really in District 3, but the Highway 23 project is much less important to District 3 than it is to District 8, which is actually conducting the EIS.
With the population growth and other traffic in District 3, Highway 23 is not a high-volume road for that district, while it is for District 8. "Brainerd is booming. St. Cloud is booming. West Central Minnesota isn't on that same level, but we could be with the right transportation," said a representative from the Willmar Chamber of Commerce. "Quite honestly, if there's going to be economic development (in southwestern Minnesota) you need good roads," said Kennedy.
"Willmar has done a great job in highlighting to me the importance of this project," he added.
The specific route of Highway 23 through Paynesville does not matter to him, said Kennedy, who called it a local decision. What does matter is that a route is chosen and agreed upon, he said, so the project is sure to be completed if funding becomes available.
"Is Paynesville united in this process?" asked Kennedy. "Is this something that we want to put our tails on the line for in Washington, D.C.?"
Applications for high-priority projects are due in February. So far, over a dozen are expected statewide. Successful projects will have community support and will be sure to happen, said Kennedy.
Jeff Bertram, president of the Paynesville Area Chamber of Commerce, stressed the need for the community to come to a consensus. "They're going to spend the money in a community that's got their act together," he said.
Making Highway 12 into a four-lane road, he noted, never happened because Long Lake never reached a decision. "Highway 12 is a classic example of how not to do it," said Bertram. "And I think Rockville, Cold Spring, and Richmond are examples of how to do it. They did get their act together."
Kennedy agreed that the Highway 12 project stalled when Long Lake never reached a conclusion, resulting in a "pinch point" in the highway. "For better or worse," he said, "Willmar was affected by what was decided in Long Lake." In addition to reaching a conclusion on the route through Paynesville, the officials indicated the need for St. Cloud and Willmar for District 3 and District 8 to work together to give Highway 23 priority. City of Paynesville Mayor Jeff Thompson suggested stressing the value of a four-lane Highway 23 to South Dakota and Iowa as a way to get to the Twin Cities, Duluth, and northern Minnesota. An improved Highway 23, he thought, could even lesson the traffic on roads in the metro area, since some people now travel through the metro area due to the lack of a four-lane road in southwestern Minnesota.
When asked what kind of priority Highway 23 could expect amidst the other high-priority projects in the state, Kennedy noted again that a half million dollars was appropriated for it by the House last year.
Depending on how large the federal highway bill is this time - Kennedy expected between $30 and $40 billion - five percent of that (split over 435 Congressional districts) could amount to roughly $5 million for each district, though some get more and others get less. Federal funding for Highway 23 is not likely to be enough even to pay for improvements in Paynesville, let alone to make Highway 23 into a four-lane road from St. Cloud to Willmar and beyond. But any seed money would help make the project a higher priority to MnDOT. District 8 got $13 million in federal funding to purchase right-of-way in Spicer, which helped that project get started, said Dave Trooien, MnDOT District 8 Engineer. "It helps," he said of federal funds. "It really does. Whatever we can get."
Representatives from Willmar told Congressman Kennedy that a group from their city was planning to visit Washington, D.C., in March to lobby for high-priority status for Highway 23.
(Editor's Note: More should be known about the potential routes of Highway 23 later this month, when the local advisory and technical committees meet with the engineers performing the EIS.)
---
Contact the author at editor@paynesvillepress.com • Return to News Menu
Home | Marketplace | Community
---