Three Paynesville Area High School choral students recently attended the 53rd Annual Dorian Vocal Festival at Luther College in Decorah, Iowa. Senior Susie Swyter and juniors Sami Tierney and Adam Ingalsbe attended the invitation-only festival on Sunday, Jan. 12, and Monday, Jan. 13.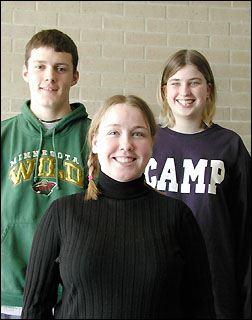 Conducting the 1,400-voice choir for the festival were Weston Noble, Tim Peter, and Sandra Peter, nationally-recognized choral conductors from Luther College.
Junior Adam Ingalsbe, junior Sami Tierney (front), and senior Susie Swyter recently attended the Dorian Festival at Luther College in Decorah, Iowa.
All participants were nominated by their high school choir directors. Only juniors and seniors are eligible to attend. Nominated students' awards and contest ratings were submitted, as well as ratings on each student for tone, intonation, blend, music reading ability, rhythm, expression, and phrasing.
Of all the nominated students, 1,400 are chosen to perform. This year the students came from 360 high schools, including schools in Iowa, Minnesota, Wisconsin, North Dakota, South Dakota, Illinois, and Nebraska.
The Dorian Festival is the largest of its kind in the United States. The festival began on Sunday afternoon with rehearsals for the full choir and for the women alone. After a break for supper, the students gathered for a concert by the Luther freshman choirs.
Rehearsals continued on Monday with full massed choir rehearsals, the women alone, and the men alone. Ingalsbe and Tierney said the two-day festival was packed with rehearsals and singing. "We rehearsed and ate and slept and then we rehearsed again," said Ingalsbe.
"We would eat and then sing and then eat and sing," added Tierney. "Then we sing and sleep and sing again."
The festival concluded with a concert on Monday night. This concert included the Luther College Choir, under the direction of Noble, five soloists, and the festival choir performing three mixed choir songs, one women's song, and one men's song.
"Luther College has very talented conductors, and it was a privilege to sing there," said Swyter. "It was great to be part of the whole Dorian experience."
---
Contact the author at editor@paynesvillepress.com • Return to News Menu
Home | Marketplace | Community
---