The art of taxidermy is being taught this year
This article submitted by Linda Stelling on 1/20/98.
The taxidermy class isnít offered every year, but students like the challenge to see if they can stuff an animal.

This quarter, the class was again offered at the Paynesville Area High School. The class is taught by Gary Haglund and it has been three years since the course was offered.

Senior Melissa Rafferty has been doing taxidermy since eighth grade. She enjoys working with her hands and seeing what she can do with animals. She has completed eight animals this quarter.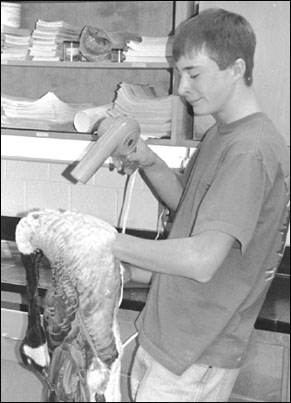 Prior to the start of the quarter, the students in the class needed to obtain a minimum of four animals they wanted to mount in class. The specimens (birds, mink or fish) needed to be placed in the freezer at school by the end of October so Haglund knew what animals the students had available. ďI have extras in case the kids donít have enough specimens,Ē he added.
Haglund started teaching taxidermy in 1985. This year he has 18 students. ďThe students need to complete four projects in order to pass the class,Ē he said. The students like the idea of not having tests during the quarter.
The first project for many of the students is a pigeon, on which they can practice before trying a larger game bird. ďThe vast majority of the students do birds,Ē Haglund said.
To clean the plaster of paris from the feathered skin, the students use a blow dryer using a cool setting. The feathered skin is then rubbed gently with borax on the inside. The borax will help dry out the feathered skin later. See photo on right.
It usually takes two weeks for the mounted animal to dry into the desired position. The time period depends on the size of the mounted animal and how thick the skin is. Once the projects are completed and graded, the students can take them home to be displayed in their favorite room.
ďThis is the last year taxidermy will probably be offered, due to the implementation of the graduation standards, unless we can find a standard that fits the class,Ē Haglund added.

---