(Teacher's Note: For the past 28 winters, sixth graders from the Paynesville Area School District have donned winter clothes and boarded a school bus for a trip to the Long Lake Conservation Camp near Palisade, Minn.
The trip is a two-day, two-night visit to a camp dedicated to teaching and conserving our environment. It has become an exciting tradition for sixth graders.
Through student and group fundraising, and most-appreciated donations, the cost of the experience has been kept attainable for every sixth grade student.
This year's chaperones were: teacher Bob Bowden, Leenay Doll, Dale Hess, Dina Hengel, Janelle Hoffman, Geralyn Lieser, Casey Meagher, Jeff Ruprecht, Sandy Spanier, and teacher Connie Wimmer. Meagher enjoyed the trip as a sixth grader, and this year went along as a chaperone.
The following summary of this year's winter camp experience are excerpts from various student journals. Journaling is a required part of the winter camp experience.)
Wednesday, Jan. 7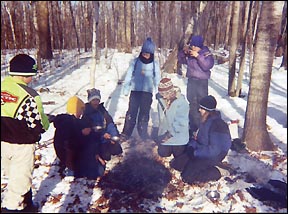 I was up at 6:45 a.m. because I was so excited for winter camp. I checked my bag two times! I got to school, brought my bag to the trailer hooked to the school bus. We were off to winter camp!
The wilderness meal was one of the lessons in survival and conservation that the students faced during Winter Camp. The students' goal was to cook their lunch with only one match.
We rode the bus for about two hours. We played cards. We finally stopped at Hardees in Brainerd for lunch and bathroom. We got back on the bus and about one hour later we arrived at LLCC, that stands for Long Lake Conservation Camp.
We went to our dorms to settle in. The rooms were super! I never thought it would be this homey! Overall this place is better than home! Everyone here loves it!
Thursday, Jan. 8
I woke up early to set our table in the dining hall. They call it KP duty. I think that means "kitchen patrol." Each of us gets a turn. The food is awesome. It is gooooood food!
We played a game called "Deer Browse." There are three people in a group╔the head of the deer, its stomach, and its butt. You have to collect chewy twigs to survive. The grownups are wolves and if they tag you while you are out browsing for food you are OUT╔you did not survive!
In a class called "Snakes Alive" we talked about Minnesota's native snakes. They had a garter snake, a gopher snake, and a poisonous snake. I think the instructor called the poisonous one a hognose snake. We had to be very quiet as the man handled the snakes and got them ready to show us. My friend and I got really freaked out by them.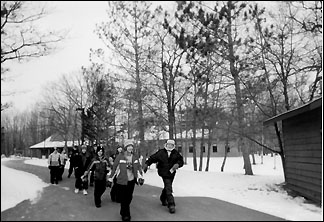 At lunch today, we had our wilderness meal. That's where you go out to the middle of the woods and cook a meal with one match. The menu was hot dogs with buns, marshmallows, cheese, apples, cookies, and hot chocolate. My table's flame was VERY small. Our group succeeded and we had lunch! We also called ourselves the chimneys.
Sixth graders from Paynesville Area Middle School made their annual trip to Long Lake Conservation Camp during the first week of January. This is the 28th year that Paynesville students have made the trip.
Today we played a game called "Thicket." That's when you hide in the woods and somebody (the predator) comes looking for you and has to spot you. If he does, you didn't survive and become part of his meal.
We did orienteering today. We learned how to use a compass. It was really practice for tomorrow's orienteering race. Tomorrow, we go out in the woods and try to find our way back. I'm looking forward to that╔I can hardly wait!
Today we got to do what we've been waiting for╔we played "Alpha Wolf." We had to go out into the woods at night. I was a little scared, but we stayed together with our group of about ten kids and an adult. We would howl and listen to see if we could locate the alpha wolf that is the lead wolf of the wolf pack. We hear it call back to us about seven times until we were walking and listening and all of a sudden╔ Friday, Jan. 9
Last night I heard a pack of wolves. This morning I heard one too. I wish I could stay here forever! I really like it! I really like it! It's going to be so sad to leave╔
---
Contact the author at editor@paynesvillepress.com • Return to News Menu
Home | Marketplace | Community
---