PAHS's one-act play is back.

A year after taking second at subsections and advancing to sections in their first year of competition - before last year PAHS had not staged a one-act play for competition since the early 1980s - teenage thespians are preparing "The Trial of Joan Called the Maid" for subsection competition, which PAHS will host at the school auditorium on Saturday, Jan. 31.

The cast of 12 students (the production also includes a crew of two students) auditioned for parts in the play in November and started practice in December. So far, they have practiced a couple times per week, but with their public preview and with the competition nearing they plan to practice every day for the rest of January.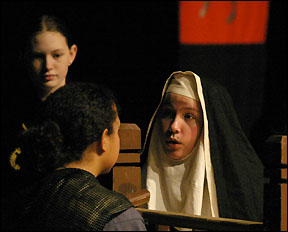 Director Joan Nevitt chose the play about Joan of Arc, a 15th Century peasant girl who claimed to hear voices from heaven and led French troops to victory during the Hundred Years War with England. Captured in 1430, she was tried and condemned for heresy by the English and burned at the stake. The play is based on actual trial transcripts.
Nun (Sami Tierney) questions Joan of Arc (Courtney Colbert) as inquisitor Caitlin Lien listen during "The Trial of Joan Called the Maid," which is based on actual transcripts.
This year - with the one-act play being a school-sponsored activity, whereas last year it was done on a volunter basis - Nevitt had a budget to arrange to use this play for competition. She also has rented costumes from the Guthrie Theater for their performance.
Ultimately, though, at subsections casts are judged on their acting skills and their effectiveness in impressing the audience with the play's tone and message, said Nevitt. Half of this year's cast participated in the one-act play last year, and half is new to one-act play competition, though not to theatrical productions. Senior Jenn Terres is participating again, she said, "because we kicked butt last year."
Since there are not many opportunities for drama at PAHS, senior Sami Tierney said she wants to enjoy every one she can.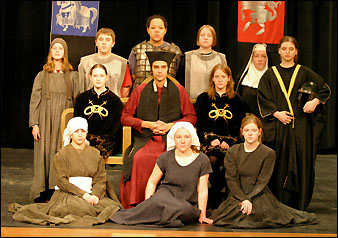 Among the new cast members sophomore Caitlin Lien agreed, saying that drama is one of her passions in life and that she wants to take every shot she can.
Sophomore Katie Schlick was drawn to the one-act play by the success of last year's team. Sophomore Lindsey Pelton did a speech in English class about the one-act play, and Schlick said it sounded like fun.
Cast members of the one-act play at PAHS are: (on floor) Stacy Lahr, Katie Schlick, and Lindsey Pelton; (sitting) Caitlin Lien, Peter Schreifels, and Maureen Flanders; (standing) Emily Mehr, Troy Gerding, Courtney Colbert, Lauren Vaske, Sami Tierney, and Jenn Terres.
PAHS's cast will stage a free public preview of the half-hour play on Thursday, Jan. 29, at 7:30 p.m. in the auditorium at PAHS.
They will host subsections - with ACGC, Annandale, Eden Valley-Watkins, Howard Lake-Waverly, Kimball, Maple Lake, New London-Spicer, and Paynesville - in the auditorium on Saturday, Jan. 31, starting at 8:30 a.m. (Paynesville is scheduled to perform last. Their start time will depend on how long each of the other plays lasts. They could hit the stage around 3 or 4 p.m.)
An awards ceremony will follow the competition. Admission for the day is $5.
---
Contact the author at editor@paynesvillepress.com • Return to News Menu
Home | Marketplace | Community
---