Four local citizens were honored with awards by the Paynesville Area Chamber of Commerce at its annual banquet on Tuesday, Jan. 11.

Following a host of nominations, the chamber honored Joe Spaulding as the Boss of the Year, Sandy Wall as the Employee of the Year, Jay Thompson with the Community Service Award, and Bobby O'Fallon as the Outstanding Young Person.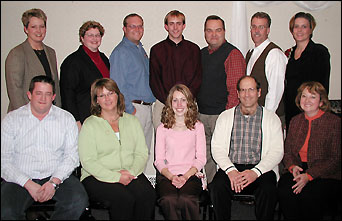 Boss of the Year
Joe Spaulding, a 1959 PHS graduate, has worked for Farmers and Merchants State Bank for 37 years, since 1967. He will begin his 38th year at the bank in March.
The board of directors for the Paynesville Chamber of Commerce in 2005 includes: (front) Doug Miller, Doris Wendlandt, youth representative Breana Kochman, Wayne Walther, and Rita Brossard; (back) vice president Steph Malingen, Sheryl Fuchs, Lance Louis, Jeb Johnson, outgoing past president Jeff Bertram, president Dave Currens, and past president Ann Johnson.
Spaulding was nominated by all the bank employees, who wrote "we would like to nominate our boss for Boss of the Year because he is the best boss that anyone could ask for. The fact that we have employees who have worked here 40 years, and until a couple years ago, our youngest employee had 20 years in, speaks of our commitment to a wonderful boss."
Spaulding, the chief executive officer and executive vice president for the bank, said he was surprised to receive the award, especially since he had told the employees not to nominate him. He has stayed at the bank for so long, he explained, because he likes the work, likes his co-workers, and likes the people of the town.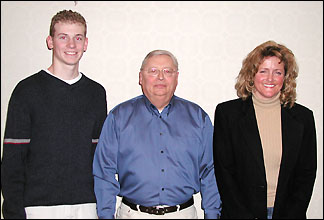 Award winners at the annual banquet for the Paynesville Area Chamber of Commerce were: Bobby O'Fallon (Outstanding Young Person); Joe Spauling (Boss of the Year); and Sandy Wall (Employee of the Year).

Paynesville, he said, "is a great place to live." He and his wife, Joyce, raised four children in Paynesville. Spaulding was the first president of the local Jaycee chapter and is a past president of the Chamber. He serves on the site council for Senior Dining, on the Meals Delivery Fund committee, and on the board of directors for the Paynesville Area Charity Fund. He is also belongs to the Knights of Columbus and sings in the church choir at St. Louis Catholic Church. He is a former cub master, scout master, and Little League coach.

In his spare time, Spaulding likes to hunt and fish and play a little golf.

Boss of the Year
2005 Joe Spaulding
2004 Don Frank
2003 Bev Mueller
2002 Wayne Walther
2001 Butch Mueller
2000 Joe Voss
1999 Bert Stanley
1998 Wally Thyen
1997 Willie LaCroix
1996 Bob Jorgenson


Employee of the Year


Sandy Wall has worked for Louis Industries in Paynesville for 11 years, starting in 1994.

According to her nomination - by her boss, Leo Louis - she was hired BC (before computer) and has learned and grown with the company. Since 1994, Louis Industries has increased the volume of its business by five, moved to a new 43,000 sq. ft. plant in the Industrial Park, and added all kinds of computers.

Where the company did not have any computers at all when Wall was hired (and she did the accounting in ledger books), it now has two dozen personal computers, a half dozen pieces of computer-controlled equipment (including four lasers), and two servers.

Wall said she wears a lot of hats at Louis Industries, serving as office manager (handling the accounting), as safety director (including complying with OSHA rules, completing paperwork, and handling employee training), and as human resources director (handling hiring and firing, employee policies, and payroll).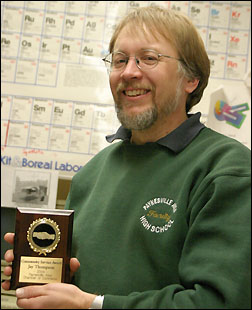 Wall, originally from Alexandria, has lived in the Paynesville area for 15 years. She worked for the city of Paynesville for three years before starting work at Louis Industries. She said she was very surprised to be honored as Employee of the Year and very grateful to be nominated.
Jay Thompson, who has organized the local race since 1996, was honored with the Community Service Award.
In her spare time, she likes to run, ride horse, and read.
Employee of the Year
2005 Sandy Wall
2004 Gayla Orbeck
2003 Tess Thielen
2002 Dave Spanier
2001 Linda Mayer
2000 Roger Heinen
1999 Ron Mergen
1998 Al Roemeling
1997 Donna Coulter
1996 Audrey Olmscheid
Community Service Award
Jay Thompson was honored with the Community Service Award, recognizing his civic, religious, and education efforts and particularly his organizing the Town and Country Days Road Race for the past nine years, since 1996.
Thompson was nominated by Robert Erickson of Avon, who has participated in events with Thompson for the past five years and calls him "a good ambassador for the city of Paynesville."
Thompson, originally from Benson, has taught at Paynesville Area High School for 12 years. Prior to that, he taught in New York state for seven years. A cross country and track runner in high school and college, he was an avid runner for 20 years before deciding to give back by organizing a road race for Town and Country Days.
Once he started to organize the road race, he immediately became more grateful to all race organizers. "Now I realize how much they do," he said. He thanked all the volunteers and participants who have helped with the road race, especially PAHS senior Chris Utsch, who helped run the road race in 2004.
In 2005, Thompson is looking at having a triathalon instead of a road race. Competitors would canoe or kayak from Rice Lake down the Crow River to the five-mile bridge on Lake Koronis and then bike around the lake (about 10 miles), ending at Veteran's Memorial Park, and then run up Old Lake Road and back to the park (about three miles).
While all the details have not been set, there likely will be experienced and novice classes and opportunities for teams. A short walk may also be included in the event, which will be held on Saturday, June 18.
In addition to organizing the road race, Thompson heads the Chess Club at PAHS, organizes chess tournaments (both in Paynesville and other communities), was active with the pool committee, serves on the Wellhead Protection Committee, on the board of directors for the Paynesville Area Charity Fund, and on the committee for the Kruger Lake Nature Preserve, and is active with the Koronis Lake Association. He also teaches Sunday School at Grace United Methodist Church.
In his free time, Thompson likes to sail, bike, windsurf, and read.
Community Service Award
2005 Jay Thompson
2004 Mark Leverington
2003 Joyce Spaulding
2002 Dwight Peteler
2001 Brenda Stang
2000 Rick Paul
1999 Otto Naujokas
1998 Tom Koshiol
1997 Dean Hanson
1996 Paul Pratt
Outstanding Young Person
Bobby O'Fallon, a 2004 PAHS graduate who is a freshman at the College of St. Scholastica in Duluth, was chosen as the Outstanding Young Person.
O'Fallon was nominated by his co-worker at the Lake Koronis Assembly Grounds, Marcus Nettz, who said that O'Fallon stands out from the crowd and is dependable, talented, and happy.
Over the past two summers, said Nettz, "I have found him to be skilled and knowledgeable. When you give him a work assignment, he completed it in a timely fashion and did a very thorough job."
O'Fallon graduated with cum laude honors last spring from PAHS. He was selected to be a member of the National Honor Society and participated in band, marching band, baseball, and football. He was also a D.A.R.E. role model and a peer tutor. He was a member of the American Legion baseball team that won a state title and a sportsmanship award in 2003.
O'Fallon also earned the rank of Eagle Scout in Boy Scouts, the highest award in scouting, and is active at St. Louis Catholic Church.
He just started his second semester at St. Scholastica in Duluth, where he is undecided on a major.
Outstanding Young Person
2005 Bobby O'Fallon
2004 Not Given
2003 Morgan Martinson
2002 Melissa Bachman
2001 Becca Gardner
2000 Ryan Lang
1999 James Gilk

1998 Erin Pelton
1997 Josh Mueller
1996 Mike Jacobson
Farmer of the Year
2003 Ray and Rita Nietfeld
Steve and Claudette Nietfeld
2002 Duane and Irene Burg
2001 Clarence and Viola Bertram
2000 Ralph, Ken, Julie, and Jason Schefers
1999 Not Given
1998 Bob and Roger Hemmesch
1997 Roman and Keith Schaefer
1996 Art Voss
Business of the Year
(Award includes farms and businesses.) 2005 Not Given
2004 Not Given

---
Contact the author at editor@paynesvillepress.com • Return to News Menu
Home | Marketplace | Community
---