Desperate for ratings, the game show "The Cards of Fate" offers fabulous prizes for correct answers Šand grim fates for wrong ones.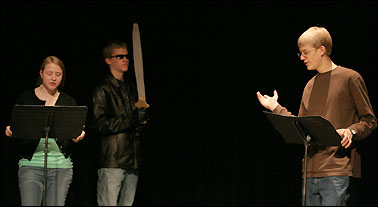 "Fate is kind, and the prize is yours when you get the question right. But, get the question wrong, and fate will deal a crushing blow to some poor, blameless soul - live on camera! It's all fun and games until someone gets hurt, or ratings slip too low," said director Joan Nevitt of the PAHS one-act play for 2006.
Lauren Vaske, Brad Hemmesch, and Peder Thompson rehearse a scene from "The Cards of Fate," about a macabre game show with real-life impacts.
Sixteen PAHS students are taking part in the cast and crew for the one-act play this year. They will present their play two times next week in the school auditorium: first at a three-team festival on Tuesday, Jan. 24, and then at subsections on Saturday, Jan. 28. On Tuesday, Jan. 24, NL-S, EV-W, and Paynesville will present their one-act plays in a freewill-offering festival starting at 6:30 p.m. Then, on Saturday, Jan. 28, Paynesville will host the subsection competiton starting at 10 a.m.
This is the fourth year for a revived one-act play at PAHS. In 2003, PAHS placed second at subsections and advanced to sections. In 2004, PAHS hosted subsections and tied for fourth. Last year, subsections was held at Sauk Centre, and Paynesville did not place in the top two to advance to sections.
PAHS students and Nevitt picked "The Cards of Fate" as their one-act play last fall. After three years of dramas, it was time to try a comedy, said Nevitt, but they chose a dark comedy, not slapstick.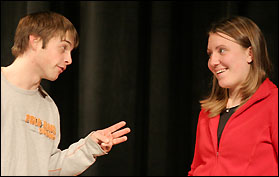 The play has a comtemporary setting: a game show desperate for ratings. Nick the Contestant (junior Peder Thompson) finds its harder to know the right answers to the trivia questions on camera than at home, especially with the fates of innocent people turning if he answers incorrectly.
Dugan Flanders and Katie Schlick practice a scene from "The Cards of Fate".
Other cast members said that they had been told in past one-act play competitions that they should try a comedy. "The Cards of Fate" is funny, said ninth grader Karla Leitzman, who plays Cinnamon the Announcer. The humor, though, is really dry, added senior Katie Schlick, who plays a principal in one of the fate scenes.
"We have a cast that can pull off humor, especially dark humor," said senior Lauren Vaske, who plays a student whose SAT scores (and college choice and future life) are influenced by "The Cards of Fate."
Thompson added that he liked the suspenseful, cliffhanger ending of "The Cards of Fate."
The cast and crew began practices for "The Cards of Fate" in December with readings in the library. They started rehearsals in the auditorium in January.
Performances
Tuesday, Jan. 24
On Tuesday, Jan. 24, PAHS will host a one-act play festival at 6:30 p.m. in the high school auditorium. Sixteen PAHS students will perform "The Cards of Fate" by Ed Monk, a dark comedy about a game show where correct answers influence fate positively and wrong answers lead to tragedies.
The one-act plays from Eden Valley-Watkins and New London-Spicer will also perform at this festival. NL-S will go first with their play, "The Jar," a drama set in Sicily, followed by EV-W with their comedy, "Making Nice," about an ill-fated play rehearsal, and finally by PAHS with "The Cards of Fate." Each play lasts approximately a half hour.
Admission is free, but a freewill donation for area foodshelves will be taken.
Saturday, Jan. 28
On Saturday, Jan. 28, PAHS will host the subsection one-act play contest in the school auditorium, starting at 10 a.m.
Cast of Characters
The Cards of Fate
Buffy the Host: Caitlin Lien
Nick the Contestant: Peder Thompson
Cinnamon the Announcer: Karla Leitzman
Bob: Dugan Flanders
Bob's Friend: Jayna Flanders
Beth: Erica Geurts
Susan: Lauren Vaske
Susan's Mother: Lindsey Pelton
Principal: Katie Schlick
Bambi: Cary Schlick
Larry: Brad Hemmesch
Punk: Ralph Daby
Alice: Jayna Flanders
Jennifer's Mother: Kristi Louis
Jennifer's Father: Shawn Reinke
Nurse: Sid Moser
Otto the Executioner: Brad Hemmesch
Booth Voice: Sid Moser
Director: Joan Nevitt
Lights and Sound: Shawn Reinke and Jeremy Schmidt
Set Design: Lindsey and Ian Pelton
---
Contact the author at editor@paynesvillepress.com • Return to News Menu
Home | Marketplace | Community
---