Last July, Katie Nelson became the first Miss Paynesville to be crowned as the Minneapolis Aquatennial Queen of the Lakes.

Then, she said, "I was off to the races." Her duties as Aquatennial Queen included 25 appearances in August alone.

Last week, though, the 2005 PAHS grad and 2004 Miss Paynesville made her first official visit in Paynesville, attending the Paynesville Area Chamber of Commerce's annual banquet on Tuesday, Jan. 10.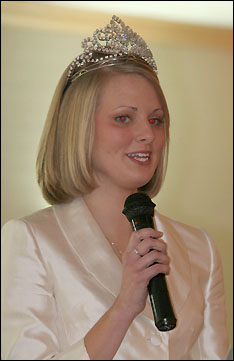 Nelson said her year is going fast and that she can't believe that her reign will be half over come the end of January. Highlights of her year so far, she said, are attending a couple of the same parades as her sister Kayla (2005 First Princess) and the other Paynesville royalty; traveling to Osaka, Japan, for a week in October with her mother Diane; attending October Fest in LaCrosse, Wis., her father David's hometown, where her grandmother and aunts could see her; going back to Clearwater, where she lived before moving to Paynesville, for its 150th anniversary celebration; and riding with comedian and Minnesota native Louie Anderson at the Holidazzle Parade in downtown Minneapolis in December, making the television news for the second time of her reign. (Louie still doesn't beat longtime Paynesville royalty driver Willie Scheel, she added.)
Aquatennial Queen of the Lakes Katie Nelson - a 2005 PAHS grad and the 2004 Miss Paynesville - made her first official appearance in Paynesville last week at the annual banquet of the Paynesville Area Chamber of Commerce. Nelson became the first Miss Paynesville to become Aquatennial Queen in July 2005.
Going to Osaka, Japan, was Katie's first trip overseas, to attend a sister festival to the Aquatennial. There were only three American representatives at the festival: Katie, a queen from Pasadena, and the marching band from Washington St. Even before Katie got off the plane, Japanese people were thinking she was a movie star (someone thought she was Nicole Kidman). "I definitely stuck out," said Katie. "I was taller than the average Japanese woman. I'm blonde, and I'm white."
While in Japan for a week, accompanied by her mother and, as always, by her commodore, Katie said she spent two-thirds of her time sightseeing and a third of it making appearances. They got to see golden pagodas, shogun castles, and a Shinto shrine, she said, though she was surprised that Osaka was so modern (because only two buildings survived the bombing during World War II, she explained). Kyoto, a former capital, though, which was saved from bombing by intersessions made by Eleanor Roosevelt, was storybook beautiful, according to Katie.
Her official appearances in Osaka included a 12-course, traditional Japanese meal and a humongous parade. At the meal, she ate sea urchin, missou soup, sushi (raw fish wrapped with rice), and sashimi (just raw fish). "I tried everything just for the whole experience," she explained.
The parade lasted three hours and had over a million people watching it. "The largest parade I'll ever be in," she said. She was told that more than a million pictures were taken of her. "I'm serious," she said. "Everyone had a camera."
On the whole, though, the trip was not as surprising as she expected. "It wasn't as much of a culture shock as a I thought," she said, though noting that Japanese teenagers seemed to be most interested in her, rather than young American girls.
She and her mother even found a Catholic church (with an English service) for Sunday worship.
Being Aquatennial Queen of the Lakes requires protocol, such as she and her commodore always arrive together. Or their speeches always start with the commodore introducing Katie, then her speaking, and then him concluding.
Her prime task, wherever they go, is to invite the queen to attend the Minneapolis Aquatennial in July. One of her goals is to know all the contestants who compete to be Aquatennial Queen of the Lakes next year, so she knows her successor, she said.
"It's so different now because everyone wants to meet me," she said. "People get nervous. I guess I got nervous around past queens."
She also hopes that Paynesville royalty continue to attend the Aquatennial (either just to see the competition or to actually compete). PAHS librarian Joan Nevitt, whose daughter was Miss Glenwood and then Aquatennial Queen of the Lakes, inspired Katie to go and compete last year, she said. And she's glad that she did, even if she hadn't won. "Leaving without anything from that experience would have been a highlight of my summer," she said.
Representing Minneapolis and Paynesville has been a great experience, she said. "I never would have imagined that I'd be standing here explaining my year as Aquatennial Queen so far. I'm very blessed."
She is the first Miss Paynesville to become Aquatennial Queen of the Lakes, though three women who grew up in Paynesville, moved away, and became queens in other towns have been Aquatennial royalty. Mary Margaret Schultz, who grew up in Paynesville before becoming Miss St. Cloud, was Aquatennial Queen of the Lakes in 1963. Jarolyn Worner grew up in Paynesville, became Kaffe Fest Queen in Willmar, and an Aquatennial princess in 1969. And Diane Vagle, who grew up in Paynesville before becoming Miss Hutchinson, became an Aquatennial princess in 1988.
Being Aquatennial Queen of the Lakes has been very busy - especially with Katie also completing her first semester at Gustavus Adolphus College in St. Peter this fall - but it is a once-in-a-lifetime experience, she said.
Her professors have been very understanding about her travel demands, she said. Luckily, most events are on weekends, she added, though she also took morning classes this year to facilitate her travel.
Gustavus has allowed Katie to use an extra closet in the basement of her dorm for her gowns and other royal clothes. One perk of being Aquatennial Queen is having a personal shopper. So far, Katie has a few gowns and a couple business suits. She will probably get more clothes in the spring, and she will get ten new outfits - one for each day - of the 2006 Aquatennial in July.
"The best part is I get to keep it all," she said.
In addition to completing the spring semester at Gustavus, Katie has a busy upcoming schedule: the Winter Carnival in St. Paul during the last weekend of January; Voyageurs Festival in Winnipeg, Manitoba, in February; the Cherry Blossom Festival in Macon, Ga., in March; and Fiesta in San Antonio, Tex., in April.
Then, in May, the summer schedule resumes, with Katie expecting to make 60 appearances before giving up her crown in July.
She plans to attend Town and Country Days in Paynesville (June 17-21) including the Miss Paynesville pageant, where her sister Kayla will relinquish her crown. And the entire Aquatennial royalty will be attending the grand parade at Town and Country Days this year.
She will reign over the 2006 Aquatennial - billed as "The 10 Best Days of Summer" (July 14-23) - before giving up her crown on Saturday, July 22. She expects to walk off that stage with bittersweet emotions, glad she can finally relax but sad that her reign is done.
She hopes to be more involved at college next year, where she is studying psychology and art, intending to become an art therapist at a children's hospital. And she will always belong to the family of past queens, who volunteer at events and hold periodic lunches.
Katie also plans to compete in the Miss Minnesota pageant eventually, maybe in another year or two. "I grew up watching (pageants) on TV," she explained. "It's always been something I've wanted to do. I just want to do (the Miss Minnesota pageant) for the experience. I want to give it a try."
So, maybe her reign won't really be over come July.
---
Contact the author at editor@paynesvillepress.com • Return to News Menu
Home | Marketplace | Community
---