Congressmen discuss dairy crisis in Freeport
This article submitted by Michael Jacobson on 1/17/01.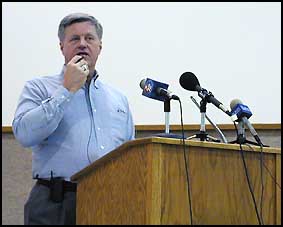 Not so long ago, getting more than $11 per a hundredweight in base milk payments was expected by farmers. A month with the base price below that level would have been the worst part of the year.

But, last year, a price of $11 would have been the high point. The high price for 2000 was $10.76 in September.

In late 1999, milk prices fell below $10 per hundredweight and to a 20-year low. And the prices stayed depressed throughout 2000.

Milk prices crept above $10 in January 2000, fell to $9.50 for the next five months, and rebounded slightly in the early fall. For four months between July and October, the basic price was above $10, then it fell below $9 in November.

The basic price of $8.57 for November was the lowest since June 1977, according to Bob Cropp, a dairy marketing specialist at the University of Wisconsin-Madison. The price edged up to $9.30 in December.

Last Tuesday, Jan. 9, Representative Colin Peterson (speaking at the meeting) and Minnesota's newest Senator Mark Dayton held a public meeting at the Freeport Community Center to discuss this farm crisis. The meeting was attended by more than 250 people from throughout Stearns County, the leading dairy county in the state.

The low prices are caused by supply and demand: more milk is being produced, demand isn't rising to meet it, and the prices, consequently, are low.

Milk production grew four percent in 2000 and consumption grew only three percent, resulting in a huge surplus, said Matt Quade, manager of the Associated Milk Producers, Inc., plant in Paynesville, in an interview after the meeting.

All the extra milk leads to extra cheese, Quade added, and cheese prices are also at record lows, below the support prices paid by the government.

"The reason the prices are at support is we have too much milk," Peterson told the audience on Tuesday. "We have more milk than we can sell."

Farmers at the meeting expressed a preference - through comments and a show of hands - for two-tiered price supports. This would limit payments to larger operations and target federal payments towards smaller producers.

LeRoy Schlangen, who keeps around 50 cows on his dairy farm near Roscoe, addressed the audience and presented a letter to both Peterson and Dayton at the meeting. Schlangen supports limitations, saying after the meeting, "we feel there should be a limitation on payments."

Peterson and Dayton expressed their support for a two-tier system. "If someone wants to get bigger in Idaho, that's their prerogative," said Dayton. "They shouldn't expect the same price supports as family farms."

"I agree...," said Peterson. "It'd be a great program, but I don't think we can pass it."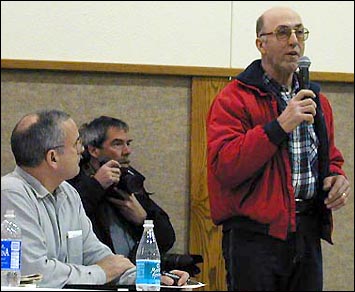 Peterson said that any plan with production limits would fail to get any Republican votes in the House and would get only half of the Democratic votes. Plus, Peterson thought that large producers would likely divide their operation in ways to qualify for payments without really reducing their production.
Direct subsidies would fare no better, Peterson thought. A subsidy of $12 he said would lead to a flood of milk from the west.
LeRoy Schlangen, a dairy farmer from Roscoe,
address an audience of more than 250 people at the Freeport
Community Center last Tuesday; listening is new Senator Mark Dayton (at far left).
Instead, Peterson offered using an assessment to limit production. He proposed a temporary assessment of 50¢ per hundredweight. Producers could get that money back in three months if their production had not increased by more than one percent.
A large producer in the western states told Peterson that such a plan would cost that producer $180,000 a year, providing a significant financial incentive to cut production.
Peterson said the assessment could be applied at times when prices were low and could reduce the milk supply enough to get the basic price back to $13. He also said the assessment had a chance to pass in Congress because it didn't use quotas. Every producer would be treated the same, which appeal to some in Congress.
Minnesota ranks fifth in the nation in milk production, but - where once production was centered in the Midwest - growth these days is in the west. California has passed Wisconsin as the leading dairy producer, and Idaho, Washington, and New Mexico ranked in the top ten in 1999.
One limit on production could be the availability and cost of feed, which small farms in the Midwest typically grow for themselves but larger dairies out west generally buy. Currently, grain prices are low, too. "Now you can buy it cheaper than you can produce it," said a Foley farmer at the meeting.
Peterson said the latest farm bill supported grain farmers more than dairy, in part due to the representation of primarily grain-producing states on the agriculture committees in Congress. "If we could get the price of corn up, in my opinion, we could limit (western state's) production," said Peterson.
One point of contention were imports, which Peterson said were limited to five percent of the domestic markets but others argued were much higher. Peterson said he opposed the trade accords that opened up the market. He said the world milk price was so low that dairy farmers need to concentrate on the domestic market.
Frustration at loss
Minnesota has lost 6,000 dairy farms in the last eight years.
"Dairy farming is not about money. It's about a way of life," said an Albany mother of five, who works full time away from the farm. "I'd rather be home with my husband if I could," she said.
Frustration was evident in the messages of other speakers.
One complaint was the constant need for greater efficiency in light of the low prices. "If we ran our farms like you ran the government, we'd be out of business," said a farmer who expressed a preference for milking 40 cows with $15 milk than 65 cows at $11.
"I understand your frustrations," said Peterson to another speaker. Peterson serves on the agriculture committee in the House and is the ranking Democrat on the dairy and livestock subcommittee in the House.
Dayton, also a Democrat, pledged to fight for farmers in the Senate. With its 50-50 split, he thought more might get done in that body. Dayton learned on Friday that he had been selected to serve on the agriculture committee in the Senate.
Senator Paul Wellstone was also scheduled to attend the Freeport meeting, but the closing of a mine in northern Minnesota brought him to Hoyt Lakes.
---