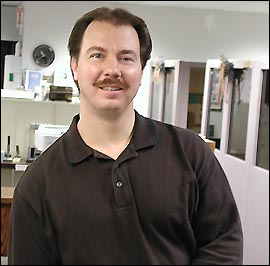 In his first week on the job, Steve Helget, the new city administrator for Paynesville, joined a number of city committee meetings to learn about city business, participated in his first council meeting, and attended his first public function, the Chamber of Commerce banquet.

"I've been trying to get settled in," said Helget, who started at city hall on Monday, Jan. 7, after moving into his new house the week before. "It's going to take some time, of course."

He knows he has a lot to learn, getting up to speed on city business and getting acquainted with city personnel, city committee members, and the general community.

His first priority will be to keep the top city projects moving, the coming street project next summer, for instance. An extension of South Street needs to be constructed to reach Highway 23 on the east side of town in preparation for the 2004 street project, and Lake Avenue (Highway 124) will be reconstructed, with the city redoing the utilities.

With two annexations in the last two years - the first in 15 years - and two new housing developments, the city of Paynesville seems on the verge of growth, after the 1990s saw it stagnate in population. Two more annexations - including another housing development - are currently in the works.

The widening of Highway 23, at least from St. Cloud to Richmond and likely from Willmar to New London, could mean more growth. Helget has seen the effects of a four-lane road coming to town in Eagle Lake, where he previously served as city administrator. When Highway 14 to Mankato was expanded to four lanes to Eagle Lake in 1998, two subdivisions, adding 60 lots to town, were created, he said.

Prior to his experience in Eagle Lake, where he worked for three years, Helget served as city administrator in Tyler for four years.

"As you can see, my door is open," he said of his management style. "I've pretty much always had that approach. I hope that people will feel free to approach me with questions and comments."

Without public response, he will only be able to speculate that the city is doing a good job, he added.

"One thing I've learned is people want a response as quickly as possible," he said, in promising to be prompt at returning calls and addressing questions from the public. "Nobody likes to follow up a call with another call."

A native of Sleepy Eye, Helget used to drive through Paynesville on his way to St. Cloud State University, where he earned his undergraduate degree in public administration. (He also has a master's degree in urban and regional studies from Minnesota State University in Mankato.)

Back when he was an undergraduate, Helget never expected to live in Paynesville, but his already favorable impression of the community has increased after less than a week on the job. "I was already impressed with the community but each day I'm here it improves," he said.

"In time, I'm hoping that this is a place where I can not only say that I work and live but call home," he added.

Helget has been impressed with the city staff and outside contractors (including the city attorney and engineer) and the greater Paynesville community: the lakes, the local school district, and the first-rate medical facilities. "All those things just add to the attraction of the community," he said.

At the Chamber banquet, he was impressed with their awards to the public. "I think that says a lot for the community," he said. "They don't just care about themselves. They care about the person down the block."

Helget is also favorably impressed by the business community as a whole, including the industrial segment in town. "It's nice to be in a community that has a downtown where almost all the buildings are full. That says a lot about the business community," he said.

"It's not only a credit to the businesses but to the community members," he added, "because they're obviously the ones who support those businesses."

Away from the office, Helget likes to golf, play tennis, fish, hunt, and work outside. Being from Sleepy Eye, an avid baseball community, he used to play ball, but now contents himself with a little softball.
---
Contact the author at paypress@lkdllink.net • Return to News Menu
Home | Marketplace | Community
---