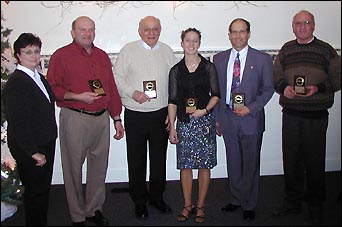 The Paynesville Area Chamber of Commerce held its annual banquet on Tuesday, Jan. 8, and announced its community award winners.

The Chamber hands out five awards: (shown left to right) Farmers of the Year (Duane and Irene Burg), Community Service (Dwight Peteler), Outstanding Young Person (Melissa Bachman), Boss of the Year (Wayne Walther), and Employee of the Year (Dave Spanier).

The Chamber also elects officers and board members for the coming year. The board for 2002 will be: president Chris Stanley, secretary Kay Spooner, Sue Brauchler, vice president Jeff Bertram, Todd Burlingame, Paul Evans, Hannah Felling, Ann Johnson, Lance Louis, John Peyerl, Matt Quade, Bill Spooner, and Wayne Walther.

Entertainment at the banquet was provided by comedian Jeff Gerbino.

Boss of the Year
Boss of the Year Wayne Walther has been the executive director at the Lake Koronis Assembly Grounds since 1999. Walther, an ordained minister, served Methodist parishes around the state for 27 years before taking the reins at the Methodist church camp on the shores of Lake Koronis.

"Wayne will help when and wherever he is needed and does so with a fantastic attitude and love," wrote one nomination for Walther.

"He is one of the most exceptional and dedicated human beings I have ever known," the nomination added.

Walther, who grew up in St. Paul and attended college in Illinois and seminary in Boston, is married and has three children and two grandchildren.

Community Service
Dwight Peteler has lived in the Paynesville area for more than 30 years. At church, he is involved with teaching confirmation, serving as hall monitor for religion classes, singing in the church choir, and belonging to the Knights of Columbus.

He also delivers "meals on wheels" and is a member of the area center board of directors.

Peteler owned the Culligan franchise in Paynesville for 33 years before retiring to the shores of Lake Koronis with his wife, Grace, where their children, grandchildren, and great-grandchildren like to visit. In all, he worked for Culligan for nearly 50 years.

Employee of the Year
Dave Spanier has worked at the Paynesville Farmers Union Co-Op since Aug. 1, 1965, a tenure of 35 years. While holding many titles over that time, including a stint as the interim general manager, he has spent the majority of his time overseeing operations in the bulk fuel and gas department.

"Dave is known for his dedication to his job and to his customers - for his willingness to go to great lengths to meet his customers' needs. He has performed countless after-hours fuel runs to help desperate customers, many late into the night. He has continually exhibited a supreme level of dedication to serving the co-op and its customers," read Dave's nomination.

"Dave has always had a great deal of energy," the nomination continued. "He has more internal horsepower than a bulk truck - he's outlasted several of them. He's on his seventh truck at present."

Dave and his wife, Geri, have four sons and five grandchildren.

Farmers of the Year
Duane and Irene Burg farm 400 acres and keep 400 head of Holsteins on their farm, which is a mile south of St. Martin. They farm with their son, Dan, and his wife, Lynn.

Duane grew up north of St. Martin and bought their present farm with Irene in 1969. Since 1972, when the creamery in St. Martin closed, Duane has brought his milk to the AMPI plant in Paynesville. He currently sits on the AMPI corporate board.

Last June, the Burgs hosted a WCCO Radio broadcast from their farm. The event, to celebrate June as dairy month, brought several hundred spectators to the farm, including around 500 people to hear Gov. Jesse Ventura's weekly radio show from 11 a.m. to noon.

In all, Duane and Irene have six children who have all helped on the family farm, including the youngest, Nathan, who still gets to help.

Outstanding Young Person
Melissa Bachman, a senior at Paynesville Area High School, was selected as the Outstanding Young Person for 2002.

Melissa, the daughter of Dale and Karen Bachman, is involved in a host of activities at school. In fact, her nomination said it might be quicker to list the things that she isn't involved with.

She pole vaults on the track team (and has qualified for state twice), played volleyball and basketball, and is a member of the Letterwin-ners' Club. She plays in the concert band, the pep band, and the marching band and competes on the speech team.

She was the homecoming queen last fall, is the treasurer of the student council this year, and serves as a D.A.R.E. role model. She is also a member of the National Honors Society and was a candidate for girls' state.

Away from school, she serves as a lector at St. Louis Catholic Church, she has earned her Silver Award in the Girl Scouts and is working on her Gold Award, she won the talent portion in the Miss Paynesville pageant last June, and she served for the past year as the student representative on the Chamber board.
---
Contact the author at paypress@lkdllink.net • Return to News Menu
Home | Marketplace | Community
---