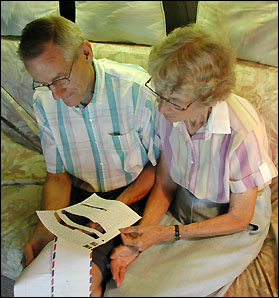 Nick and Mary Eoloff, who have owned a cabin on Rice Lake for the past 32 years, go to Israel a couple times a year. They aren't interested in sightseeing, though. They just want to see their son, who is a prisoner at Ashkelon Prison.

Actually, Mordechai Vanunu is their adopted son, and they adopted him and then met him while he was behind bars. While he and the Eoloffs come from different sides of the globe, their anti-nuclear beliefs and Mordechai's prison ordeals have brought them together.

Nick and Mary Eoloff read a letter from their adopted son Mordechai Vanunu at their Rice Lake cabin last summer. Vanunu - convicted of treason for revealing Israel's nuclear weapons program - has been in an Israeli prison since 1986. His letters to the Eoloffs are censored, and the censored passages are cut out.

Mordechai Vanunu was born in Morocco to Jewish parents and emigrated to Israel, where he worked in a nuclear plant. He took pictures of the plant and told a London newspaper in 1986 about a secret Israeli nuclear weapons program, using pictures he had taken before quitting his job as well.

He was convicted of treason in a closed trial in 1986 and sentenced to 18 years in prison. He was held in isolation for the first 11 and a half years of that prison sentence, said the Eoloffs, during an interview at their lake cabin last summer.

Nick, born and raised in St. Paul, earned an undergraduate degree and a law degree from the University of Minnesota. Before retiring, he edited law books for West Publishing in St. Paul. Mary, who went to high school in Shakopee, graduated from St. Catherine's College and taught some Spanish at a Catholic girls school in St. Paul before raising six children.
The Vanunu Story
From the U.S. Campaign to Free Mordechai Vanunu

Mordechai Vanunu, a former Israeli nuclear technician, is serving an 18-year sentence in an Israeli prison for blowing the whistle on his government's secret nuclear weapons program. Captured by Israeli agents on Sept. 30, 1986, he spent more than 11 years in solitary confinement.

One of 11 children of Moroccan Jewish parents who emigrated to Israel in 1963, when he was nine, Vanunu served in the Israeli army and then went to work as a young man in the Dimona nuclear "research center" in the Negev Desert near his home in Beersheba. The facility harbored an underground plutonium separation plant operated in strictest secrecy.

As the years went by, he grew increasingly troubled about his work in the nuclear bomb program. In 1985, before leaving Dimona, he took extensive photographs inside the factory in order to document the truth for his countrymen and the entire world.

Traveling through Asia with the film is his backpack, Vanunu made his way to Sydney, Australia, where he found companionship in an Anglican Church social justice community, with whom he shared the story of his nuclear background. In Sydney, he also converted to Christianity and was baptized in July 1986.

A British newspaper, the London Sunday Times, learned of his story and sent a reporter to Sydney to check it out. The newspaper then flew Vanunu to England, where his photos and facts were further checked by British scientists familiar with nuclear weapons. Vanunu's story, published in October 1986, gave the world its first authoritative confirmation that tiny Israel had become a major nuclear weapons power, with material for as many as 200 nuclear warheads of advanced design.

Israeli agents got early wind of Vanunu's intentions. Even before publication of the story, they lured him from Britain, abducted him in Italy, and dumped his drugged body onto an Israeli cargo vessel bound for Israel. In the following months, he was charged with espionage and treason and convicted at a closed-door trial. All legal appeals have been exhausted.

For the first 11 and a half years of his imprisonment, Vanunu was held in solitary confinement, denied human contact except with his guards, a lawyer, a priest, and the occasional visits of siblings. This treatment was condemned by Amnesty International as "cruel, inhuman, and degrading."

In recent years, he has also been able to have occasional visits with Nicholas and Mary Eoloff, the St. Paul, Minn., couple who adopted him in the fall of 1997. In March 1998, he was released into the prison population but denied other privileges. Since then, he has been returned occasionally to solitary confinement due to minor rule infractions. He has also been denied parole or probation. There is growing concern about the effect of his prolonged isolation on his physical and mental health.

(Source: U.S. Campaign to Free Mordechai Vanunu)


The Eoloffs, who are Quakers and Green Party supporters, got started in activism working with refugees while in college and attend a church in Minneapolis that stresses social activism.

They first read about Mordechai in The Progressive in 1995.

"I read his story, and I thought it was out of the Dark Ages. I mean, to keep someone in this day of age in a six-foot by nine-foot cell. It's unreal," said Mary.

"He's been in isolation longer than any person in the western world. Just the brutality of that is very moving," said Nick.

"He didn't see grass for a decade. He told us, 'You can't imagine what it's like to see grass after ten years,' " Nick added.

The Eoloffs started writing to Mordechai and actively working on the campaign to free him after reading that story. And they discovered their mutual anti-nuclear views.

"From our perspective, nothing could ever justify the use of nuclear weapons. So he's anti-nuclear and we're anti-nuclear, so we've got that common bond," explained Nick.

"I think it's just the insanity of it," said Mary of her anti-nuclear beliefs. "Here we have this beautiful world...the idea of destroying it in an afternoon is insane."

After the Eoloffs joined the campaign to free Mordechai, their efforts were focused on petitioning American politicians to put pressure on the Israeli government to free him. "That all proved fruitless," said Nick. "It all proved a dead end." So, the Eoloffs started to consider adoption "...because the campaign was unsuccessful. We felt like we were getting nowhere," said Mary. "We wanted to help this human being. How do you help?" asked Nick.

The Eoloffs started the adoption proceedings in October 1987. It took quite some effort over the next few months, they said, to complete the adoption of an adult held in captivity in Israel.

Because Mordechai was an adult, they needed his consent, which they got. But the law also required that he be present at the adoption hearing (which was impossible because he was in prison) and that a valid birth certificate be provided for him (which was impossible because Mordechai was born in Morocco, which did not have the records).

The Eoloffs had to get the court to waive these two requirements before their adoption of Mordechai became official.

They had hoped that by adopting him they could get U.S. citizenship for him and aid the effort to get him released by using his citizenship as leverage, but that has not been the case.

What it has done, though, is allowed the Eoloffs to visit Mordechai in prison, as family members are about the only people allowed to see him. Nick and Mary view their visits as especially important because Mordechai was disowned by much of his family after converting to Christianity.

"Other than his brother, he's really had no one," said Nick.

After the completion of the adoption, Nick and Mary made their first trip to Israel to visit, and meet, Mordechai in February 1998. They just showed up at the prison, they said, and announced: "Hi, we're Mordechai's parents."

When they finally got to see Mordechai, to meet him in person for the first time, it was very emotional, they said. "We were sobbing," explained Nick. "I was so sorry that we had waited so long for this idea, and the adoption took so long."

They have visited Mordechai eight times since then. Their latest visit was last fall. In October, Mordechai was awarded one of three 2002 Nuclear Free Future Awards in St. Petersburg, Russia, and the Eoloffs accepted the award on his behalf and then went to Israel to present Mordechai with the award in person.

According to the Eoloffs, there are three taboo subjects when they speak to Mordechai in prison: (1) his work at the Dimona nuclear reactor; (2) his secret trial; (3) his kidnapping in Rome by Israeli agents.

"He's so delighted and glad to see us. We just want to make life as easy for him as we can. Hopefully all this will end with his release," said Nick. Between visits, Nick and Mary have to wait months to hear from Mordechai by letter. "The troublesome thing is we only get two letters per year," explained Mary. "He gets our mail promptly, but his letters are held up and shipped twice a year."

And the letters they do get are censored. According to the Eoloffs, the censor highlights sections of Mordechai's letters that need to be omitted and then Mordechai has to cut out those passages.

Now retired, the Eoloffs split their time in the summer between St. Paul, where they now own a townhouse, and their cabin on Rice Lake. In the winter, they also escape the snow by going to Arizona. They have six children of their own, plus Mordechai, and 16 grandchildren.

Their family, said Nick and Mary, are all supportive of their adoption of Mordechai and their efforts to secure his freedom. Some of their children are even active letter writers on Mordechai's behalf.

Anyone can send mail to Mordechai, said Nick and Mary. To do so, just address the letter: Mordechai Vanunu; Ashkelon Prison; Ashkelon, Israel. "It's so important for him to get mail because of the boredom," said Mary.

When they first started traveling to Israel to visit Mordechai, the Eoloffs would spend a couple weeks in the country and enjoy some sightseeing. Now, they just go for a week with the sole purpose of visiting their adopted son. "Basically, we go to Israel now to visit Mordechai and leave," said Nick. The increased violence between Israelis and Palestinians is another reason why Nick and Mary keep their visits to Israel short now. Before they felt safe taking a bus anywhere in Israel, but with the renewed hostilities they don't anymore.

The Eoloffs think Israel needs to end their occupation of Palestinian-controlled territory, agree to a Palestinian state, and not think they can protect themselves with nuclear weapons. "I don't think nuclear weapons give Israel any security," said Nick. "They've got to come to a peace with these people. I think Israel has got a right to exist and a right to freedom, just like Palestine." Mordechai is either a hero or villain in Israel, according to the Eoloffs, with the majority viewing him as a traitor. Once, while handing out literature on his behalf in Tel Aviv, the recipient spit on the pamphlet, handed it back, and told the Eoloffs that Mordechai should be shot. For Mordechai, who believes he was acting in the best interest of the Israeli people in exposing the truth of the Israeli nuclear program, this type of reaction is difficult, according to the Eoloffs. "He was really speaking out for the people of Israel, which is why it's hard for him to be considered a traitor," said Nick.

A decade and a half after breaking the silence about Israel's nuclear weapons program, that debate about the country's nuclear arsenal finally occurred in the Knesset, the Israeli parliament, in February 2000. Mordechai, and his disclosures, were cited in that debate.

For the Eoloffs, though, Mordechai's story is no longer just a political matter, but personal. "His life took a turn that he never anticipated," said Mary, who described Mordechai's decision to go public with the information about Israel's nuclear arms program as conscience-driven. "Sadly, you know, he'd like to be married and have a family and now he'll be 49 when he gets out (of prison)."

The Eoloffs have told Mordechai to do whatever he has to do to get out of prison. Even recant. "I say, 'I'm your father. Do as I tell you.' But he doesn't listen," said Nick.

"He will not recant what he did," added Nick. "He'll never do that. He'll stay in prison however long he has to. But once they let him out, he's going to talk."

Convicted of treason in 1986, his 18-year sentence should end in 2004. "He's going to speak out," Nick predicted of Mordechai's eventual release from prison. "I think he would have gotten parole (already) if he would have said, 'O.K., I'm going to be silent.' "

While Mordechai knowingly broke the law by revealing what he knew about the Dimona nuclear plant, the Eoloffs think his punishment is not at all commensurate with his crime. "There's no point in keeping him in prison anymore. He doesn't have any secrets," said Nick.

"What's going to happen when he gets out, I don't know. We know he doesn't want to stay in Israel," continued Nick.

"We will do whatever we can to get him out of Israel," he added. Twice the Eoloffs have traveled to Washington, D.C., to lobby on Mordechai's behalf, testifying before a Congressional hearing in 1999. That year, 36 members of the House of Representatives signed a letter in support of Mordechai, according to the U.S. Campaign to Free Mordechai Vanunu.

"The more publicity we can get, the better. They tried for years to keep him a nonperson," Mary said.

"International pressure is the best thing for him," she added.

The Eoloffs know they have spent thousands of dollars in their effort to free Mordechai, in adopting him, and in visiting him, but they have never bothered to sit down and count how much they have spent. "When you consider he doesn't have many visitors, it's the least we can do," said Mary.
---
Contact the author at editor@paynesvillepress.com • Return to News Menu
Home | Marketplace | Community
---