Woman with ties to Paynesville will referee at Winter Olympics
This article submitted by Linda Stelling on 1/13/98.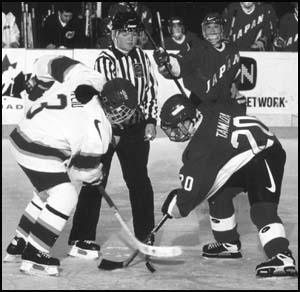 What is it worth to skate amid rough and tumble hockey players and enforce the rules of the game?

Try a trip to Nagano, Japan, and the Winter Olympics. Litchfield native, Evonne Young, 25, will soon be on the way. Young, currently of Roseville, will be a referee for the Olympicís first ever womenís ice hockey competition.

Young has aimed for the honor of officiating in the Olympics since 1993, when she first realized she might have a shot at it.

Still, itís the kind of honor the hockey devotee finds hard to believe is coming true. ďI never would have expected something like this,Ē she said. Perhaps not, but Young has been doing the unexpected for some time.

Her grandfather, Phil Young, Paynesville, has watched her skate for many years and has followed her skating/referee career faithfully from the since the time she was a child. ďShe has worked on achieving this for a long time,Ē he said.

Her interest in hockey officiating dates back to grade school, when she was among a vanguard of girls willing to trade figure skates for hockey skates. She started figure skating at the age of five but found she could chase her brother on the ice faster in hockey skates, thus she grew up playing hockey. Her father, Glen Young, is well-known in Litchfield for his support of hockey. He managed the townís ďsquirtsĒ league. The youngsters didnít travel at the time, but Glen wanted his players to learn the sport right.Ē

ďI feel it is important for children to learn to work with adults and to learn how to make decisions,Ē Glen said.

ďDad thought it would be nice to have refs, to do it like real games,Ē she said. Evonne was an easy recruit for the role of referee at the age of 11. ďIt was free ice time for me,Ē she explained. Now she even gets paid to enjoy her free ice time. In fact, by being a referee, it even paid her way through college.

Sheís been refereeing for 13 years, and winning recognition in the process. She has been named Minnesotaís Hockey Referee of the Year. She also won the honors of dropping the first puck at the inaugural game of the state girls hockey tournament last year.

Her skates have carried her well beyond the confines of Minnesotaís ice. Young has also officiated for World Cup competition on Lake Placid, N.Y., and for Pacific Rim competition in both British Columbia and Ontario, Canada. This week she heads for California for a game, then returns to Minnesota before leaving for the Olympics. Her skates have even taken her across the Atlantic Ocean. In 1996, she served as a referee of International Hockey Federation competition in Andorra, a small country between Spain and France.

ďItís definitely been a fun ride,Ē said Young of her hockey experience.

ďItís definitely been a matter of hard work as well. Itís how she won her invitation to officiate in the Olympics. Sheís a regular participant in USA Hockey camps for referees both as a student and instructor. She attended her first camp in 1991 and was invited back as a teacher.

And, of course, she never passes up an opportunity to referee the real stuff, including high school, college and international competition. Her schedule is booked solid with officiating. This month, she has only five free nights. According to her dad, she refs about 300 games a year. She works on a regular basis officiating hockey in district six which includes southern metro schools.

Not that she would want it any other way. ďWhat else would I do in the winter?Ē she laughed.

Well, thereís always her full-time job. Young graduated magna cum laude at St. Cloud State University in 1995 with a degree in accounting. Wanting to remain flexible for opportunities in hockey, she initially worked as an accountant for Harvest States through a temporary employment service.

Impressed by her work, Harvest States convinced her to become a regular employee. The company is providing her with the leave she needs to officiate in Japan.

Womens hockey competition will begin Feb. 8 in Japan, and continue through Feb. 22. Although it will be the debut for womens hockey at the Olympics, Young doesnít expect tremendous fanfare. The Japanese enthusiasm for hockey is probably on a par with Americaís interest in sumo wrestling. There are only six linesmen working the Olympic womenís hockey games, Young added. She will be officiating at three games a day.

ďIíll be seeing a lot of action at he Olympics. Iíd rather be skating than sitting back and watching the action,Ē she said.

Young is among only 85 female referees in Minnesota. ďI couldnít have gotten this far without the help of others,Ē Evonne said.

Those numbers are sure to change. An ever growing number of girls are learning the sport, and their skill levels are improving accordingly, said Young. The upcoming Olympic exposure will only help encourage more women to take up the sport that has opened so many opportunities for Young.
---