Winter camp is a favorite time for sixth graders
This article submitted by Linda Stelling on 1/13/98.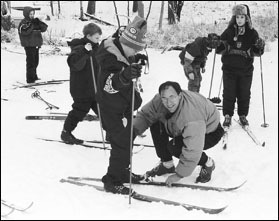 Above, Bruce Bayer helps his son, Matt, with his cross-country skis.
Paynesville's sixth grade students made their annual trek to Long Lake Conservation Center at Palisade last week for a three-day winter camp.
About 108 students left Wednesday morning and returned Friday afternoon.
Among the favorite activities are orienteering, skiing, the wilderness meal, and the Deer Browse and Alfa Wolf games.
---