Salute to Excellence awards given at chamber
This article submitted by Linda Stelling on 1/13/98.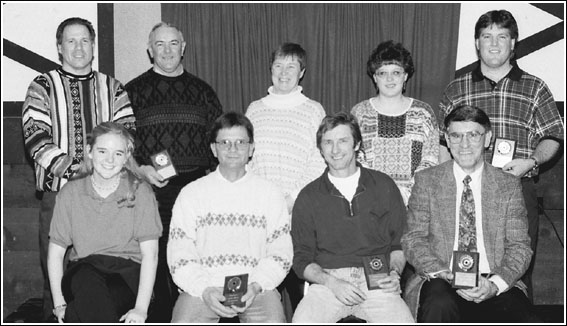 Front: Erin Pelton, Al Roemeling, Tom Koshiol, and Wally Thyen;
back: Chamber president, Steve Brisendine, Bob and Sandy Hemmesch, Lisa and Roger Hemmesch.

The Paynesville Area Chamber of Commerce held their annual banquet on Tuesday, Jan. 6, at Bernieís Barn and announced their annual Salute to Excellence winners.

Wally Thyen was named Boss of the Year. He has taught his employees so many great characteristics that have helped them become wonderful citizens in the community.

Employee of the Year honors went to Al Roemeling. His employer, Lakedale Telephone Co. says his presence in the community is vital to his company and they are proud of his commitment and enthusiasm in promoting the Paynesville area.

Outstanding Young Person of the Year went to Erin Pelton. She is always willing to volunteer her talents when asked and has been a great example for the students of Paynesville.

Community Service Award went to Tom Koshiol. He has spent countless hours with the Trail Guards and his efforts have benefited Paynesville in many ways.

Outstanding Farmers award went to Bob and Roger Hemmesch. They are a good example of the ďfamily farm operation,Ē which is the backbone of our local agricultural economy.
---