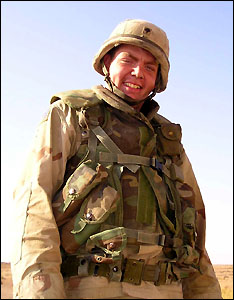 Barb Jones got the shock of her life last Wednesday. Her son Phillip, who has been in Iraq since last May, surprised her by coming home on leave.

"Why are you here?" was all that Barb could think to ask because she was so shocked.

For the last nine months, Phillip has been moving around northern Iraq where his Army Reserve unit has been building roads.

Specialist Phillip Jones recently surprised his family when he came home on leave from Iraq, where he has been deployed since May.

His homecoming was arranged with the help of his fiancˇ Angela Deutsch, his sister Jessica, and some members of his mother's extended family. His parents had no idea he was coming home. They had been led to believe that Phillip had no chance of taking leave.

Angela and Jessica convinced Barb to leave the Christmas tree up by offering to take it down themselves, in order to celebrate a family Christmas when Phillip got home.

Angela walked in Wednesday evening and said, "I brought a friend for supper." When Barb realized the "friend" was actually Phillip she was flabbergasted, she said.

Phillip, a 2000 PAHS graduate, left for Iraq in May after spending two months in Colorado preparing to leave. He is a carpenter with the Army Reserve's 244th Engineering Battalion. Since there is very little building of structures in the part of Iraq where his unit is based, Phillip spends most of his time standing guard duty while the unit builds roads.

Life in Iraq has been difficult for soldiers in Phillip's unit, but mostly his experiences have been positive. Seeing violence is rare for the solders. Though Phillip has been the target of mortar fire - which he described as brief and very inaccurate - he hasn't seen any fighting.

In fact, he said, most of the Iraqi people are appreciative of the unit's help rebuilding their roads. "Some of the roads have potholes that are bigger than the Iraqis' cars, so they're glad to see us," said Phillip.

His living conditions could be better, though. Since the unit travels almost constantly, heat and dust are their constant companions. The soldiers have built their own showers out of scavanged plumbing parts and their permanent base, Camp Striker - north of Tikrit - has electricity and air conditioning. "It's good to be an engineer," said Phillip, because engineers can make some of their own comforts.

Still, they drink bottled water, use outhouses, and frequently do battle with poisionous snakes and scorpions.

"Just seeing a flush toilet at home was nice," Phillip laughed.

When the unit is visiting Iraqi villages, usually the soldiers' first contacts are with children. They beg for food and trinkets, which they usually receive from the soldiers. "The kids learn not to steal stuff because if they do, that's all they get," said Phillip. "If they wait until we give them stuff, (usually MRE meals) they know that they get more."

Eventually, the adults are drawn out to mingle with the soldiers, said Phillip.

Forming friendships with the children as well as the adults is part of what makes his experience worthwhile. Forming close friendships with other soldiers from his unit has also been a positive aspect of his deployment, he said.

While Phillip has been deployed, his mother has been active in helping the local families of service members. With the help of a support group that Barb started to help military families, students at PAHS organized a drive to make angels to send to service members using donations from the Paynesville American Legion.

When Phillip received the angels and cookies sent to his unit by students, he distributed them to soldiers at his base who really appreciated being remembered during the holidays. Gestures like this make it easier to be separated from friends and family, said Phillip.

Phillip's leave is only two weeks long. On Thursday, Jan. 22, he will return to Iraq, but this time his departure won't be so hard on him or his family because they know he will be home to stay soon.

According to Barb, within six weeks, the unit should be making its way to Kuwait where it will prepare to go home. Hopefully the soldiers will be home to stay by May, which will mark the one-year point of their deployment.

When he returns home, Phillip hopes to go back to school. He was studying to be an electrician at Ridgewater College and after missing a full year of school, he is more than ready to return.

He will probably stay in the Army Reserves, he said, but he may change the type of job he does there. He thinks he would like to fly helicopters.
---
Contact the author at editor@paynesvillepress.com • Return to News Menu
Home | Marketplace | Community
---