Wuertz benefit received overwhelming response
This article submitted by Linda Stelling on 1/12/99.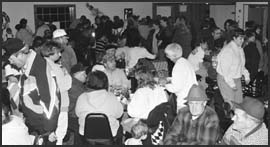 The benefit held for Jaime Wuertz Saturday, Jan. 19, received over-whelming support from area residents, area basketball teams and area business communities.

Local farmers donated eight hogs for the hog roast for the benefit.

Donations for the benefit were overwhelming, as well, Nancy Nelson, one of the organizers said. There were too many items to count that were donated for the silent auction and auction held during the evening. ďSome people donated one item where others donated up to five items,ĒNelson said.

ďThen there were the donations of time spent organizing the benefit and the time of those who worked at the benefit. It was all greatly appreciated,Ē Nelson added.

Wuertz was injured in a car accident on Dec. 16 and has been in a coma at the St. Cloud Hospital since that time.

Wuertz did attend the benefit and was there about an hour and a half. ďShe was getting tired and indicated she needed return to the hospital,Ē Lori Wuertz, her mother, said.

Wuertz spends most of her days doing rehabilitation work at the hospital. Mrs. Wuertz said she is walking with assistance at the parallel bars. ďJaime is able to spend a lot of time sitting up in a wheelchair, as her balance improves,Ē she added.

Mrs. Wuertz explained that there are eight levels of a coma.The deepest level is a one and the lightest is rated eight. ďThe doctors monitor Jaime closely as she changes levels back and forth daily,Ē she said.

ďWe are hoping to bring Jaime home on a one-day pass soon,Ē Mrs. Wuertz said.

Mrs. Wuertz thanks everybody for their efforts in making the benefit a success.

ďNancy Nelson, Diane Hoffencamp, and Francis Liebl really pulled the benefit together. They made it become a reality. Many friends and family also put in a lot of time to make the benefit a success,Ē Mrs. Wuertz added.
---