PAHCS hires a new clinic manager
This article submitted by Linda Stelling on 1/12/99.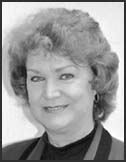 After working in California, Hawaii, and other parts of the United States, Rosemary Devlin felt it was time to find a position closer to her home.

Devlin started work in December as the new clinic manager for Paynesville Area Health Care System. Mary Lou Strand, who had been the clinic manager, is now working as a medical coding specialist at the facility.

A native of North Dakota, Devlin attended Mayville University, majoring in education. She moved to California where she worked for 19 years. In 1980, she moved to Hawaii where she used her accounting training as a controller at an advertising agency for two years and eight years as chief financial officer for the Shidler Group, who owns national hotels and shopping center in Hawaii and throughout the continental United States.

Upon her return to southern California, she had the opportunity to take a position as chief executive officer with a psychiatric group with five locations. She later held the position of vice president of operations with a national medical practice management corpor-ation.

Because of her background in Hawaii, the medical practice corporation sent her back to Hawaii to manage two urgent care clinics in Waikiki in 1992 and 1993. The clinic was open 24 hours a day.

ďIt was exciting work. The clinic had its own surgery, pharmacy, lab, and x-ray. There were six doctors on staff around the clock. I feel I learned everything I know while working there,Ē Devlin said.

Upon returning to California in 1993, Devlin was in charge of national clinic operations for the corporation. ďI think I lived in the air during that period of my life. I was away three weeks of the month. I helped build a new clinic in Alaska, and managed clinics from coast to coast,Ē she added.

Eighteen months ago, Devlin left the corporation and became an independent medical consultant, which took her across the country.

In reading advertisements for various job opportunities, Devlin saw the ad for the clinic manager in Paynesville.

ďI decided it was time to move closer to home (Fargo, N.D.),Ē Devlin said.

ďMy first visit to Paynesville was in September. I was really impressed with the facilities here and the community,Ē she added.

ďSince moving here, the weather has brought back many memories and the realities of midwest winters,Ē she said.

ďHowever, I find there are no people like those living in the midwest. They are dear individuals, warm, and friendly,Ē Devlin said. ďIím going to love working and living here. Paynesville has an impressive group of doctors and Iím really excited about my new job.Ē

Devlin has a son living in Tennessee and a daughter in California. She lists her hobbies as music, art, being an avid reader, and traveling. ďI love to travel and intend to continue traveling as my schedule permits,Ē she added.
---