Mueller is the new chamber president
This article submitted by Linda Stelling on 1/12/99.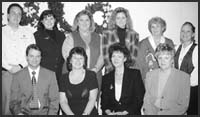 During the evenings festivities outgoing president Rick Paul announced who the new members to the board of directors were. New to the board are Todd Greig, Community First National Bank, and Annette Niewind, Country Inn.

The new chamber president for 1999 is Bev Mueller, Paynesville. Mueller said her goal for 1999 is to get to know the manufacturing business area of Paynesville better. ďI admit I know more about the retail end than manu-facturing,Ē she said.

ďI was recently asked by a friend from another town what the chamber does. I told her about the Breakfast with Santa, free movies, tractor pull, Town and Country Days. She felt these were wonderful opportunities. Her community didnít do anything for its youth,Ē Mueller said.

ďBenefits to the community such as the various activities are provided by the retail and manufacturing owners,Ē she added.

Mueller went on to say that 1999 will be a busy year for the chamber. They will be celebrating the 50th anniversary of Town and Country Days. She announced the theme for this yearís celebration will be ďMemory Lane,Ē bringing back the memories of past celebrations.

Pictured above: front (L to R): Rick Paul, outgoing president; Bev Mueller, new president; Sue Brauchler, vice president; Rosie Lieser, board member; back: Todd Grieg, new board member; Sarah Baumhardt, new chamber secretary; Annette Niewind, new board member; Sandy Wall, Donna Hunter, and Tracy Hennigar, all board members.

Entertainment for the evening was provided by magician Tim Gabrielson. He involved the audience in many of his illusions. Among those taking part were Adam Youngs, Pat Flanders, Al Roemeling, Kathy Olmscheid, Brett Bungum, Steve Whitcomb, and Barb Johnson.
---