Jed Scheierl will be a contestant on the "Price is Right"
This article submitted by Linda Stelling on 1/12/99.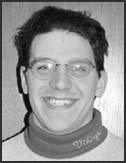 A vacation trip turned into an opportunity to be on television for Jeb Scheierl, 23, Paynesville.

After winning $1,000 through the Minnesota lottery, Scheierl used the money to take a vacation and visit his sister, Belinda Reep, in California.

"I had never been to California before," he said. Going on the trip with Scheierl were his brother, Colby, and Lance Anderson.

While in California, Reep had purchased tickets for the "Price Is Right." "They interviewed everyone entering the CBS studio," Scheierl said.

After the show started, Scheierl was the third person to hear the familiar phrase...Come on down Jed Scheierl.

"I had the opportunity to bid on a mahogany pool table. My bid was $2,300. I was surprised to find my bid was the closest," he said.

Once on stage, Scheierl had a chance to win a car playing the "front to back" game. "I don't recall much of what happened. I wasn't concentrating on what Bob Barker was telling me about the car. I was pretty nervous and couldn't believe this was happening to me."

Scheierl had four chances to guess the correct number in the price of the car. It took him three guesses to get the first two numbers. Instead of a car, he won $185 which he thinks will cover the sales tax on the pool table.

Being one of the top winners in the first half of the show, Scheierl was eligible to compete in the Showcase Showdown.

"I was the last person to spin the wheel. The first person had the wheel stop at 35 cents and on their second spin, they went over the required $1 amount," Scheierl said.

"The wheel stopped at 80 cents for the second person. I was thinking that would be a tough number to beat. I wouldn't be going any further. Then it was my turn to spin the wheel. To my surprise it stopped at 90 cents and I advanced to the Showdown," he added.

"Another contestant had the top prize for the day, so she had the first option to bid or pass on what was offered. It was several trips, including a trip to Australia. The first number that popped into my head was $20,000. I scanned the audience for my sister and she was yelling $17,950. I thought that was more of a practical number. My bid was close, within several hundred, but not close enough," Scheierl said.

Scheierl said he had seen the program before and thought Bob Barker was more scary in person than on television. However, Barker greeted everybody with a friendly smile and warm handshake trying to put them at ease, he added.

"I think I was more nervous bidding on the pool table than when I was up on stage. Once I was on stage, I felt like a performer in a play," Scheierl said.

"It has always been my sister's dream to be a contestant for the "Price Is Right."She was thrilled when I was picked," he added.

Since he doesn't have room at his place for the pool table, Scheierl plans on keeping the pool table at his parent's home, Dan and Lucinda Scheierl, Paynesville. "When we visit mom and dad, we'll be able to play pool," he added.

Scheierl said he had a lot of paper work to complete before the pool table would be shipped to Minnesota. "I don't think they'll ship it until after the show airs," he said. His prize included the cost of shipping and handling of the pool table to Minnesota.

The "Price Is Right" show, with Scheierl as a contestant, is expected to be aired on Monday, Feb. 1, at 10 a.m. It can be seen locally on Channels 4 and 7.