(Editor's Note: The following are some of the top news stories, from the Paynesville Press, for the last six months of 2004 (July-December). Highlights from the first half of 2004.)
July
Paynesville residents and summer visitors celebrated the Fourth of July with baseball, food, boat parades on Rice Lake and Lake Koronis, and the annual fireworks display over First Island on Koronis.
Swimmers were warned to take precautions after a test revealed high levels of fecal coliform in Rice Lake. The Rice Lake Association conducted the test after a large bloom of blue-green algae.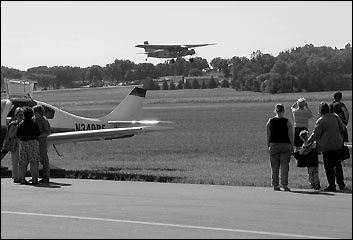 Todd Burlingame started as the new superintedent of the Paynes-ville Area Public Schools. The Canby native had served as the principal for Paynesville Area Elementary School for five years before replacing retiring superintendent Howard Caldwell.
The Paynesville Municipal Airport celebrated its grand opening with a drive-in, fly-in breakfast in August 2004, attracting 500 people and 70 planes. The new airport opened in 2003.
The city of Paynesville was awarded a $100,000 grant from the DNR to use towards the purchase of land for the Kruger Lake Nature Preserve. The grant, requiring a 50-50 local match, was planned to go towards the purchase of 119 acres of property around Kruger Lake in Paynesville Township.
The Paynesville City Council approved a leaf burning ban within the city limits. Previously, city residents had been allowed to burn leaves from mid-October to mid-November, but this was viewed as a nuisance to neighbors, especially to anyone with allergies or breathing difficulties. Instead, the city expanded hours at its compost site.
Country music stars Clay Walker, Brian McComas, Trent Wilmon, Jolie Edwards, and Earl Thomas Conley appeared at the 15th Cornstalk Fest in Regal.
Test results released by the state showed PAHS tenth graders leading area schools in reading and PAHS 11th graders ranking third in math. Both grades topped the state averages in the Minnesota Comprehen-sive Assessments.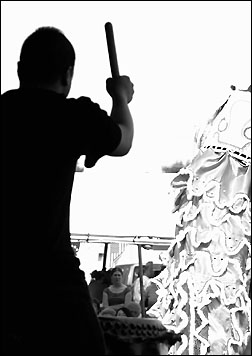 Stephanie Louis and Michelle Monson earned their Gold Awards from Girl Scouts. They had done their project together at Washburne Court in Paynesville. Louis and Monson became the 14th and 15th Gold Award winners in Paynesville.
Chinese drumming was a new entertainment at the Festival of Ethnic Traditions in August 2004. The League of Minnesota Cities gave the city of Paynesville an award this year for the four-year-old ethnic festival.
Courtney Colbert, a junior-to-be at PAHS, toured Minnesota with the All State Lutheran Choir.
August
Hawick United Methodist Church celebrated its centennial. The church - formally founded in 1904 by Methodists who had previously met for church services in a local schoolhouse - hosted a weekend celebration for its centennial.
The Paynesville Human Rights Commission hosted a fourth annual Festival of Ethnic Traditions on the PAHS grounds. New cultures represented were the Chinese lion dance, Japanese drumming, Polish dancing, and Hmong dancing. The annual one-day event featured other ethnic entertainment and food.
The Paynesville Township Board of Supervisors denied a petition to close part of Lake Koronis Road. Residents along the road had proposed the summer closing for safety reasons, but after objections at a public hearing the board opted to pursue other safety improvements: stop signs, no-parking zone, etc.
Roscoe hosted its 29th annual Fun Day, in conjunction with the regional amateur baseball tournament.
Let's Go Fishing, a new local organization to take seniors on fishing and boating excursions, was filmed for a television show, "Fishing the Midwest," on an outing on Long Lake near Hawick.
Bill Ryan, an ag teacher at PAHS for 26 years, retired unexpectedly after receiving full disability from the Veteran's Administration. Ryan was wounded during the Vietnam War in 1967.
A grand opening was held for the Paynesville Municipal Airport, attracting 500 people and 70 planes for a fly-in, drive-in breakfast. The new, paved-runway airport opened in 2003.
A community theater production of Rodgers and Hammersteins' "Cinderella" - staring Caitlin Lien and directed by Ian Pelton - attracted 1,100 people to five stagings.
The city of Paynesville announced plans to cut 20 elm trees in the city to prevent the spread of Dutch elm disease.
September
The Paynesville City Council and the Paynesville Township Board of Supervisors agreed to put a revised aquatic park proposal to voters again in November at the general election. The proposed outdoor facility, rejected by city and township voters in April, was scaled back to cost $990,000 to build.
An early frost caused crop damage, especially in low-lying fields, in the Paynesville area.
The Paynesville Area School District was among 150 districts in the state cited for not making Adequate Yearly Progress as defined by No Child Left Behind. While the district met nearly all the criteria for Adequate Yearly Progress, testing results in 2003 for special education students on a district-wide basis were not proficient.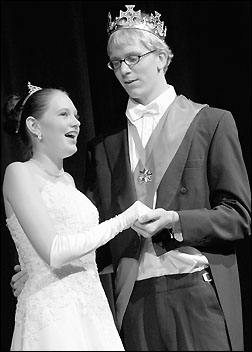 Meanwhile, PAHS was ranked a five-star school in reading and a four-star school in math, while PAMS was ranked a four-star school in reading and three-star in math. PAES was ranked a three-star school in both reading and math.
A community theater production of Rodgers and Hammersteins "Cinderella" in August - starring Cailin Lien as Cinderella and Alex Braaten as the Prince - attracted an audience of 1,100 to five performances.
Hawick native and former Paynesville resident Dan Everson - missing since late July - was found dead in Dayton, Ohio. His death was being investigated as a homicide and the Dayton man, who owned the house where Everson's body was found, was arrested in the case.
Opening-day enrollment at the Paynesville Area Public Schools held nearly steady in 2004-05. Enrollment was 1,099, down just two students from 1,101 in September 2003. The Paynesville Area Public Schools - which are graduating 100 seniors per year but replacing them with only 75 kindergartners, on average - had faced double-digit enrollment losses on opening day for the past nine years.
Five new teachers started at the Paynesville Area Public Schools: speech clinician Michelle Hesse-Cremers, special education teacher Ted Nett, school nurse Leah Neu, ag teacher Natalie Todnem, and art teacher Kelli Woehler.
Prominent deaths included: Frank Dillon (who owned 35 Piggly Wiggly stores with his brother before retiring and starting Cyrilla Beach Homes); Pastor Lynn Luthard (who served Nordland Lutheran Church and Zion-Irving Lutheran Church from 1967 to 1974); Evelyn Noren (who started the Payneville Greenhouse with her husband in 1952); Harold Putzke (who started Paynesville Motor and Transfer Company in 1938, which later divided into Paynesville Excavating and Paynesville Motor and Transfer, the local bus company); and Louise Ridler (who owned the Hardware Hank Store in Paynes-ville for 23 years with her husband).
The city of Roscoe began construction on a city-wide septic system, using common septic tanks, a large holding tank, and a drainfield on the west end of town.
The Press profiled "The Mystery of Jackie Theel," 60 years after the Paynesville first grader disappeared on his way home for lunch on his first day of school.
Conrad Gruber of Spring Hill qualified for his foruth world plowing competition in Prague in 2005.
Nick and Mary Eoloff, summer residents on Rice Lake, learned that their adopted son, Israeli whistleblower Mordechai Vanunu, would receive the 2004 LennonOno Grant for Peace, named for the musician John Lennon and his wife Yoko Ono. Vanunu had been released from prison in 2004 after serving 18 years.
October
MnDOT announced that the draft Environmental Impact Statement for the future route of Highway 23 in Paynesville would be released in January 2005.
Sergeant Brian Jacobson, a 1994 PAHS graduate, returned from a 10-month deployment in Iraq. A generator and air conditioning mechanic at the Al Taquddum Air Base, Jacobson combated 118-degree temperatures but rarely had to leave the safety of the base.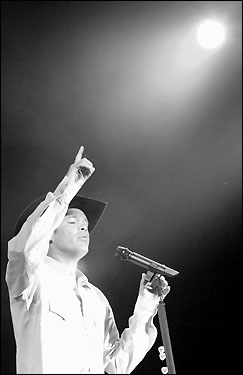 A warm September prolonged the growing season and helped area crops reach maturity. A dry spring and cool August had put crops behind schedule, but a warm month in September saved many crops.
Sen. Norm Coleman (R-St. Paul) visited Paynesville during a campaign trip for District 14B candidate Jim DeRose of Richmond.
Clay Walker performed for country music fans at Cornstalk Fest in Regal in July 2004. It was the 15th music festival in Regal and also featured Brian McComas, Trent Wilmon, Jolie Edwards, and Earl Thomas Conley.
Seniors Val Callenius and Atanas Pastarmadzhiev, a foreign exchange student from Bulgaria, were crowned Homecoming king and queen at Paynesville Area High School.
The city of Paynesville received an award from the League of Minnesota Cities for its Festival of Ethnic Traditions, organized by the city's Human Rights Commission. Maureen Pederson, who plays for both St. Stephen's Episcopal Church and Nordland Lutheran Church, marked her 61st year as a church organist.
Jack Bugbee, 81, became the tenth winner of the Pioneer Award from the Minnesota Resort and Campground Association. Bug Bee Hive Resort was started on Lake Koronis in the 1920s by Bugbee's parents, with Jack joining the family business in 1946.
November
Former Paynesville Police Chief Bill Drager, who served in the department for 23 years, including three as chief, lost his three-year battle with cancer.
Paynesville area voters favored President George Bush (R-Texas), Congressman Mark Kennedy (R-Watertown), and Congressman Collin Peterson (DFL-Detroit Lakes) in their successful re-election bids. In the Minnesota House, Bud Heidgerken (R-Freeport) and Dean Urdahl (R-Grove City) won re-election, while Larry Hosch (DFL-St. Joseph) defeated Jim DeRose (R-Richmond) in District 14B, replacing the retiring Doug Stang as the representative for Paynesville.
City and township voters overwhelmingly rejected the proposed aquatic park. Bonding for the $990,000 construction was defeated 792-466 in the city and 541-323 in the township, larger margins than in the previous vote in April.
Nordland Lutheran Church dedicated the completion of its addition to the church. By adding a basement and fellowship hall, the congregation nearly doubled its space.
Denis Schlangen, 55, of Roscoe, was killed in a two-vehicle accident in Zion Township.
Paynesville remembered Veteran's Day with local soldiers serving overseas, including in Iraq and in Afghanistan.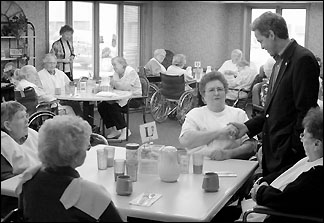 A zoning dispute arose in Union Grove Township after the board of supervisors approved a moratorium on platting and an interim ordinance prohibiting new plats with lots less than five acres in size.
Senator Norm Coleman (R-St. Paul) visited Paynesville and toured the Paynesville Area Health Care System - including the Koronis Manor - while on the campaign trail in November 2004.
Seymour Thompson, a Union Grove Township farmer, celebrated his 100th birthday a little early. Thompson actually turned 100 in December.
Dennis Morgan, the son of Esther Morgan of Paynesville, was inducted into the Nashville Songwriters Hall of Fame.
December
Thirty-five PAHS choir students returned from a trip to Disney World in Orlando, Fla. The PAHS choir was the only Minnesota choir selected to perform with a mass choir at a candlelight processional held for five weeks at Epcot Center. The annual audit for the Paynes-ville Area School District revealed that the district ran in the black for the third straight year in 2003-04. By operating with a margin of $300,000 from July 2003 to June 2004, the district raised its general fund balance to $562,000, its highest balance since July 1998.
The Paynesville community celebrated Christmas with a variety of programs, concerts, and services.
Drew Deadrick, a 1999 PAHS grad, spent his first Christmas away from home, on duty in Iraq with the 682nd Engineering Battalion. Deadrick's unit locates and demolishes explosive devices using a special tank.
---
Contact the author at editor@paynesvillepress.com • Return to News Menu
Home | Marketplace | Community
---