When Kayla Dingmann and Kevin Hartmann graduate from PAHS this year, each will have already earned college credits for some of the technical classes they are now taking. Once they complete their land transportation classes at PAHS, they will have earned two general service credits each.

Dingmann plans to apply her credits towards the autobody repair program at St. Cloud Technical College, and Hartmann plans to apply his to the automotive technician program at Ridgewater College.

All of the students in land transportation classes have the opportunity to receive college credit for work they're already doing, as do students in some business, family and consumer science, health, and algebra classes. The St. Cloud Technical College Tech Prep Program - a partnership program between the college and more than a dozen central Minnesota high schools, including PAHS - allows high school students to earn college credit for taking technical classes in high school.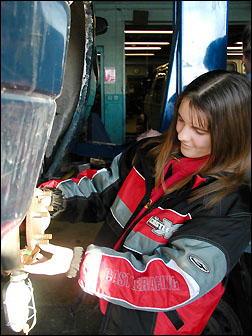 The goal of the tech prep program is to eliminate the need for technical students to duplicate work they already did in high school. This saves time - because students don't need to take certain courses in college - and money, since the students won't have to pay for the credits.
Senior Kayla Dingmann is earning college credits, through St. Cloud Technical College, while taking land transportation at PAHS.
At the current rate of $117 per credit, a student who earns three tech prep credits (the average earned) in high school can save over $350 plus the cost of books, according to Barb Whittowski of St. Cloud Technical College.
At PAHS, students can earn technical college general service credits by taking land transportation; credits towards accounting and administrative assistant programs for taking accounting, keyboarding, and certain computer classes; credits towards nursing and medical terminology for taking medical terminology in advanced health; credits towards culinary arts and childhood development programs by taking foods and adult living; and credits towards electronics and mechanical design programs by taking applied algebra.
Requirements for earning credits vary from class to class. For instance, students in land transportation need to complete worksheets and demonstrate that they have a thorough understanding of safety requirements and a good general knowledge of working and repair, said teacher Mike Guenther. Algebra students need to pass a test - which has proven too difficult for most students to pass - while students in family and consumer science and business classes must earn at least an 80 percent average, according to counselor Jackie Campbell, who administers the tech prep program at PAHS.
Credits are good for three years, a fact that hinders some students from entering the program. For example, credits from classes like algebra - which are usually taken in ninth grade - would not be good by the time a student went to college.
In addition to St. Cloud Technical College, credits can be transferred to most technical colleges in the Minnesota State College and University System, including Ridgewater College and Alexandria Technical College. Credits can also be accepted at many four-year colleges and universities, according to Whittowski, and may be applied toward general elective credits.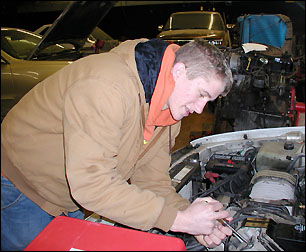 To participate in the program, some teachers may need to make changes in their curriculums to meet all of the tech prep criteria. Karen Odberg, who teaches family and consumer science, needed to incorporate tech prep requirements into her classes, but the changes weren't drastic, she said.
Land transportation and medical terminology are the most popular credit classes at PAHS now, according to PAHS principal John Janotta, but the trend changes. Currently, none of the students in Odberg's classes have expressed interest in the program, but in the past some of her students have pursued careers in early childhood development and have used credits.
Senior Kevin Hartmann plans to transfer his college credits to Ridgewater College, where he plans to earn a degree in auto mechanics.
To date, St. Cloud Technical College has awarded 1,200 certificates of credit to students in 13 central Minnesota school districts.
Guenther likes the program, and encourages his students to participate in it. "I feel this is a great way to start a good foundation of understanding automotive technology," he said.
The tech prep program is an excellent way to give students a head-start before they start attending a technical college, added Campbell. According Jonotta, tech prep is a positive program for his students. It helps them realize that four-year colleges are not their only options, and it teaches them the importance of jobs that require technical training. In fact, the program may help encourage students who weren't considering any post-secondary education to change their minds and explore the many technical careers out there, he added.
Neither Hartmann nor Dingmann chose the land transportation class because of the potential to earn credit. Both had already planned to pursue automotive careers and learned of the program after taking the course. Dingmann, who is on a waiting list at St. Cloud Technical College, believes the biggest benefit to having earned credit will be time saved. Hartmann, however, believes the biggest benefit will be money saved. Both are pleased that they will take more than their experience from PAHS to college with them.
---
Contact the author at editor@paynesvillepress.com • Return to News Menu
Home | Marketplace | Community
---