Grant aims to help kids read and succeed
This article submitted by Michael Jacobson on 1/12/00.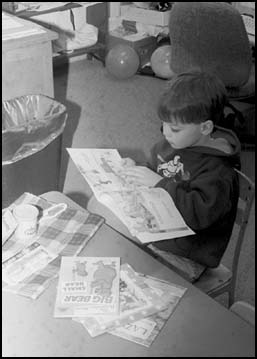 A majority of students entering kindergarten in Paynesville in 1998-99 needed extra help through Title One for language, reading, or fine motor skills.

That need prompted Dina Hengel, an Early Childhood Family Education teacher, and Karen Mumm, an early childhood speech clinician, to write a grant. Through their grant, which they call Read and Succeed, they raised $3,800 from the Education Minnesota Foundation for the Excellence in Teaching and Learning and from local contributors.

Local contributors were Frank Dillon and Cyrilla Beach Homes, the Paynesville Area Jaycees, Early Childhood Family Education, and the Elementary Parent Involvement Committee.

The grant has three phases. The first is to send a letter, birth book, and classical music cassette to newborn babies. The purpose is to inform parents of the brain research that shows the tremendous impact that reading aloud daily has on a child's ability to learn to read. Research also shows that classical music exercises the same parts of the brain that are used for learning and memory.

At a child's first birthday, a birthday card and book will be sent to each child to remind the child and parents of the importance of reading.

"Statistics show that the single most important thing you can do to get your kids ready to learn is to get them to read," said Mumm.

Picture at right is Andrew Topp who just received his school readiness bag.

The third part occurs when the child comes in for preschool screening at the age of four. School readiness bags-including play dough, crayons, scissors, and a book-were given to the kids after they had undergone the normal screening process. The material for the bags was donated and the bags were made by Caroline Klein and volunteers at the Paynesville Area Center.

Preschool screenings are held throughout the school year, and four-year-olds are tested for cognitive skills, motor skills, articulation, language, hearing, and sight. Their heights and weights are recorded and a health history is taken. The goal is to catch a developmental need at an early age.

Hengel and Mumm agreed that kids who have been read to regularly are noticeable at the screening. They're likely to have better articulation, a better vocabulary, better cognitive skills, and different mannerisms.

The grant started on Jan. 1, 2000. The funds on hand now are expected to keep the program running for 18 months.

Hengel and Mumm will be watching the local hospital for births, but may not be aware of all the births in the school district. Anyone interested in receiving a packet should contact Dina or Karen at 320-243-7543.
---