Nova Fabricating plans to build plant in St. Martin
This article submitted by Michael Jacobson on 1/12/00.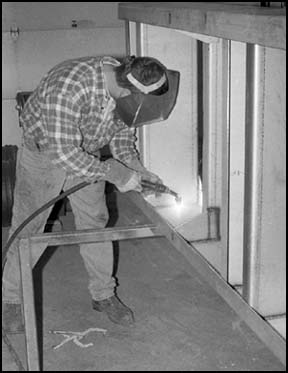 With the addition of Nova Fabricating, the industrial park in St. Martin will be almost full.

Nova Fabricating, an Avon-based company that builds stainless steel tanks, purchased five acres and a small building with a paint booth from Schaefer Repair last fall and has operated a shop there doing welding and painting for a couple months. The company also bought six acres from the city of St. Martin that will be used in a three-stage expansion.

Brian Schmitt welds a running gear for underneath a tanker trailer at the Nova Fabricating plant.

Foundations for the first building of that expansion are already in place. Construction of the building should start in February and finish in March, according to Roger Ebnet, the president and founder of Nova Fabricating.

The second stage, another building, is scheduled for next fall. All three stages are expected to take two and a half to three years. Once the 15,000-sq. ft. plant is finished in St. Martin, it should employ at least 100 people. The expansion would double the company's manufacturing capacity.

Ebnet started Nova Fabricating 15 years ago with two people welding. The company makes stainless steel tanks for milk and chemical storage. It builds both stationary and transport tanks, ranging in size from five to 10,000 gallons and 1,500 to 7,000 gallons respectively.

Ebnet said the company sells its tanks all over the United States, Canada, and Mexico. The diversity of markets keeps its products in demand and has led to the company's growth. The company has never had any layoffs, according to Ebnet.

The company currently has a 100-person plant in Avon. The assembly line manufacturing requires welding, assembly, and painting. "We ran out of room here in Avon," said Ebnet of his original plant. "We're kind of land locked here."

With the addition of Nova Fabricating, the industrial park in St. Martin will be virtually full. Peltz Manufacturing also expanded in the industrial park.

The city bought 32 acres two and a half years ago, according to its mayor, Joe Kalthoff. The city has just one three-acre lot left for sale, and one privately held lot has yet to be developed. The city has an option to buy 60 additional acres for the industrial park, which is located on the west end of the 317-person town.

"It's a big boost for the city of St. Martin, " said Kalthoff of the addition of Nova Fabricating. "We're excited."

In addition to local employment opportunities, Kalthoff said if only a quarter of the new employees live in town, it would have a major impact on the local economy: from home building, to services, to retail stores. "Every business in town would be helped by it," he said.

According to Ebnet, his company has already received applications for employment from the Paynesville area. These people are going to be trained in Avon and eventually sent to St. Martin.

Nova Fabricating explored expanding in Richmond, St. Joseph, and Grey Eagle as well. Access to Interstate Highway 94, the availability of land, and strong work ethic in rural areas were factors in selecting the St. Martin site.

When full production is reached, Ebnet plans to have the Avon plant specialize in stationary tanks and the St. Martin plant in transport tanks. Nova Fabricating makes transport tanks for both semitrailers and trains.
---