Chess club warms up again this winter
This article submitted by Erin Aagesen on 1/12/00.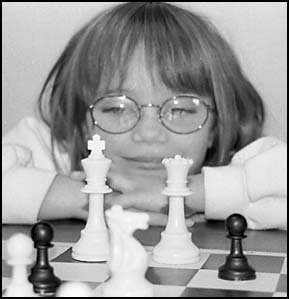 Chess club members have been meeting and playing chess since early December.

Jay Thompson, chess club advisor, sees it as a good winter activity. "Chess is a good family game, because younger kids can play with people much older, like their parents, and still be able to win," said Thompson.

"It's a game of strategy and wit that forces children to be thoughtful and patient. Just like in life, if they make a mistake, they must keep playing and not give up."

Members play each other and often hold tournaments amongst themselves. They also play several variations on the traditional chess game. In laser chess, players aren't required to move the pieces, but can "project" where they could move next. In that way, they take out their opponent's pieces.

Kirsten Landmark Masih contemplates a move at right.

Bughouse chess allows four people to play at once, on two boards, with teams of two working together. Blitz chess is a fast paced game where players must move immediately after their opponents. Members can also play by themselves on a computer program, which helps beginners learn the game better before competing with others.

"Most people think chess is a slow moving game, but these variations make the game livelier," said Thompson.

Chess club participants include: Scott Wendroth, Jon Lieser, Darren Schultz, Scott Millner, David Gilroy, Peder Thompson, Luc Trees, Curt Christian, Adam Christian, Tom Garding, Wil Ray, John Nylen, Ezra Thompson, Tony Thelen, Riley Sampson, Chris Weiss, Kirsten Landmark Masih, Rashanda Sampson, Tanner Wendlandt, Garrett Thompson, Jon Millner, Adam Leyendecker, Adam Ingalsbe, Cody Nehowig, Steve Mages, and Scott Buerman.

Members meet from 3:15-4:30 p.m. on Thursdays in Thompson's high school science room, and from 10-12 a.m. on Saturdays at the Paynesville Public Library. They will continue to meet at the library until Saturday, Jan. 22, and at the high school until the end of February. All ages are welcome.

Although the group's main purpose is to have fun, members have competed outside of the community in various tournaments. Thompson will host a tournament in the middle school library on Saturday, Feb. 12, with hopes of chess players from all over the area coming. It will run from 9 a.m.-2 p.m.

With preregistration, the cost is $7 per participant, or $15 per family. At the door, the cost is $10 per person. All ages are welcome. To learn more, call Jay Thompson at 320-243-3887.
---