Chamber announces award winners at annual banquet
This article submitted by Michael Jacobson on 1/12/00.
The annual Chamber of Commerce banquet, held on Tuesday, Jan. 4, at the County Line Bar in Regal, featured award winners, new officers, and a juggler for entertainment.

Outgoing president Bev Mueller, who will serve as past president this year, highlighted some of the chamber's accomplishments in the past year, which included the 50th anniversary celebration of Town and Country Days and serving 800 people lunch in July for Customer Appreciation Day.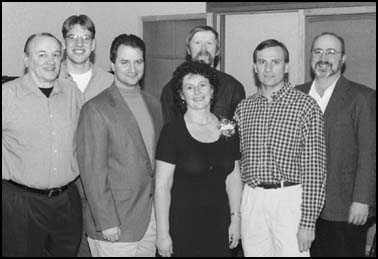 The chamber president for 2000 will be Sue Brauchler, who will oversee events like the Farm and Home Expo on March 25; Town and Country Days from June 17-21; Craft and Market Day on Aug. 19; and Breakfast with Santa on Dec. 2.
The first vice president this year will be Paul Bugbee. New board members this year will be Jeff Bertram, Ron Iverson, Diane Kodet, Matt Quade, and Chris Stanley. Returning board members are Michael Daniel, Todd Grieg, and Sandy Wall.
As usual, the chamber presented five awards to the public at the meeting.
The award winners were: (L to R) Joe Voss. Ryan Lang, Rick Paul, outgoing chamber president Bev Mueller, Ralph Schefers, Roger Heinen, and Ken Schefers.
The Boss of the Year award went to Joe Voss, who started Voss Plumbing and Heating in Paynesville in 1961. His company now has 19 employees, including three who have worked there for more than 20 years. He has served as mayor of Paynesville, as assistant fire chief, and as president of the Jaycees, and currently heads the local human rights commission.
Voss said he was surprised to get the award and appreciative of the recognition. He said he tries to treat people as he would like to treated himself and was thankful for all his employees. "The way I've always looked at it is whatever success I have or whatever success I haven't had is due to the people who represent me," Voss explained.
Tess Thielen, who has worked at Voss Plumbing and Heating for 22 and a half years, said Voss deserved the award because he's honest, fair, and generous.
The Employee of the Year was Roger Heinen, who has worked for Mueller Wood Products for 12 years. He started as a builder and now is a foreman, meeting clients, fine tuning plans, ordering materials, and scheduling installations. He also serves on the Paynesville-New London-Spicer Hockey Association Board and has been active in helping at the Koronis Civic Arena.
"I didn't expect it," he said of the award. "It just blew me away."
His boss, Butch Mueller, called him a loyal employee, humble person, and a perfectionist. "Roger is one of those exceptional employees," Mueller explained. "He never complains. He's always ready to help. He treats it like it was his own shop."
The Outstanding Farmers this year were Ralph, Ken, Julie, and Jason Schefers. Ralph's and Ken's father purchased their family farm in Zion Township in 1943. Ralph, Ken, and Julie bought the farm in 1979.
Currently, they farm 420 acres and milk 75 registered Holsteins.
Ken earned an agriculture degree from the University of Minnesota, and his son, Jason, has a farm management degree from Ridgewater College. The family has been active in agricultural organizations, their church, and 4-H.
"I was real honored to receive that award," said Ken. "We were really appreciative."
He added that farmers should be giving awards to the businesses in the community. The diversity of the business community-with retail stores, manufacturing, and the service industry- along with quality health care and good schools made Paynesville a good place to live, according to Schefers.
The Community Service Award was given to Rick Paul, who is active in youth sports, church, and the chamber. Paul has served on the chamber board for four years, including as president two years ago and as past president last year. At church, he has taught Sunday school and is a sound system volunteer.
A father of three, he serves as vice president on the curriculum advisory council at school that reviews curriculum and makes suggestions. He is a youth baseball and a youth hockey coach. He also serves on the hockey association board and on the arena board, and is the coach-in-chief for the association.
Paul finds community service pleasurable. "It's a very nice thing to be noticed," he added. "We don't do it for that, but it's nice to be recognized."
Ryan Lang, the son of Keith and Paula Lang, was chosen as the Outstanding Young Person this year. A senior at Paynesville Area High School, he has been a Pals mentor and a peer helper. He sings in the choir, of which he is the president this year, and competes on the speech team. He recently had a role in the drama production of "Scrooge."
At his church, he also sings in the choir, performs special music, and has taken two service trips to Mexico. He also sings in the Christian singing group, On Call.
Last summer, he took part in the United Nations Pilgrimage for Youth, sponsored by the Odd Fellows and Rebekahs. In November, he was the Lions Service Award winner.
He also works at Wally's G & T Foods. Lang said his parents convinced him to attend the chamber meeting without explaining why they were going. He had no inkling of the award until it was announced. "It was quite the surprise," he said.
Entertainment at the meeting was provided by Sean Emery, a juggler.
---