Just a year ago, Tessa Miller was preparing to leave Paynesville for a five-month mission trip.

The 2003 PAHS grad attended a Discipleship Training School in Jarabacoa, Dominican Republic, starting in mid-January 2005. She trained with 15 other students for three months and then did one month of mission work in the Dominican Republic and another month in Central America.

Miller had taken a two-week mission trip with her youth group from Crystal Hills Assembly to Jarabacoa in the summer of 2004. They did mostly street ministry during that short-term mission, she said.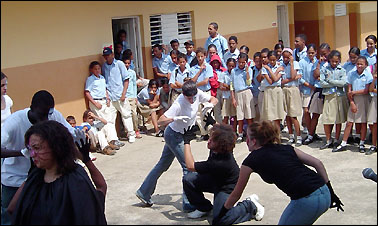 Her youth ministers at Crystal Hills, Josh and Tami Zwiefel, had attended a Discipleship Training School with Youth With A Mission, a nondenominational group.
Tessa Miller (standing in center) of Paynesville performs a skit with her Youth With A Mission group in the Dominican Republic during a five-month mission trip last winter and spring.
Miller said she enjoyed the people in the Dominican Republic during her short mission trip and wanted to go back. "I just liked it down there; it was fun," she said. Because she was just working, it seemed like a good opportunity to go, she added.
Jarabacoa is in mountains of the Dominican Republic. "It still got pretty warm, but at night it would cool down, so it wasn't so bad," Miller said.
At Jarabacoa, the 15 students, representing seven or eight countries, lived in dorms on campus. They learned about religion, meditation, effective communication, and some conversational Spanish. They also taught English at a school in the village one day each week. "The kids were just so fun," said Miller.
Though there was an English-language church in Jarabacoa, Miller said she preferred the Spanish-speaking services, which had "a lot more energy in the church." Parishioners would jump up and down and were visibly excited at the church, she explained.
The best part of the mission trip was "meeting new people," "learning new cultures," and "seeing a completely different way of life," she said. The 15 students - all from different backgrounds - became family in five months, she added.
After the training, the students spent two months doing mission work, first one month in the Dominican Republic and then splitting into three groups of five and going to Haiti, North Africa, and Central America.
In the Dominican Republic, they performed on streets, in churches, and in schools.
Miller was then assigned to the Central America group, which spent two weeks in Nicaragua and two weeks in Costa Rica. In Nicaragua, they performed skits at schools and worked at refugee camps. In Costa Rica, they did ministry work as well as carrying wood to build houses in the jungle.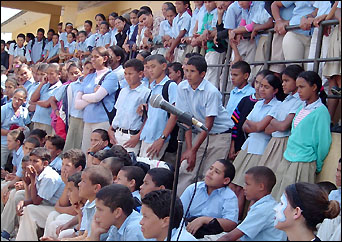 One thing they did in Nicaragua was work in the kitchen, making bean soup, three days each week. While Miller did not find bean soup very appetizing, the little kids did. "It was so cute," she said. "The little kids all had their little bowls and thought it was the greatest thing."
Tessa Miller (lower right) watches her mission group perform at a school in the Dominican Republic last year. She spent three months in Discipleship Training School in the Dominican Republic and then a month doing mission work in that country and another month in Central America.
After living overseas for five months - until mid-June - and experiencing different modes of transportation, the lack of washing machines, and seeing the economic differences and the abundance of fruit and flowers, Miller said she liked it enough to do it again. She also would like to do mission work in the United States.
One thing she learned, she said, was "how good I have it compared to other people" and "how lucky Americans are."
She said she hopes to make mission work into a career. Her dream job would be on the staff with Youth With A Mission. She's not sure about living overseas for long periods; she could do it, she said, but it would not be her first choice.
Ideally, she could be involved with mission work and spend only short periods overseas. She's "trusting the Lord that things will come together," she said.
---
Contact the author at editor@paynesvillepress.com • Return to News Menu
Home | Marketplace | Community
---