Joseph Chaney Ellingson became the first baby born at the Paynesville Area Hospital, arriving on Friday, Jan. 6, at 12:20 p.m.

Joseph's adoptive parents are Deb and Roger Ellingson of New London; his birth mother is Heather Barber of New London.

Deb and Heather are sisters and called Joseph a "miracle." Deb, said Heather, always wanted a large family and even as kids would tell Heather that someday she would carry a baby for her.

Joseph was "heaven sent," said Heather.

"A gift from God," agreed Deb.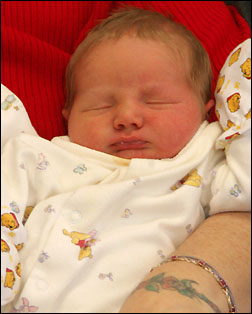 He arrived two years after Deb and Heather lost three children to a house fire in Princeton, Minn. Deb's son Shane and Heather's sons Cody and Hunter were killed in that fire. Joseph's middle name, Chaney, is a reminder of those three siblings lost to the fire. "C" stands for Cody, "h" for Hunter, and "ane" for Shane (with a "y" added for pronunciation and for their grandmother Judy).
Joseph Chaney Ellingson was born on Friday, Jan. 6, at 12:20 p.m. He weighed eight pounds and nine ounces and measured 20.25 inches in length.
Joseph Chaney Ellingson weighed eight pounds and nine ounces and was 20.25 inches long. Deb and Heather consider his birth weight rather significant, since they were both born on Aug. 9 (8/9), though 13 years apart.
Joseph joins two adult daughters in Deb's and Roger's family. Roger, who works at Koronis Parts in Paynesville, has been a father to the girls for 12 years (and to Shane for 10) but will get his first chance as the father of an infant with Joseph, for whom he will get to change his first diapers. Deb teased that Roger should be trained in all the baby skills in a couple years.
The Paynesville Area Hospital - part of the Paynesville Area Health Care System - recorded 119 births in its 2005 fiscal year (which runs from October 2004 to September 2005).
---
Contact the author at editor@paynesvillepress.com • Return to News Menu
Home | Marketplace | Community
---