Sixth graders honored for 25 years at winter camp by LLCC
This article submitted by Linda Stelling on 1/10/01.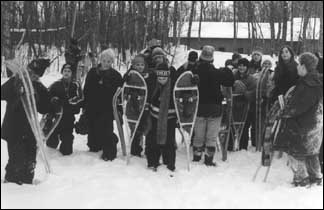 The sixth graders of Paynesville Area Middle School marked the 25th anniversary of their attending the Long Lake Conservation Center near Palisade. The students were at winter camp from Wednesday, Jan. 3, to Friday, Jan. 5.

The class advisors, Scott George Kim Gulbranson and Bob Bowden, and were presented a plaque in honor of their 25 years of the school's participation.

During their three days at camp, the 96 students learned environmental games, attempted cross country skiing and snow-shoeing, and tried orienteering. For many of the students, this was their first time on either skis or snowshoes.

Through the fun and games, the students also learned about environmental issues, wildlife, and survival skills.

Amanda Schmitz said besides being fun, cross country skiing is a nice way to see nature without being noisy and scaring the animals away.

Tanis Beireis also enjoyed cross country skiing. She compared the loop where they skied in the woods to the forest scene in the Wizard of Oz. "We didn't see any lions, tigers, or bears, but we did see a doe run by," she said. "I'm a city girl so that was the closest I have been to a live deer."

Courtney Hedtke found stopping a problem when she tried to cross country ski. "It was a challenge because you had to be careful not to run into the person ahead of you. That happened to me. Even though I fell a lot, I had fun," she said.

"I liked skiing because we got to go on trails and ski with our friends," said Emily Lindeman. "Getting up was probably the hardest part of skiing. You had to get in a certain position and then stand up without falling over again," she added.

Peder Thompson liked snow-shoeing because he had the opportunity of seeing many different animal tracks. He also saw a beaver lodge."I might get some snowshoes because it is a silent sport and you can watch wildlife up close," he said.

Cary Jo Schlick thought snow-shoeing was really cool, especially when they went down into the bog. "There were deer tracks everywhere and little plants sticking up from the ground. You could taste one of them if you wanted to. It was a plant that people use to make tea. It tasted gross!" she added.

Joseph Fry said his favorite activity at camp was Alpha Wolf, where the kids try to located the wolf by sound. "You have to use your ears a lot. You track down the wolf in the wilderness at night. Once you are outside you are a wolf and can't make any human sounds or you'll scare the alpha away. If you find the wolf, you sit about 50 feet away and let the others in your team find the wolf" he said.

Ellery Prentice and Hailey Bundy agreed with Fry that Alpha Wolf was an activity they would remember for years. Prentice said the students were sent out into the woods with a rope and no flashlights. "I was amazed at how well you could see at night. It was just beautiful out there," Prentice said.

Bundy said a person could feel the silence fall all around them when they were out in the woods at night. It was almost disturbing, she added.

Elliott Wall's favorite activity was Snakes Alive, when they were shown several different snakes. His favorite was a 30-pound python.

Wall's group did an experiment with a boy and girl volunteer wearing hair gel or hair spray. The snake liked Nicole Domm's perfume but didn't like Michael' Houske's gel.

Brad Hemmesch and Kacy Nehowig enjoyed the snakes. The first snake they shaw was a garter snake. They fed it bugs. They also saw a corn snake, bull snake, hog nose snake, and boa constrictor. Hemmesch explained the hog nose got its name because it uses its nose to dig, just like a pig.

"We were told not all snakes are bad," Nehowig explained. "The fact that we could see live snakes was cool."

The orienteering race was a favorite of Emily Mergen and Crystal Jolly. Orienteering was easy and fun, Mergen said. In orienteering, the students had to be able to read a compass and follow directions through a course. They had the option of doing the course with a partner or by themselves.

Jolly was responsible for dialing in the numbers on her compass. "We followed the compass and it led us to the first colored coded tree. I couldn't find it at first, so I had to go back and start over," she said.

The students were timed on how fast they could complete the course. Mergen finished second and Jolly finished third.

Kimberly Person, along with many of her classmates, enjoyed the game "Who Gives a Hoot?" One person plays the part of the owl and the others are mice. The object of the game was to get into the feed hut, said Randi Schaefer. The owl has a flashlight and is blindfolded. The mice try to get past the owl without getting tagged by the flashlight.

The sixth graders held car washes last summer to raise funds for the trip. They also collected pop cans, and sold Christmas wrapping paper to help cover expenses.
---