Prices soar as temperatures drop
This article submitted by Linda Stelling on 1/10/01.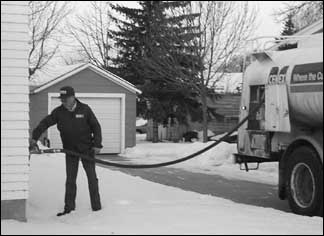 High energy bills are taking their toll on household and business budgets.

Propane prices increased 58 percent last year. Fuel oil prices only went up 28 percent in 1999, but in the past two years, it jumped up 84 percent. Natural gas prices increased 154 percent in the last year.

Dave Spanier of Cenex delivers fuel oil to a home in Paynesville.

Paul Evans, Cenex manager, said the prices started to go up last year, but with the mild winter nobody seemed to notice.

However, with this December being the second coldest on record, home-owners noticed the increase in prices this year.

Evans said the cost of home fuel oil went from 89 cents a year ago to $1.14 today. "It is a terrible thing for people living on a limited income. They put aside a set amount for the winter fuel bills. This year, that amount won't last," he said.

An average household uses about 750 gallons per year. With the increased need for fuel this winter, Evans said they can expect to pay an extra $225 because of the increase in prices plus another $200 for added fuel consumption for a colder winter.

The high prices stem from March 1999, according to Evans, when OPEC nations cut crude oil production after the prices dropped to below $10 a barrel.

At the same time, refineries did not keep extra crude oil on hand because of the increasing prices. Evans said the refineries normally produce fuel oil in the summer months and gasoline in the winter months. With the economy booming last summer, the refineries stayed with gas production longer and didn't start distilling fuel oil soon enough.

"At one point this fall, fuel terminals were out of number one heating fuel," Evans said. "We couldn't get any for three weeks. Luckily, we had some on inventory and rationed it out to our customers."

Evans is hoping the warm January weather continues, which will help lower the demand for fuel. "January is historically the coldest month, but we're experiencing 30 and 40 degree temp-eratures," he said.

Heating fuel price increases
January 1999 62 ¢ x 750 gal = $465
January 2000 89 ¢ x 750 gal = $667
January 2001 $1.14 x 750 gal = $855

Natural gas increases
Reliant Energy Minnegasco has cautioned its customers that recent price increases will result in higher gas bills over the next few months.

While averaging less than 50 cents per gallon for at least six years, natural gas prices went from 50 cents in January 2000 to 66 cents by June and up to 87 cents in December. This month the price jumped about 40 cents to $1.27.

Reliant Energy will be sending out updated payment plans in January. There will probably be an increase of about $40 per month for the average household.

According to Joe Klenken, regulatory specialist for Reliant Energy, an average household pays around $600 annually (Sept. 1 to Aug. 31). This figure is expected to be over $1,000 for 2001.

Minnegasco began informing its customers last July about potential gas increases, estimating the increases to be between 30 and 35 percent. Since then, market prices have driven estimates to over 50 percent and continued cold weather is driving them even higher, said Gary Cerny, chief operating officer of Reliant Energy.

Meanwhile, propane rates went from 99 cents per gallon a year ago to $1.56 per gallon per contract today.

Propane is a by-product of crude oil refining and natural gas processing. The rising prices came about by unexpected shifts in the supply, according to the National Propane Gas Association.

Some refiners who normally produce propane by refining crude oil are now using that propane to fuel their own refineries instead of selling it to retail distributors.

Expenses to businesses
With natural gas costing more than fuel oil, Associated Milk Producers Inc. (AMPI), switched at the beginning of the month to the lower priced fuel oil.

"The savings was quite significant," said Matt Quade, AMPI manager. AMPI will use fuel oil through the month of January. In February they will decide to continue or switch back to natural gas, depending on the temperatures and prices.

The Paynesville Area School District also has dual fuel capability, but Lew Storkamp, building and grounds supervisor, didn't see the benefit in changing from natural gas to fuel oil. "The prices are going up on both sources," he said. Gas burns cleaner and is easier on the boilers," Storkamp added.

The Paynesville Area Health Care System burns natural gas. Their rates went from 56 cents per 100 cubic feet in October 1999 to 84 cents in November 2000.

Because of the colder weather in December, the fuel bill was almost doubled from a year ago. In December, the fuel bill was about $15,790 compared to $7,455 a year ago.

"The increase in gas prices really messed up the budget," said Gene Martinson, maintenance manager.

The hospital used 1,667 cubic feet less fuel this November than a year ago, but paid $1,617 more because of higher prices.

Heating assistance
The Department of Energy predicts that overall energy bills are expected to jump about 20 percent during the 2000-01 heating season, said Kathy Botten, Tri-CAP energy assistance outreach.

Tri-CAP has approved 2,298 households for energy assistance this month, up 122 households from last year. "We still have 600 applications to review," Botten said, and applications are still coming in daily.

Last year Tri-CAP spent $605,607 to help households pay their energy bills. This year, that total has climbed to $915,116. Botten said the state assures Tri-CAP it will have enough money to last through the heating season. Tri-CAP is still urging people to apply for assistance. Whether a person owns or rents, they may qualify for energy assistance based on family size and gross income. Income guidelines for eligibility are:
Family size Monthly income
1 $1,454
2 $1,902
3 $2,350
4 $2,797
Farmers and self-employed persons may use net income.

To get an application for energy assistance, residents in Stearns County may phone Tri-CAP at 1-888-765-5597. The application must be returned with copies of all income for the prior three months: wages, SocialSecurity, SSI, pension, or unemployment compen-sation. A federal income tax form from last year can be used as proof. Applications cannot be processed without proof of income.

Cost saving tips
To reduce the overall impact of the cost increases, Reliant Energy Minnegasco recommends the following for consumers:
• Conserve energy. Lowering your consumption through weatherization and efficient energy use will reduce costs. Simple actions such as installing a programmable thermostat or sealing doors and windows will reduce consumption.
• Contact your utility about programs designed to help customers, especially lower and fixed-income households, meet energy needs.
• Join your utility's budget payment plan to spread payments evenly over the year. This won't reduce your overall bill, but it will minimize spikes during this heating season.
• Have an energy audit performed on your home. Most utilities offer low-cost audits to assess the conservation needs of your home. This service is especially helpful for first-time owners of older homes.
• Have your furnace maintained annually.
• Call your utility for free publications that provide energy saving ideas and weatherization instructions, as well as information about gas price increases.
---