Churches working together to benefit teens
This article submitted by Linda Stelling on 1/10/01.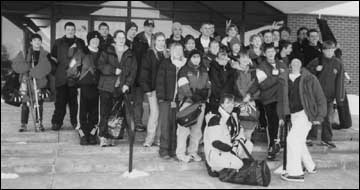 Not so long ago socializing outside of one's church was discouraged. Now, changing times and attitudes are encouraging just that.

Eight local churches are working together to provide activities for area teenagers. Pictured are area church youth waiting for a bus to take them on a ski outing at Powder Ridge, Kimball.

Linda Jensen, youth director at the Grace United Methodist Church, and Laurie Rausch, youth director at the St. Louis Catholic Church, invited area ministers and youth pastors together in 1998 to discuss forming a collaborative.

The goal of the Paynesville Youth Ministry Association was to get teens connected with youth of different denominations.

According to Rausch, the kids were bringing their friends along to planned church activities so why not include them.

Last year was a transition year for many of the area churches. The collaborative had problems getting organized, while others were hiring new pastors.

Many of the churches organized their own events last year and invited the others to participate, Rausch said. This year we'll be more organized, she added. Jensen agreed the collaborative has a lot of work ahead of them.

One collaborative activity is being planned per month. So far the joint group has gone Christmas caroling, had lock-ins, taken a ski outing to Powder Ridge, seen a Timberwolves game, and organized the flag pole rally at the high school.

The collaborative wants to provide youth activities as an alternative to parties where alcohol is served.

"From the interdenominational aspect, we try to do events that teens can invite their friends Ñ church and nonchurch, said Rausch.

The churches are working together on joint projects that will benefit the entire body of Christ, according to the mission statement.

"The collaborative is cognizant of the fact that each church has their separate traditions and we're careful not to promote one church over another," said Jensen.

"The big benefit is that teens can fellowship together without crossing religious boundaries," Jensen added. While maintaining their respective beliefs, the youth can fellowship with a wider range of Christians.

Rausch felt the collaborative spoke well of area Christians when so many can work together. Jensen added they all try to give kids a variety of choice in a Christian atmosphere.

At the same time, the collaborative offers church youth leaders a chance to share what is happening in their individual churches, and to share ideas on to what works or not, Jensen said.

The youth leaders decide on a mutually convenient date to hold activities. The churches also support the activities financially. Each month a different church is in charge of planning an event. Another ski outing is being planned for Powder Ridge in February.

Churches taking part in the collab-orative are: Crystal Hills Assembly, Grace United Methodist Church, St. Louis Catholic Church, Paynesville Lutheran Church, Nordland Lutheran Church, Evangelical Free Church, St. Margaret's Catholic Church (Lake Henry), and St. Agnes Catholic Church (Roscoe).

The youth directors discuss events as to what would benefit and attract teens. "It's important that the kids can interact in school and on a social level outside of school," Jensen said. "It's great the kids can have fun together in Christ," she added.
---