Feature airs on the Integrated Health Center
This article submitted by Michael Jacobson on 1/10/00.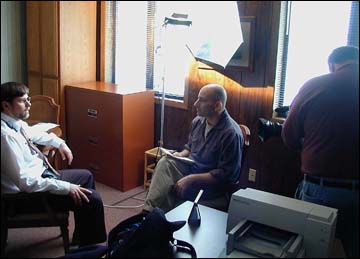 An omission in a recent WCCO health story led to the feature story on the Integrated Health Center (IHC) in Paynesville. The Lifeline story was scheduled to be broadcast last night (Tuesday, Jan. 9) on the ten o'clock news.

A couple weeks ago, a WCCO story about cardiac scoring omitted the Paynesville Area Health Care System as a site. This procedure can only be done by state-of-the-art scanners, which check the calcium build-up in the coronary arteries to judge a patient's risk factor for coronary disease.

A number of local people called WCCO to inform them that PAHCS has this capability, along with the Mayo Clinic in Rochester and Abbott Northwestern Hospital and the Center for Diagnostic Imaging in the Twin Cities.

When Stephanie Malingen, the new marketing director at PAHCS, called WCCO, she talked to them about other things PAHCS offers. "When I talked to them about this (the Integrated Health Center), they were real excited and wanted more information," she explained.

This led to an interview (see picture of Dr. Sult being interviewed) and tour of the Integrated Health Center last Thursday, as well as a tour of the main campus of PAHCS and, of course, a look at the CT scanner that started it all.

Coming to Paynesville for the interview were Denny Draghiciu, a senior producer at WCCO, and Bob Hernandez, a veteran cameraman.

The center's setting - both in a rural community and owned by a hospital - interested him in the story. "There's a lot of niches in the Twin Cities, but nothing that's integrated," he said.

Interest in so-called "alternative" medicine is obvious, said Draghiciu, by the lines and business at health food stores.

Draghiciu was surprised not so much by the size of Paynesville but by its two-hour separation from the Twin Cities market. On the morning of the interview, though, when he asked his neighborhood deli owner about the best route to Paynesville, the owner volunteered that he was a patient at the IHC.

"It's too bad this place is so far away," said Draghiciu. "I'd be willing to come here. I'd bring my son here."

"This is a great story," he added. "The people here are lucky to have it."

The broadcast
Unlike most television news stories that run a minute, Draghiciu said the Lifeline pieces - hosted by anchor Dennis Dota - typically run 90 seconds. Sometimes even a little longer.

From Friday to Tuesday, Draghiciu edited the interviews with Dr. Tom Sult and Dr. Julie Youngs, oversaw the editing of videotape, and wrote the narration, introduction, and tag lines for the broadcast.

In his interview, Dr. Sult explained his approach to medicine at the IHC, listing four main principles.

First, like the name indicates, they have integrated standard medical procedures with alternative approaches. Sult stressed he uses standard medical treatments as needed.

Second, he said, "We want to find the earliest possible marker for any disease." This is why Sult pushed for the ultrafast CT scanner and why the IHC has a biofeedback monitor that can pinpoint irregularities in the body's organs or systems.

Third is an emphasis on diet and lifestyle modifications, using more than just lip service about eating right. "We not only tell you to go on a better diet, but we give you handouts and a support system to do that," explained Sult.

Fourth is a focus on individual patients, and not diseases. "Functional medicine," he said, "means that we're more interested in how your body functions than your diagnosis."

Dr. Sult sees a lot of patients with chronic illnesses that have been to other doctors and specialists. The diagnosis is easy, but to many chronic conditions an optimal treatment is not. Sult said symptoms of disease can be minimized by looking at each patient on an individual basis and tailoring treatment and nutrition to meet their needs, even without curing the disease.

"My patients, by and large, have been fully worked up, and are not satisfied with the results," he explained.

In the on-camera interview, Sult said that he does not have a miracle cure, but does ask different questions, gets different answers, and uses different tools to help his patients.

For instance, he prefers using nutrition to drugs. Sult said drugs block certain body functions, while good nutrition bolsters the body's natural defenses. Sult attributes the emphasis on drugs over nutrition to the financial backing of the pharmaceutical industry.

When asked about the acceptance of his practice in a rural community, Sult responded that people in farming communities understand about the healing power of nature. "They understand that fertilizer is needed for their crops and when they think about it they understand they need to fertilize themselves," he explained.

He urged everyone, especially younger people, to follow good nutrition. Poor nutrition contributes to disease, even if the disease doesn't surface until years later, he stressed.

Sult, who moved to Paynesville from California, said he was fortunate to work in a hospital system that was willing to offer so much support to this endeavor. Being in a system, Sult said, allowed him more resources than he would have in private practice, like the new CT scanner.

"I think this is the wave of the future because people want to be better, but they want to be better in the least invasive way," said Sult.
---