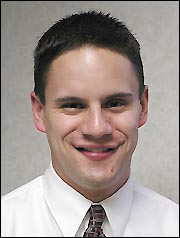 J.D. Anderson has rejoined the pharmacy department at the Paynesville Area Health Care System.

Anderson spent three months at PAHCS in the summer of 1999 when he was a student at the University of Minne-sota and then spent another 14 months at PAHCS in 2000-01 for a postgraduate residency after graduating with a doctor of pharmacy (Pharm.D.) in May 2000.

Since ending his residency, Anderson had split his time working between a hospital in Moose Lake and Fairview-University Hospital in the Twin Cities. Anderson said the decision to return to PAHCS was easy because of his familiarity with the facility and his knowledge that PAHCS does a good job in caring for people.

When he left Paynesville last summer, Anderson wrote a Letter to the Editor to try and describe the progressiveness at PAHCS. Having worked elsewhere in the past six months reinforced his view. For Pharm.D.s, no place in the state offers patient contact like PAHCS, he said. "The chance to work in that environment was too good to pass up," he said.

He credits the openness and willingness of the doctors for the spirit of interdisciplinary care offered at PAHCS, and Laura Odell for starting the pharmacy program.

Anderson, who started at PAHCS again last week, will do dispensing and medicine management in both the hospital and nursing home as well as consult with patients one-on-one in the clinic. He will also oversee medicine in the nursing home, which could get to be a bigger job once the proposed merger between PAHCS and the two Good Samaritan Society homes is finalized. He enjoys the variety of work at PAHCS: dispensing, consulting, and managing medicines.

Anderson will also spend a day or two a week at the Integrated Health Center in Paynesville.

With Anderson back, the pharmacy department now includes four Pharm.D.s: Todd Lemke, the new department head; Anderson; Beth Kadlec, a year-long resident; and Laura Odell, will be working part time in order to spend more time at home with her daughter.

Anderson and his wife, Holly, who is also a Pharm.D. and also spent time at PAHCS as a student will reside in Cold Spring. She took a job at the St. Cloud Hospital.

Anderson, a native of Ely, enjoys golfing, fishing, hunting, and playing guitar and singing.
---
Contact the author at paypress@lkdllink.net • Return to News Menu
Home | Marketplace | Community
---