In late November, Jo and Kelly Speldrich got a phone call they've been waiting for since last year. The call informed them their adoption was finalized and they could travel to the Philippines to pick up two-year-old Jolina, a little girl they had never seen but who they already felt was a member of the family.

Within a week, Kelly and her mother-in-law were in the air on a 15-hour flight that would take them to Manila. (Jo stayed home to take care of their older children and their business.) "When we finally got there and picked her up, it felt very normal, like she was supposed to be with me," said Kelly who arrived in Minneapolis with Jolina a week before Christmas.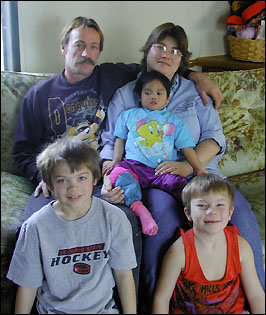 "She seems to be adjusting well," said Kelly. "She was even calling me mama before we left the hotel in the Philippines."
Jolina may be a little smaller than their older boys when they were the same age, said Kelly, but in most ways she looks and acts like an average two-year-old.
The Speldrich family is complete now thanks to Jolina. Pictured are: Jo (top left), Kelly, Jolina (center), Joachim (bottom left), and Zach.
She has already begun to wrestle with her brothers who adore her and has mastered a few words in English, including the word "no." There have been a few minor adjustment problems for Jolina but it's nothing the Speldriches feel they can't handle. Whenever anybody visiting the Paynesville Township family leaves, Jolina becomes afraid and clings to Kelly, afraid she will have to leave, too, but Kelly is sure that Jolina will soon be secure in her new home.
Getting Jolina to sleep was another hurdle the family had to overcome. Jolina spent her whole life sleeping dormitory style, three toddlers to a bed, said Kelly, so sleeping alone has been a problem for her. For now she sleeps in a "nest" next to her parent's bed and Kelly hopes to gradually move her into a bed in her own room.
Bringing Jolina home marked the end of a journey that began in October 2000 when the couple contacted an adoption agency.
The Speldriches, who have two boys - Jociam, 8, and Zachary, 6 - wanted a girl and began to think about adoption years ago. Because of the cost and time involved, they never pursued it until Jo mentioned to a friend that they were interested in international adoption. The friend had already gone through the process and recommended the adoption agency he had used.
The couple had been considering international adoption because they were told they would be more likely to adopt a girl under two in a more timely manner than with a domestic adoption. They had also learned, in some cases, international adoption can cost less than a domestic one.
Within days of contacting the adoption agency, the family was facing a mountain of paper work that needed to be completed before they could be considered as a potential adoptive family.
They filled out forms from the local adoption agency, the state, Immigration and Naturalization Services (INS), the FBI, and eventually, from the Philippines. Every country is different, but documents from the Philippines had to be approved by the Philippine consulate before they could be submitted to the country, and they had to demonstrate how they would teach their daughter about her Philippino heritage, something both Jo and Kelly feel is important. Kelly kept copies of every page in a binder that grew to over two inches thick.
They went through a home study, which Jo described as no big deal. "An agency social worker simply came and visited with us. She chatted with us and talked with the boys a bit about the adoption. She was impressed by how well the boys understood the adoption," he said.
Their initial request was for either a sibling group or a little girl, and Kelly believes God chose Jolina to be their daughter. "Now, our family is complete," she said.
The Speldriches encountered only a few minor problems in the process. Jo and Kelly were expecting to get travel orders in October, but there was a problem in the Philippines. Somehow Jolina's birth certificate had been lost, but it was eventually recovered.
Another minor problem was that Kelly wasn't allowed to go to the Filipino orphanage where Jolina had lived since she was two months old. It was considered unsafe because of terrorist activities in the area. As a matter of fact, security personnel at her Manila hotel were reluctant to let her leave the hotel on foot. "It's not safe for your kind here," she was told.
Instead, Jolina was taken to Manila and Kelly never got to see exactly what the conditions were like where her daughter had spent most of her life, which she regrets since she thinks it would have helped her to know her daughter better.
Adoption is expensive, and international adoption can cost much more than a domestic adoption. According to Anne Sinnott, director of the Crossroads Adoption Agency, the agency the Speldriches used, an international adoption typically costs between $10,000 and $30,000, depending on the country.
Kelly said that she hated the idea of putting a dollar amount on bringing a child into their family, but money has been an issue from the beginning - from the agencys application fee to the fee the Philippine government charged to "hold" Jolina until the Speldriches picked her up.
Jo and Kelly believe having Jolina join their family is worth every penny they spent and everything they went through.
---
Contact the author at editor@paynesvillepress.com • Return to News Menu
Home | Marketplace | Community
---