Since Pastor Gabriel Owino Muga of Kenya visited Paynesville in May 2001, his church and the Paynesville Evangelical Free Church have become sister churches, and the Paynesville church decided to provide financial support for the Kenyans. The first thing that was needed was a new building, so the Paynesville Evangelical Free Church originally raised $10,000 to help them build one.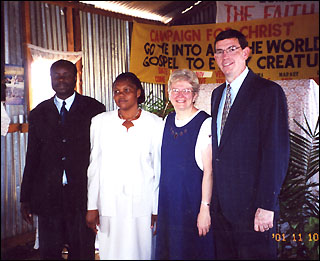 Then, in February 2002, the 300-member congregation of Paynesville Evangelical Free Church set a goal to raise another $50,000 for the church building by the end of the year. By the end of December, they had reached their goal.
Pastor Gabriel Owino Muga and his wife, Damaris, stop for a picture with Pastor Rich Hubert and his wife, Karen. The Huberts visited their sister congregation in Kenya, in November 2001.
The church in Eldoret, Kenya, has a growing congregation of 120 people. "They need a bigger place to worship for a growing congregation," said Pastor Rich Hubert. The building they're currently using is a tin pole shed, according to Hubert.
In Eldoret, poverty is overwhelming, according to Pastor Hubert, who met Pastor Gabriel at a pastoral conference and who visited Kenya in 2001. Accompanying Hubert on his trip were his wife Karen, church member David Sorum, and his son, Michael Sorum, who resides in California.
Pastor Hubert hopes that the new building will help that church reach even more people in Eldoret.
The $10,000 that the congregation in Paynesville originally raised helped lay the church foundation, which was in place when Pastor Hubert visited Kenya in November 2001.
Though the Paynesville Evangelical Free Church held a hog roast fund-raiser, the majority of the money was simply donated. The congregation members weren't the only people involved in the fundraising, according to Pastor Hubert. Relatives of people attending the church donated money, as well as people from the community.
Even children were involved. Pastor Hubert said the most touching donation was from a three-year-old with a small piggy bank who gave it to him saying, "Pastor Rich, this is for Africa."
The Kenyan church isn't the only church the Evangelical Free Church has helped. In the last year alone, the congregation also raised $32,000 to help start churches in Litchfield and Sauk Centre.
Pastor Hubert said that "church planting" is very important. He believes people in every community should have an opportunity to worship and spend time with God inside solid church walls, so church plant-ing is an ongoing goal.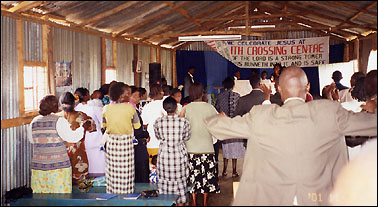 This also isn't the first time the Paynesville Evangelical Free Church has helped people in foreign countries, either. Church members have gone on mission trips to Mexico, as well as disaster relief trips to Nicaragua.
The $50,000 that the Paynesville Evangelical Free Church raised will go toward a new building for a congregation in Eldoret, Kenya.
In celebration of raising the funds for the church in Kenya, the Evangelical Free Church had a special guest speaker at their church services on Sunday. Nephat Oliech, who grew up in Kenya, spoke as well as showed off some of his talents with African music. Oliech, who is a band director, is currently studying here in Minnesota. There was also a recorded message from Pastor Gabriel.
Pastor Hubert said he hopes to go back to Kenya for the building dedication, which should be held toward the end of 2003. Pastor Hubert said that the Paynesville Evangelical Free Church hopes to raise even more money to keep the mission going for their sister church in Eldoret, Kenya.
Other local churchgoers support missions in Kenya, as well. The St. Cloud Diocese supports a sister diocese in Homa Bay, Kenya, which is located on the eastern shore of Lake Victoria.
---
Contact the author at editor@paynesvillepress.com • Return to News Menu
Home | Marketplace | Community
---