The dawn of rural electricity in 1938 marked the beginning of the end for round barns.

Somewhat rare even in their time, round barns were built in the Midwest during the 1920s and 1930s as an efficient way to distribute silage without the need for electricity.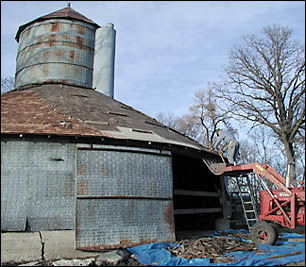 Now that they are almost completely extinct from the countryside, Allard Christenson is seeking to restore the round barn on his seventh-generation farm. The barn was built in 1925, four years after Allard's father, Alfred, and uncle, George, bought the farm from their father.
Standing on the scoop of his tractor, Allard Christenson uses a potato fork to remove old cedar shingles from the roof of his 78-year-old round barn. Christenson is restoring the barn to its original condition with the help of Steve Hislop and Laurel Hanson.
Round barns were originally developed in New England. One of the most famous was a stone structure made in 1824 by the Shaker colony of Hancock, Mass.
The round barn is structured around a silo, and a feeding trough surrounds the silo at the barn's center. This way, silage can be put directly into the feeding trough from the silo, without the need for electric conveyor belts or augers.
"It was still quite a bit of work to spread it all the way around by hand, but it was the best system at the time," said Christenson.
"These days most farmers use augers. You don't have to touch the silage hardly at all," he said.
Christenson recalls another round barn in the area, but now all that remains is the original silo, because the surrounding barn was ripped down. Christenson hasn't filled his own silo since 1975, so he had plans to take down the entire structure.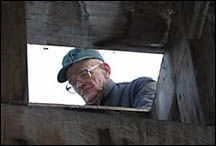 "I had originally given up on fixing it, but as I got older I got more interested in its uniqueness," said Christenson. "I thought I'd just let it go and maybe build a pole barn, but then I realized it would probably be nice to try to keep it. I can still use it for cattle shelter and storage, but I don't think it will ever be used for silage again."
Allard Christenson reaches to pull out a shingle after removing a rotten board from the roof of his barn. Due to the building's round construction, the longest piece of lumber is only four feet.
Though the round barn is less practical for use as a cattle shed than a pole barn, Christenson says he can clean the round barn in just a few minutes now that he has a Bobcat.
Regardless of advances in technology, the design of the round barn remains efficient becuase it maximizes interior space and minimizes exterior walls. As an added bonus, the design frees occupants from worry about an old superstition that the devil could literally "corner" you in a building with angles.
Christenson thinks the building has held up quite well, considering it is 78 years old and this is the first time it is being repaired. When it was built, everything was done by hand. Due to the building's round shape, the longest piece of lumber on the whole building was four feet long - which meant a lot of cutting.
The relatively good condition of the barn is also due in part to the quality of materials used in its construction. Instead of using home-sawed lumber, Alfred and George bought good lumber, which Christenson said was uncommon for 1925. They also used cedar shingles and steel siding.
"They used a lot of steel sheeting in those days, because then you wouldn't ever have to paint it and it would last a long time," said Christenson.
The Christenson farm was started in 1875 by Allard's great-grandparents, Ole and Anne. Ole homesteaded 120 acres and was Kandiyohi County's first blacksmith. Allard and his son David have now been running the farm since about 1975, when they took it over from Allard's father and uncle, who ran the farm together for 55 years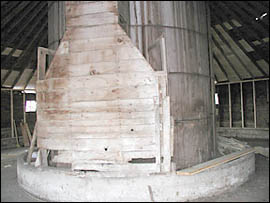 "My son David Christenson lives in the new house, and his kids make the seventh generation of Christensons to live on the farm," said Allard. The farm is currently 360 acres and has 35 beef cows.
The round barn's design allowed for silage to be efficiently transferred directly from the silo to a central feeding trough without electricity.
Steve Hislop and Laurel Hanson are working with Christenson on the restoration process. "It's been a long time since I've seen a barn like this around," said Hislop. He, like the others, is glad to see the rare building preserved.
To restore the building, Christenson, Hislop, and Hanson are pulling the old nails and replacing rotten boards and shingles. "Apparently, they used about twice as many nails as they needed to," laughed Christenson.
To keep the barn in its original condition, Christenson is using new cedar shingles to replace the old ones. When the barn was built, cedar shingles were practical because they were relatively inexpensive, which is no longer the case. "They're somewhat of a novelty, because now everyone uses tar shingles," said Christenson.
Christenson started work on the barn in December, and hopes to be finished with the project in about another week. He notes that the warm weather has made work easier. "When you can work on December 31 and use your bare hands to pull out nails, you know it's unusual weather," said Christenson.
---
Contact the author at paypress@lkdllink.net • Return to News Menu
Home | Marketplace | Community
---