Florence Potter can read again thanks to the generosity of the Paynesville Lions Club.

Potter - who hasn't been able to read for months because of failing eyesight - can read newspapers, novels, and her own correspondence again with the aid of Merlin, a $2,000 magnifier furnished by the Lions Club. Unable to read herself, Potter had relied on friends and family to read to her before she got Merlin.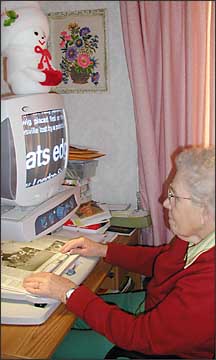 The magnifier on Potter's desk at the Koronis Manor - surrounded by books, newspapers and Christmas cards - looks like a computer screen and works much like a microfilm reader. Potter, who professes to be in her 80s, simply places reading material or pictures in the magnifier and the print or picture is displayed - magnified several hundred times - on the screen. She can change the screen colors and the focus until the image is clear to her.
Florence Potter reads the sports section of the Paynesville Press in her room at the Koronis Manor with the help of a magnifier provided by the Paynesville Lions Club.
Potter, who suffers from macular degeneration, was introduced to the magnifier by her eye doctor who understood her frustration with not being able to read. Not only did he recommend the machine, he arranged for her to use one in his office and arranged for Potter to use the magnifier for a one-month trial.
After looking at photos on the machine, Potter knew she had to have a magnifier. "I made up my mind I was going to have one," she said.
The $2,000 price tag was steep, but Potter's brother - who knew of the work the Lions Club did to preserve eyesight and help people with failing eyesight - recommended that Potter ask the Lions Club to help.
According to Curt Wegner, president of the Paynesville Lions Club, the group was pleased to help and paid for the magnifier.
Locally, the Lions Club, with help from volunteers at the Paynesville Area Center, recycles about 10,000 eyeglasses per year. These eyeglasses are sent to developing countries.
The Lions Club International is also involved in diabetes research and assistance to the blind.
This seemed like a good project for the Lions, said Wegner.
Potter is thrilled with her magnifier and grateful to the Lions Club, she said.
Losing one's eyesight is difficult at best, but for Potter, who likes Danielle Steele novels and who loves to read about local sports in the newspaper, losing her sight was even more difficult.
Before she got the magnifier, friends and family read to her - everything from her mail to the newspaper - and helped her with her checkbook. Now, she can do all that and more. In fact, Potter has decades of old photos that she can now sort with the help of Merlin.
Several members of Potter's family also suffered from macular degeneration, but because of a medication she takes for another condition, Potter's vision is failing more rapidly. Last spring, she could still read, but the rapid degeneration made it impossible by summer.
In August, she said, she could still see well enough to watch TV un-aided, but even that is impossible now. (Merlin can also be hooked up to the television, but Potter is happy just to have her books back.)
When she can no longer use the magnifier, the Lions Club will pass it on to someone who can benefit from it. Another resident at 700 Stearns Place has purchased his own magnifier. When he no longer has use for it, his magnifier will also be donated to the Lions Club.
---
Contact the author at editor@paynesvillepress.com • Return to News Menu
Home | Marketplace | Community
---