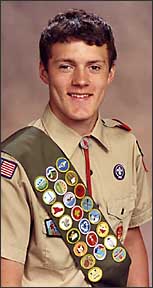 Adam Ingalsbe, a senior at Paynesville Area High School, became the 31st Eagle Scout in Paynesville history on Saturday afternoon, joining his older brother in earning scouting's highest honor.

Adam Ingalsbe, the son of Barb and Dave Ingalsbe, officially became an Eagle Scout on Saturday, Jan. 3, in a Court of Honor ceremony held at Paynesville Lutheran Church.

His older brother, Scott, became an Eagle Scout three years ago, in January 2001, when Adam was a freshman. While becoming an Eagle Scout had always been in the back of his mind, seeing his brother get his award caused Adam to get serious about meeting the award requirements. "When I really started to think about what I wanted to do for my project…was when my brother got his," said Adam.

Ingalsbe spent two years as a Cub Scout in Hastings before moving with his family to Paynesville in 1994. He has been active in scouting for nine and a half years here. His mother, Barb, was a den leader for Adam in Cub Scouts.

Along with his local activities, Adam has taken a number of camping trips through scouts, including canoeing in the Boundary Waters in 1998, canoeing the Crow River in 1999, the National Boy Scout Jamboree in Virginia in 2001, and camping in the Black Hills in 2003.

"It's fun," said Ingalsbe of scouting. "I like camping. I like to do outdoorsy stuff. And I've met a lot of people from our area."

He has earned 31 merit badges, ten more than the 21 necessary to become an Eagle Scout.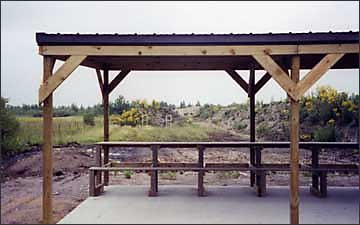 For his Eagle Scout project, Adam organized improvements to the rifle range at the Tri-County Rangers' shooting range on Co. Rd. 33 just north of Paynesville. He organized the laying of two concrete slabs, the building of shelters and benches, and the measuring of targets at intervals of 50, 100, and 200 yards.
One of two shooting shelters with concrete bases Ingalsbe, along with volunteer helpers, made at the Tri-County Rangers' rifle range.
Adam had shot trap in a summer league at the shooting range two summers ago and had used the rifle range to site in his gun for hunting. When he asked his dad, Dave, who is president of the Paynesville Sportsmen's Club, for ideas for his Eagle Scout project, his dad suggested improvements at the shooting range.
Prior to the improvements, the rifle range had two tables but without roofs and without flooring. The rifle range did not have targets at set distances either.
Ingalsbe completed his project in the summer of 2002. Eagle Scout projects are meant to be organizational projects, not just work. In addition to fellow scouts, Adam had several community volunteers help him with his project.
Adam, his dad Dave, Rick Spaeth, Rick's son Jordan, and Rick's brother Jim built the forms and poured the concrete bases for the shooting shelters. Jerry Humbert, Dave Liestman, and Dennis Spaulding helped build the shelters, with assistance from scoutmaster Jim O'Fallon and scouts Troy Gerding, Keegan Meagher, Russell O'Fallon, and Brad Torborg. Ingalsbe's neighbor, Leon Scanlon, also helped with the project.
The Paynesville Sportsmen's Club covered the cost of the improvements - which also included loads of gravel and rock between the shooting lanes for safety - with assistance from a DNR grant. Ingalsbe also secured the donation of Rhino Deck composite decking material for the benches from Master Mark Plastics.
Eagle Scouts from Paynesville - according to Press records - are: Craig Brinkman, Paul Brunik, Steve Dosdall, David Easterday, Troy Gerding, James Gilk, Steve Gilk, Adam Ingalsbe, Scott Ingalsbe, Mike Klein, Joe Lingl, Leo Louis, Ryan Louis, Casey Meagher, Jon Millner, Jared Morris, Scott Morris, Bobby O'Fallon, Mike Putzke, Randy Schaefer, Russ Schaefer, David Scheierl, Jon Scheierl, Jeff Skrypek, Gary Wagner, Dan Welter, Larry Wendroth, Loren Wendroth, Lyle Wendroth, Tyler Wendroth, and Eric Werlinger.
Adam turned 18 in December and officially is done with scouting, but he plans to stay active with the local chapter. He - and fellow Eagle Scout Bob O'Fallon - graduates this spring from Paynesville Area High School.
---
Contact the author at editor@paynesvillepress.com • Return to News Menu
Home | Marketplace | Community
---