Millers attend new leader institute
This article submitted by Linda Stelling on 1/5/99.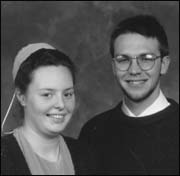 Ken and Virginia Miller, Eden Valley, recently learned how their active involvement can help grow value for their local cooperatives, communities, and families.

Millers represented Paynesville Farmers Union Co-op, Paynesville, at the first Cenex Harvest States New Leader Institute, held Dec. 28-30 in conjunction with the newly created regional cooperativeís first annual meeting.

The theme of the meeting was ďWe Grow Value.Ē About 120 men and women from 15 states attended the institute. The programís goal is building skills in individuals who show promise as future leaders in their rural communities and cooperatives.

During annual meeting sessions, participants learned about the global issues facing agriculture from economist and CNN commentator Stuart Varney and heard a motivational presentation from Olympic gold medalist swimmer John Nabor.

---