(Editor's Note: The following are some of the top news stories, from the Paynesville Press, for the first six months of 2004 (January-June). Second part of 2004: July to December 2004.)
January
Samuel Gabrielson, the seven-pound, five-ounce son of Timm and Corinne Gabrielson of Irving Township, was the first baby born at the Paynesville Area Hospital in 2004. Samuel was born on Monday, Jan. 5, at 7:01 a.m.
The Paynesville Area School Board lost 30 years of experience as Maurice Dosdall (16-plus years of service) and Pat Flanders (14-plus years of service) relinquished their seats. Neither ran for re-election in November. Former board member Lowell Haagenson and Bonnie Strobbe, a retired school administrator, began four-year terms to replace Dosdall and Flanders. Incumbent Gretchen O'Fallon also started another four-year term.
Adam Ingalsbe became the 31st Eagle Scout from Paynesville, joining his brother (Scott) in earning the highest award in Boy Scouts. For his Eagle Scout project, Ingalsbe had coordinated improvements at the Tri-County Rangers' shooting range north of Paynesville.
Phillip Jones surprised his mother, Barb, by coming home on leave from Iraq for a late Christmas in Roseville Township. Jones, a 2000 PAHS graduate, went to Iraq as a carpenter with the Army Reserve's 244th Engineering Batallion in May 2003 but had spent most his time on guard duty as his unit built roads in northern Iraq.
Don Frank, Mark Leverington, and Gayla Orbeck won awards at the annual banquet for the Paynesville Area Chamber of Commerce. Frank, who owns Bork Lumber, was named Boss of the Year, Leverington was given the Community Service Award, and Orbeck, who has worked for the city of Paynesville since February 1976, was honored as the Employee of the Year.
The annual audit for the Paynes-ville Area Hospital District revealed that the health care system had run a deficit for the second straight year. During the 2003 fiscal year -╩which ran from October 2002 to September 2003 - the Paynesville Area Health Care System (PAHCS), as the hospital district is known commercially, ran in the red by $446,200 in 2003. The audit also confirmed PAHCS's highly-leveraged position ($12.71 million in debt) with a small margin in cash flow.
Karen Koshiol Breuer, a 1973 PHS graduate, shared more insights from her family's life in the Middle East in a series of question-and-answer articles in the Press. Breuer lived with her husband and son in Saudi Arabia from August 2000 to February 2003, when Karen and her son left shortly before the start of the War in Iraq. In August 2003, they moved to Dubai in the United Arab Emirates, with her husband continuing to work in Saudi Arabia. (Koshiol's description of "Living in the Middle East" can be read at www.paynesvillearea.com.)
Seniors Bob O'Fallon and Jessie Virant were named the nominees for Paynesville Area High School for the Arts, Academics, and Athletics Award. The award, sponsored by the Minnesota State High School League, recognizes well-rounded students who excel in all three areas.
Sen. Dean Johnson (DFL-Willmar) was elected the Senate Majority Leader in the Minnesota Senate. He represents Senate District 13 (Kandiyohi County, Pope County, and western Stearns County), including Irving, Lake Henry, Roseville, and Spring Hill townships in the Paynesville area. He has served in the Minnesota Senate since 1982, belonging to the Republican Party until 2000, when he switched to the DFL.
February
A long-awaited expansion project at Nordland Lutheran Church began when the rural congregation purchased the fellowship hall from Our Lady of the Lakes Catholic Church and moved it 17 miles from Spicer to Irving Township.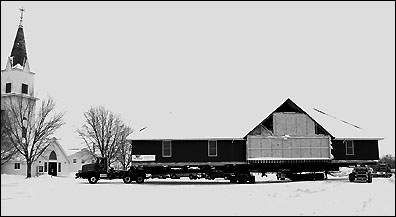 Nordland Lutheran Church in Irving Township purchased this fellowship hall in February 2004 and used it to complete a remodeling project to the rural church, nearly doubling its usable space, in 2004. Paynesville lost long-time businessmen Don Sonstegard and Don Revier. Sonstegard, 85, grew up by Georgeville, moved back to Paynes-ville in 1946 to work for the North American Creamery, and became involved in a number of agri-business ventures. Revier, 96, owned and operated Ben Franklin in Paynesville for 16 years.
PAHS hosted the sectional one-act play competition in the school auditorium, with Paynesville tying for fourth place out of eight teams.
Voters in the city of Paynesville rejected allowing on-sale liquor sales on Sundays at another special referendum by a vote of 181-160. The measure would have permitted the sale of liquor to be consumed onsite on Sundays within the city limits. The measure had been rejected by city voters twice before: 534-508 at the general election in November 2000 and 262-184 at a special election in July 2001.
The Paynesville City Council and the Paynesville Township Board of Supervisors approved holding a special referendum for city and township voters to consider building an aquatic park in April 2004. The joint proposal was to build a $1.25-million outdoor aquatic park, to be located on the grounds of Paynesville Area High School.
Federal funds became likely for the Lake Koronis Recreational Trail when it was recommended for a T-21 federal grant by a technical advisory board. The grant would provide for 80 percent of the costs to build a trail from the city to the city beach, or $261,189, with 20 percent, or $65,297, being the local match.
Seniors Bridgette Johnson and Bobby O'Fallon were crowned the Sweetfest royalty at PAHS.
Todd Johnson, a staff sergeant with the Army Reserve's 353rd Transportation Company in Buffalo, reflected on his ten month's of driving a fuel truck in Iraq and Kuwait.
MnDOT announced that the draft Environmental Impact Statement (EIS) for Highway 23 in Paynesville would be delayed again. The draft EIS was originally scheduled for completion in the fall of 2002.
March
Don Pederson, 76, who was a teacher and administrator for the Paynesville Area School District and who owned and operated Pederson's Unlimited, which made the hockey jerseys for the 1984 U.S. Olympic team, died.
St. Martin, led by mayor James Rothstein, held meetings about establishing a public library in the small town (population 278) located ten miles north of Paynesville.
The local Highway 23 Task Force recommended to MnDOT that the best future route for Highway 23 in Paynesville was the west bypass. The west bypass, which would run a couple hundred yards west of the present road on the west end of town before bypassing the rest of the town to the north, was not unanimous but was generally considered either the best route or the second-best route.
Don Pietsch won re-election to the board of supervisors in Paynesville Township, defeating challenger David Kidd 331-132 for a third three-year term as supervisor. Paynesville Township voters also rejected a ballot measure that would have expanded their board of supervisors to five voting members by a vote of 269-194. In the only other contested township race, incumbent Robert Groshens defeated challenger Donald Kelm 62-12 in Union Grove Township.
Former POW Hubert Schwandt, 83, died. Schwandt, a 1939 PHS grad, spent 29 months and 27 days as a prisoner of war in World War II after being captured by the Germans in North Africa. After returning to Paynesville after the war, he worked for 25 years as a postal carrier and owned Schwandt Sanitation for 15 years.
Chuck Koshiol and friends held their 20th annual "Jump in the Lake." For 20 years, on the Sunday closest to St. Patrick's Day, Koshiol and friends have cut a hole in the ice on Lake Koronis and jumped in. Koshiol called the "Jump in the Lake," a symbolic celebration of life.
The Paynesville Area School Board approved nearly $200,000 in budget adjustments for the 2004-05 school year, including the elimination of one principal position, one teacher position at the elementary school, and one teacher position at the middle/high school.
Congressman Mark Kennedy (R-Sixth District) announced that he would include $3 million in federal funds for the Highway 23 project in Paynesville in a pending six-year federal transportation bill.
April
Soybean prices topped $10 per bushel, believed to be a record high. Soybean prices had stayed below $6.50 per bushel for three years before topping $10. The price was a combination of sparse crops, both domestically and internationally, combined with increased demand.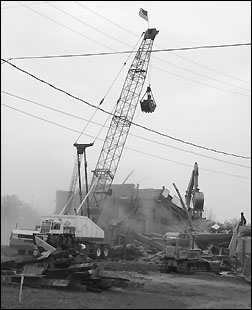 Three PAHS students - senior Melissa Andrie, senior Callie Frieler, and sophomore Caitlin Lien - qualified for the state speech meet.
A detour of Highway 23 through Cold Spring began so MnDOT could build a new four-lane bridge over the Sauk River. This was the fourth, and final, year of work to widen Highway 23 to four lanes from I-94 to Richmond.
Two agricultural landmarks were demolished in the winter of 2004: the Paynesville Creamery Co-Op, founded in 1888, and Paynesville Grain and Feed (shown here), originally built by Cargill around 1900.
Twenty-two members of the PAHS band traveled to New Orleans, the birthplace of jazz, for a three-day band trip.
Congressman Collin Peterson (DFL-Seventh District) announced that he would include $2 million in federal funds for the Highway 23 project in Paynesville in a pending six-year federal transportation bill. Combined with the $3 million in funding from the Sixth District, this prompted MnDOT to speculate that the Highway 23 project in Paynesville could start construction in 2007-08. Without the federal funding, MnDOT had not planned the Paynesville project until 2017.
The PAHS Band, the PAHS Mixed Choir, and the PAHS Treble Choir all earned the highest rating at the large group music competition.
Paynesville students tested above the state average in the tenth grade writing test and the eighth grade math and reading tests. Nearly 98 percent of tenth graders at PAHS passed the writing test, a record for PAHS. At PAMS, 85 percent of eighth graders passed the reading test and 76 percent passed the math test.
One hundred and fifty students attended prom at PAHS, "Take Me To Paradise," and also attended the after-prom party at PAHS.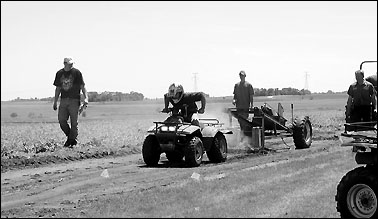 Juniors Lisa Lenzmeier and Matt Mehr were chosen as the Girl and Boy Staters at PAHS. Juniors Ashley Spanier and Michael Mueller were chosen as the alternates.
Lake Henry held its ninth annual Hay Raze in 2004.
"Let's Go Fishing" - a group dedicated to providing fishing and boating excursions for seniors - started a chapter in Paynesville.
Two agricultural landmarks in Paynesville were demolished to make room for a stormwater retention pond as part of the city's street project. Paynesville Grain and Feed was built in the first decade of the 1900s by Cargill but was run as a private enterprise for nearly 100 years. Paynesville Creamery Co-Op, taken down earlier in the spring, was formed in 1888. It was the first creamery in Paynesville, the first in Stearns County, and the second in Minnesota.
The National Honor Society - which recognizes character, leadership, scholarship, and service - inducted 20 new members at PAHS: seniors Cahlean Klenke, Brian Korman, Robert O'Fallon, Eric Roos, and Chad Stang; and juniors Amber Chevalier, Kimberly Hess, Kendra Johnson, Lisa Lenzmeier, Brittany Lieser, Erin Loesch, Stephanie Louis, Kayla Mackedanz, Michelle Monson, Jack Mueller, Michael Mueller, Katie Nelson, Sarah Schmidt, Ashley Spanier, and Kristi Utsch.
Myrtle Hagen, who was born, raised, and lived most of her life in Irving Township, celebrated her 100th birthday.
Father Leo Leisen, who serves the parishes in Lake Henry, Roscoe, and Spring Hill, celebrated the 50th anniversary of his ordination.
May
Ken Olson (Class of 1963), Ron Olsen (Class of 1966), and Bruce Stang (Class of 1977) were chosen as the inaugural class of Distinguished Alumni from Paynesville High School by the "Keep the Quality" Education Foundation. Olson sacrificed his life to save another soldier in Vietnam in May 1968 and was posthumously awarded the Congressional Medal of Honor. Olsen has spent 35 years as a television journalist, including two decades in Los Angeles, where he and four colleagues won a Peabody Award, the broadcast equivalent of a Pulitzer Prize, for their breaking coverage of the Rodney King incident in 1991. Stang built his business, Stang Precision, in the Industrial Park, into the manufacturer of more than 200 plastics products by creating his own robotics system in the 1980s.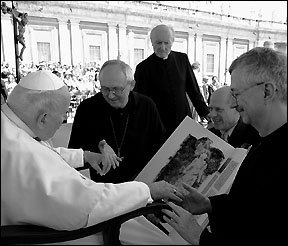 Conservation officer Chuck Nelson retired from the DNR after 23 years of service, including two decades in the Paynesville area.
A replica page of the St. John's Bible - digitally created by ColorMax in Paynesville - was presented to Pope John Paul II in May 2004.
Doug Stang (R-Cold Spring) announced his retirement from the Minnesota Legislature after four terms representing District 14B.
MnDOT released updated cost estimates for the proposed Highway 23 project in Paynesville: no build ($1.3 million); improve thru town ($17.6 million); east bypass ($35.6 million); far west bypass ($29.9 million); and west bypass ($31.6 million).
Four soldiers from Paynesville deployed to Afghanistan with the 367th Engineering Battalion, a reserve unit based in St. Cloud. Jeremy Fuchs, Leon Fuchs, Jon Kulzer, and Crystal Ring were sent to the Bagram Air Base.
The St. Martin National Bank was robbed by a lone white male on a Friday afternoon.
Irving Township farmer Alf Everson celebrated his 100th birthday.
A replica page of the St. John's Bible - digitally reproduced in Paynesville by ColorMax - was presented to Pope John Paul II in Rome. ColorMax is digitally photographing, archiving, and printing replica versions of the first commissioned, handwritten Bible in 500 years. Paynesville residents Frank and Kathy Ziegler, and their son Frank Jr., attended this papal presentation.
June
Ninety-nine seniors graduated from Paynesville Area High School.
Bertha Zniewski, retiring after serving as curator of the Paynes-ville Area Historical Museum for 35 years, was honored at a banquet by the Paynesville Area Historical Society, which runs the local museum. She was given the first Heritage Award from the Paynesville Area Chamber of Commerce for her dedication in preserving and showcasing the community's history.
Superintendent Howard Caldwell retired after serving as the top school official in Paynesville for 15 years. Overall, Caldwell had worked as a teacher and school administrator for 35 years, including serving as superintendent in Paynesville since 1989. Also retiring from the faculty in 2004 were middle school teacher Bob Bowden (31 years) and school nurse Beth Realdsen (27 years). Lake Henry celebrated its ninth annual Hay Raze.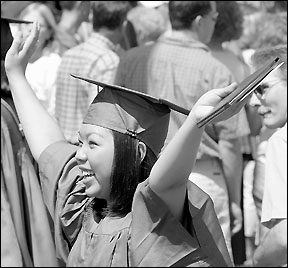 Life-saving defibrillators were added to the Paynesville Police Department squad car and at the Paynesville Area Public Schools, thanks to the effort of a local group of concerned residents.
Tram Ahn Tran, an exchange student from Vietnam, was on of 99 seniors to graduate from PAHS in June. 2004.
The Koronis Lake Association unveiled its owner's manual, a guidebook to educate lakeshore owners in environmentally-friendly practices, at its annual meeting.
Katie Nelson was crowned Miss Paynesville at the 55th annual Town and Country Days celebration. Kendra Johnson was named First Princess, and Brittany Lieser was named Second Princess. Bert and Judy Stanley, owners of Paynesville Corner Drug since 1975, were named the parade grand marshals.
A Relay for Life in Paynesville raised $47,000 for the American Cancer Society, exceeding its goal by four times. Seventeen teams gathered at the PAHS track for the event, which was held in Paynesville for the first time since 1995.
Brad Skoglund, a teacher and coach at Paynesville Area High School, was given the Ruth Aulick Award, recognizing a community member for outstanding volunteer work and service to the community, by the Paynesville Human Rights Commission.
---
Contact the author at editor@paynesvillepress.com • Return to News Menu
Home | Marketplace | Community
---