When Matthew Winters returned home from serving in Iraq in July 2003, he didn't think he would be going back less than two years later.

Winters, a 2000 graduate of Paynesville Area High School, spent five months in Iraq in 2003, returning 18 months ago. He is now preparing to return to Iraq to serve for a longer period of time.

In 1999, Winters joined the National Guards and in January 2003, he chose to be put on active duty. Since the terrorist attacks of September 11, 2001, Winters said he felt the need to help his country in some way. He originally served in Iraq from March 2003 to July 2003.

"It's a whole different world over there," he said. "You're not used to carrying a loaded gun with you everywhere."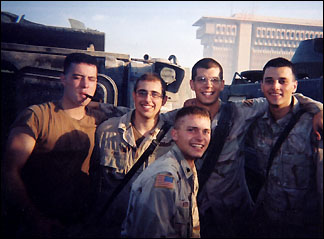 During his time in Iraq, he and his squad spent most of their time searching and removing explosives from houses in and around Baghdad. "I drove a small armored personal carrier full of explosives most of the time," he said. He never reported the amount of danger he was in to his mother until after he returned home.
Matthew Winters (front center), a 2000 PAHS grad, spent five months in Iraq in 2003. He is preparing to make a return tour starting in 2005.
"I saw more action than I wanted to see," said Winters, the son of Karen Hillier of Paynesville. While he was in Iraq for five months, he only spoke to his family three or four times. Winters said he received many care packages and letters from his family, which meant a lot to him.
One time, he recalled, when he received a care package, he felt bad for the people who never got anything in the mail, so he and a few of his friends took things out of their own packages and put them in boxes to give to the people who didn't get one. "We even put their address on them so they didn't know it was from us," he added.
Getting mail over there, Winters said, "is the biggest morale booster." "If you know that your family and friends back home support you," he said, "the days are much easier and the time goes by much faster."
"There is a website, www.adoptasoldier.com," Winters said, "where people here in the states can go to find addresses and e-mail addresses of troops in Iraq that don't get mail or e-mail." Winters stressed how important it is for the troops to know that people back home support them and care about them.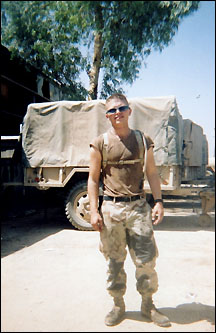 Though he is not sure of the exact date that he will depart, Winters said that he will leave for Iraq sometime between now and April. When he goes back, Winters suspects he will be doing the same kind of work that he did last year.
Matthew Winters stands by an Army truck in Baghdad during a five-month tour to Iraq in 2003. He is preparing to make a second tour to Iraq.
"I'm not as nervous this time around," he said, "because I've already been there and I know what to expect." However, it will be harder to leave, he added. Since he returned from Iraq, he got married. Winters expects to be in Iraq for a year to a year and a half.
Winters is now stationed at Fort Stewart in Hinesville, Ga., going through training before he returns to Iraq. On the base, he said, they have model cities where they train to learn better strategies for fighting in cities.
It will be a change, he said, because while he is in Georgia, he talks to his mother everyday on the phone, but he won't be able to do that while he is in Iraq. He hopes though, that he gets to call more often this time in Iraq, because they are better equipped than the last time he was there. "Now they have all the Internet and phone systems better set up," he said.
Over the holidays, Winters and his wife were fortunate enough to get a 10-day leave from Georgia to come to Minnesota to be with his family for Christmas. "It really meant a lot to my family and I that I got to be home for Christmas," he said.
It will most likely be the last time he and his family will see each other before he departs for Iraq again.
---
Contact the author at editor@paynesvillepress.com • Return to News Menu
Home | Marketplace | Community
---