January
Madalyn Rose Notch was the first baby of the year, born Thursday, Jan. 6, at 4:35 a.m., to Michael and Kristen Notch of Paynesville. Madalyn, a seven-pound, seven-ounce infant who was 21 inches long, was the couple's first child.

Two Minnesota State Troopers, Jerome Feigum of Paynesville and Dean Afinson of Spicer, received lifesaving awards for their success in ending a suicide attempt. Recognition was given to both officers by the Minnesota State Highway Patrol as well as by North Memorial Hospital, where they trained.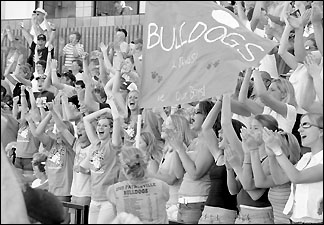 Paynesville residents expressed support for a MnDOT plan to add a center turn lane to Highway 23 in Paynesville while doing a scheduled resurfacing and restriping of the highway. Concerns about the turn lane, added from Stearns Avenue to Highway 55, included parking, especially in the winter when snow accumulation could interfere with the narrower shoulders for parking.
Paynesville fans cheered as the Bulldogs baseball team won the Class AA state title with an 8-3 victory over Pipestone in June 2005 at Dick Putz Field in St. Cloud. The Bulldogs (21-6) earned the school's sixth state title by winning the first in baseball.
Paynesville Area Health Care System welcomed Char Granite and Jackie Osterhaus to its medical staff as a physician assistants both specializing in family medicine. Granite's new position in Richmond fulfilled her wish of working in a rural area, and Osterhaus also expressed her pleasure at working in a rural area as she began providing care in Belgrade.
An annual audit of the Paynesville Area Health Care System confirmed that it made a profit of $1.43 million in its 2004 fiscal year after two years of deficit. The increased revenue that led to the profit was mainly due to a change in the hospital district's designation, as it is now considered a critical-access hospital and gets reimbursement for Medicare patients based on actual costs.
Awards were given to Joe Spaulding, Sandy Wall, Jay Thompson, and Bobby O'Fallon at the Paynesville Area Chamber of Commerce's annual banquet. Spaulding, chief executive officer and executive vice president of Farmers and Merchants State Bank, was Boss of the Year; Wall, who works at Louis Industries, was honored as Employee of the Year; Thompson received the Community Service Award; and O'Fallon was recognized as the Outstanding Young Person.
John Bolstad Jr., one of Paynesville's businessmen for six decades, passed away at the age of 86. In addition to selling dry goods, groceries, airplanes, cars, stocks, bonds, and real estate in Paynesville, Bolstad was an original member of both the hospital board, which he chaired for 28 years, and the Paynesville Development Corporation, which formed the Industrial Park.
Rev. Allan Lindh, the longest-serving pastor that Calvary Baptist Church in Paynesville ever had, died in Cambridge. He had retired there after being at Calvary Baptist Church from 1971 to 1999.
February
Meeker County proposed a smoking ban, for "public places" and "places of work" for the first time, prompted by a campaign by the Citizens for a Smoke-Free Meeker County, and supported by Meeker County Public Health. Concerns were heard from citizens and business owners, and before a public hearing was held, the board announced its plan to wait and see if the Minnesota Legislature passed a statewide smoking ban, which was in consideration. The hearing attracted over 300 citizens.
World-class Irish musician Paddy Kennan starred in a concert at the high school auditorium for a 300-member audience. Kennan played flutes and the Irish Uilleann pipes along with a guitarist, and performances were also given by the dozen-member Irish dancing troupe Scoil na d'Tri and a five-piece Irish band called Barra. Paul Garding, a 1971 PAHS graduate, played guitar with Barra.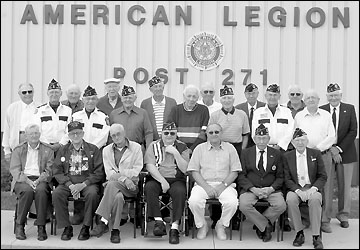 Neil Symanietz, who graduated from PAHS in 2004, received his Eagle Scout award. Symanietz coordinated the building of 20 bluebird houses for county parks, and planned to stay involved in scouting as the sailing director at a scout camp over the summer and by eventually becoming an adult leader.
Sixty years ago, World War II ended with the surrender of Nazi Germany in May 1945 and of Japan in August 1945. For Memorial Day 2005, surviving World War II veterans gathered for a group picture outside the Paynesville American Legion (shown) and the Lake Henry American Legion.
A Rube Goldberg competition to create a machine that frosted a cake held at Minnesota State University-Mankato was won by a team of four PAHS students. Juniors Ross Barten and Justin Bork and seniors Josh Binsfeld and Jeremiah Gleitz masterminded "The Junkyard," which used a dozen steps in its three-by-four-foot area, each triggering the next. Parts used in the machine included three mousetraps, an arrow, a remote-controlled car, and two golf balls, and the contraption, which also played music, was chosen as "the most entertaining, innovative, and complex" of the competition's 35 machines. Another Paynesville team, with seniors Justin Butkofski, Casey Kussatz, Mike Mueller, and foreign exchange student Atanas Pastarmadzhiev, took third place. Rube Goldberg machines perform simple activities in an overly complex way.
A machine to dispense medicines - including prescription drugs needing refrigeration - as well as other medical supplies, was put in place at the Paynesville Area Health Care System. It kept a record of inventories on all these supplies as well information on who gave out how much of each medicine at what time. When it went live, the system was already dispensing 80 percent of the hospital's medications.
Todd Thielen and Sam Moser were crowned Sweetfest king and queen.
Four dozen girls attended the second annual Princess Ball, where they were pampered, walked through a grand march, ate dinner, danced, and played games. The event, organized through Crystal Hills Assembly Church, is meant to remind the attendees of how beautiful and how special they are to God.
Sen. Michelle Fischbach (R-Paynesville) and Rep. Larry Hosch (DFL-St. Joseph) met with the school board about educational issues, including funding, levy authority, special education, all-day, everyday kindergarten, and performance pay for teachers. Hosch also discussed municipal issues, like funding cuts to local government aid and bonding bill funding for local trails, with the city council.
"The Music Man Jr." was performed by the Paynesville Area Middle School's seventh and eighth grade choir, giving three performances of the musical to a total audience of 750 to 900 people.
March
An economic forecast by the state's Department of Finance reduced the projected state budget deficit by a third, from $700 million to $466 million.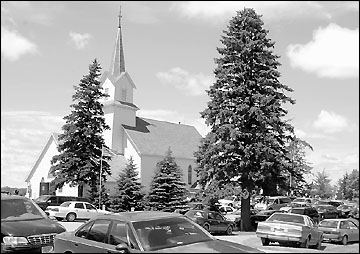 Two PAHS juniors, Katie Schlick and Ashley Frank, placed in the top ten at the Minnesota Brain Bee, with Schlick finishing sixth and Frank tying for seventh. Both girls are considering careers in nursing and were competing in the event - which tests knowledge of brain anatomy, neurodegenerative diseases, and brain function - for the first time.
Zion-Irving Lutheran Church celebrated its centennial in June 2005.
Local township elections changed only one position, with Gerard Gertken defeating Denis Hemmesch in the Munson Township election after former supervisor Tom Gertken did not refile. Incumbents won the other local votes, including Pat Meagher, who defeated write-in candidate David Kidd for the supervisor position in Paynesville Township. Winners of contested races were Celestine Fischbach and Gary Olmscheid, for Lake Henry Township supervisor and treasurer, respectively, and Mike Flanders, for Roseville Township supervisor.
A choral solo/ensemble competition was held in Paynesville, and over half of the high school's entries received one of the top two ratings. Three Paynesville entries - junior Lindsey Pelton and senior Ashley Spanier, both of whom sung Italian pieces, along with the Treble Pops choir - earned "Best of Site" honors. The Treble Pops Choir is made of seniors Val Callenius, Stephanie Louis, and Katie Nelson and juniors Courtney Colbert, Amanda Halvorson, Shonda Martinson, Kayla Nelson, Pelton, Lauren Vaske, and Lindsey Wyffels, and they sang a contemporary song based on a Ralph Waldo Emerson poem.
In their own solo/ensemble contest, members of the PAHS band had nearly half of their entries receive one of the top two rankings. Senior Val Callenius earned a perfect score and "Best of Site" honors with her euphonium solo, her second year in a row with a perfect score.
Almost 30 elementary and middle school students put on a performance of "Fairy Tale Bits and Bytes" - in which a computer virus mixed up familiar fairy tales - to an audience of nearly 300 for their two shows.
In order to encourage younger people to join, free first-year memberships to the Paynesville American Legion Post #271 were offered to anyone serving in the armed forces or who joined the military in the past two years. The post was formed in the first year of the national organization's existence, 1919.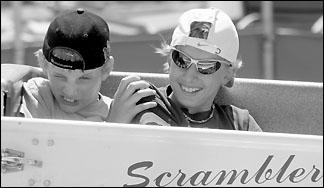 A decline in the number of swimmers at the city beach caused the city to decide not to hire lifeguards for the city beach in 2005. As a result, it was planned for the diving raft to not be available and swimming to be done at each swimmer's risk through the summer, and the city did not receive $4,000 from the Paynesville Township for the park's operation.
Matt Currens and Cody Lieser enjoyed a ride on the Scrambler during Town and Country Days in June 2005.
"We Haz Jazz!" was performed by the sixth grade choir instead of a March concert. The musical told the story of a lover of jazz music trying to convince his friends of its merits, along with the help of jazz greats.
Paynesville native Heidi Henderson had her artwork on display at St. John's University. The PHS and College of St. Benedict graduate uses vivid colors and paints mostly on old doors and other pieces of wood.
For 11 days, 42 PAHS students experienced the German language and cultural in a bi-annual trip that included a five-day homestay with families in Ulm, Germany.
The local chapter of the National Honor Society welcomed 25 new members, recognized for their scholarship, service, leadership, and character: seniors Matthew Fuchs, Katie Holtzclaw, Amanda Kern, Michelle Magedanz, Matthew Mehr, and Rachael Wendlandt; and juniors Mark Andrie, Shawn Buermann, Ashley Frank, Kelly Herzberg, Sheena Hoekstra, Allyson Klenke, Breana Kochamnn, Jessica Lahr, Stephen Lenzmeier, Lynn Lieser, Mitchell Mueller, Kayla Nelson, James Paul, Lindsey Pelton, Megan Reeck, Katie Schlick, Stacy Thomsen, Laura Weidner, and Tanya Whitcomb.
April
A $944 million bonding bill - a priority because a bonding bill should have been passed in the 2004 session but was not - was passed by the Minnesota Legislature. The bill included $365,000 for a connection of the Lake Koronis Recreational Trail to the Glacial Lakes State Trail as well as $500,000 for improvements of the New London to Richmond segment of the Glacial Lakes State Trail.
Stearns County celebrated its 150 year history with historical exhibits, living history performers, and horse-drawn wagon rides.
The high school speech team placed second in subsection competition a second year for what is believed to be the first time, with 11 members advancing to section competition. Junior Caitlin Lien went on to the state meet, where she tied for 17th of 24 competitors in her second straight trip to state, and senior Amanda Kern and junior Emily Mehr were state alternates.
Distinguished Alumni Awards were given to Gladys Deadrick (Class of 1925), Joe Pung (Class of 1961), and Dr. Jim Hess (Class of 1971) by the "Keep the Quality" Education Foundation in Paynesville. Deadrick, a Paynesville native given the award posthumously, was the first female on the village council for Paynesville, owned and operated a steakhouse in Paynesville, operated a resort on Rice Lake, and advocated with and for seniors. One of her biggest projects was establishing the "Meals on Wheels" program - the only one in the state paid for by community donations - to deliver meals to shut-ins around Paynesville. Pung played football on a scholarship at the University of Minnesota, becoming a team captain and MVP his final season there, taught business classes at the U of M after graduation, and taught in the Osseo School District for 32 years while spending summers as a water patrol deputy. Hess started an optometry pratice in Chaska 25 years ago and had made, at the time, 35 foreign mission trips with the Volunteer Optometric Service to Humanity (VOSH) program, serving as a leader on most of those trips.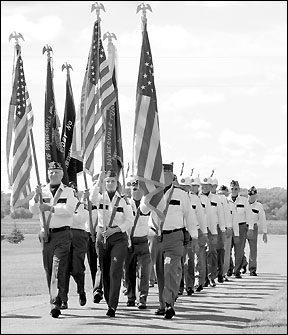 The high school band and both high school choirs received the top ranking when they hosted the large-group contest, with the band receiving the highest score of all participating bands and the mixed choir earning the second-highest score among the choirs.
With military members serving abroad in Afghanistan and Iraq in 2005 and with 2005 marking the 60-year anniversary of the end of World War II, patriotic celebrations at Memorial Day and Veteran's Day had special meaning in 2005.
Results from the Basic Skills Tests placed Paynesville above the state average in tenth graders passing the writing test and eighth graders passing the reading the math tests. The percentage of eighth graders passing the reading test was over 90 percent for the first time, at 91 percent, nearly 97 percent of tenth graders passed the writing test, and 74 percent of eighth graders passed the math exam, showing a slight decline from the two previous years.
Juniors Stephen Lenzmeier and Katie Schlick were selected as the Boy and Girl Staters for Paynesville, with juniors Shawn Buermann and Breana Kochmann as their alternates. Ashley Lieser was chosen as Girl Stater for Lake Henry, with Lindsey Pelton as her alternate.
Fifteen local middle schoolers presented three one-act plays, all of which were spoofs of mystery novels. Rep. Larry Hosch (DFL-St. Joseph) held a town meeting in Paynesville at which education and health care funding, gay marriage, and state-run casino gambling were some of the topics discussed.
A mock accident held at the high school was a chance for emergency responders to train as well as a reminder to students of the dangers of drinking and driving. The crash was staged by student actors and sponsored by the groups Students Against Destructive Decisions and Students Against Violence Everywhere, both of which are active at the high school.
Budget cuts approved by the school board included not replacing three and a half teaching positions along with one secretary position. Total adjustments meant a budget reduction of $190,900 for 2005-06.
May
An agreement was reached to make Lakedale Communications the second cable television service provider in Paynesville, in addition to Mediacom. The agreement was made after Lakedale, which offers cable to the telephone service area with the 243 prefix, agreed to make a $15,000 contribution to the city over its 15-year contract for the local government access channel, as Mediacom is required to pay.
Lorie Floura was hired as the secondary school principal after John Janotta, who was a principal in the district for 25 years, announced his retirement. Ninety-four applications were considered, which were first narrowed to a field of seven and then to the final four applicants. Floura moved here with her family, including two sons, from the Truman school district, where she had been principal for three years to replace John Janotta, who retired after 25 years in the Paynesville school district.
More than 160 students participated in the grand march for the PAHS prom, "Hollywood," as well as the dinner, dance, and after-prom party.
Parental access to attendance records and grades, including the breakdown of tests, quizzes, homework, and extra credit scores, finished its first school year of availability.
In the middle of May, most area corn had not yet emerged, even though some of it had been in the ground for over three weeks. Throughout Minnesota, only 10 percent had emerged, compared to a 35 percent average for the five years before that, because of April's freezing temperatures and five days of snow after a warm start and a cold beginning to May.
Sixty years after Nazi Germany surrendered, Paynesville remembered the sacrifices made by its servicemen during World War II, including Lake Henry native Othmar Braun, who was killed in action when his destroyer was sunk by a kamikaze. Seven World War II veterans from the American Legion post in Lake Henry, which is named after Braun, as well as 22 veterans from the Paynesville American Legion gathered to remember their service and share their stories on Memorial Day.
Ninety-six seniors graduated from Paynesville Area High School. After 36 years as an educator - including 28 years as a principal, 25 of which were spent in Paynesville - John Janotta retired. Area teachers who retired included Ann Lundgren (35 years); Murry Rafferty (35); Randy Ziemer (34); Wayne Hanson (34); and Nancy Alstead (34); Carol Lura (22); and Margaret McLaughlin (19).
The city of Paynesville was found to be in good financial condition by its annual audit, with over $17 million in total assets, with $6 million of that in cash and investments.
Four recent Paynesville graduate serving in the army - Jon Kulzer, Leon Fuchs, and Jeremy Fuchs, all 2002 graduates, and Crystal Ring, a 2003 graduate - returned with their unit. They had spent a year in Afghanistan with the 367th Engineering Battalion out of St. Cloud.
June
The draft Environmental Impact Statement (EIS), which studies five options for a future Highway 23 route, was published after four years of study. About 115 local residents attended a public hearing on the options, and comments were being taken on the possible routes - no build, improving the thru-town route, east bypass, far west bypass, and west bypass - during a 45-day comment period on the 100-page document.
A $1.5 million resurfacing and improvement project on Highway 23 from Paynesville to Richmond began which included seven bypass lanes and two turn lanes between the cities and the addition of a center turn lane through the entire city of Paynesville.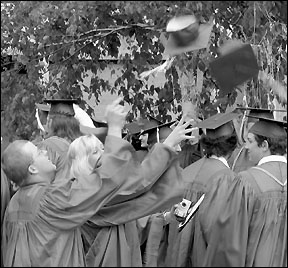 The Bulldogs baseball team won the Class AA state title, beating Albany 12-6, Hermantown 10-1, and Pipestone 8-3 at state in St. Cloud. The Dogs finished 21-6 and won the sixth state team title in school history, joining cross country (2000) and wrestling (1987, 1990, 1991, and 2000).
Siblings Mitch and Val Callenius threw their caps in the air after graduating with 96 seniors in June 2005.
Lake Henry held its tenth annual Hay Raze summer celebration.
Zion-Irving Lutheran Church celebrated its centennial with a songfest, luncheon, live music and program. The church was founded in 1905 when a group of Nordland Lutheran Church members decided to leave that church because of Nordland's split from the United Lutheran Church.
Lindsay Pelton was crowned the 2005 Miss Paynesville at the 55th annual Town and Country Days celebration. Kayla Nelson was honored as First Princess and Tanya Whitcomb as Second Princess. Grand marshals of the parade were Jerry and Jane Burr, who owned Jerry's Jack and Jill (now Joel's Family Foods) for 33 years..
Eighth grader Karla Leitzman took second place in the state for her essay about discrimination in a contest sponsored by the League of Minnesota Human Rights Commissions. It was the fifth time in the past six years that a Paynesville student has placed in the statewide contest.
Paynesville's second annual Relay for Life raised more than $64,000, an increase of $17,000 over the year before, with about 300 people participating on 19 teams.
The school board passed a deficit budget for the eighth time in the past nine years, partially because education funding was still being debated at the state capitol when the school board reached its budget deadline.
To find original stories, use the search feature.
---
Contact the author at editor@paynesvillepress.com • Return to News Menu
Home | Marketplace | Community
---