Jessica Andrie's passion for flying might never have gotten off the ground if not for a youth program that has nearly given her wings.

Andrie, a cadet sergeant major, is the cadet commander of the Civil Air Patrol's North Star Squadron, based in St. Cloud, where she has learned how to fly - and much more, she said.

The Civil Air Patrol (CAP) is a program of the United States Air Force Auxiliary. The program's focus is on aerospace education and on developing leadership and life skills in young men and women.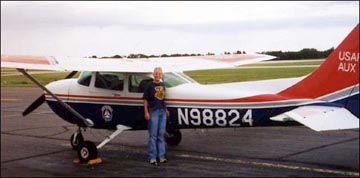 Andrie, the daughter of Jim and DuDonne Andrie of Paynesville, entered the program about two years ago because she wanted to fly. Since then, not only has learned to fly, she has demonstrated her leadership skills by becoming the post commander.
Jessica Andrie became active in the Civil Air Patrol because she wanted to fly. Since joining, she has learned how to fly and has developed leadership skills that should help her in a future military career.
After spending nearly a year in ground training, learning about aircraft and everything that flying involves, Andrie began flying a powered aircraft in December 2001, bu she didn't get really serious about flying until last summer. Her first solo flight was in July. Now she can only fly alone or with an instructor, but she will be able to carry passangers when she gets her pilots license.
To do that, she must spend 30 hours in the cockpit. Then she will also be able to file her own flight plans.
Earning a pilots license for a single engine plane, which she hopes to do by spring, is a starting point for earning a license to fly larger, more sophisticated aircraft. For now, she's happy to fly a single engine plan, and she goes flying every chance she gets in a CAP airplane that she rents for $22 an hour.
Andrie said she never would have learned to fly if it weren't for the CAP. To do so in the private sector would have cost more than she could afford, she said. Flight lessons and plane rental would have cost well over $1,000, but through CAP Andrie only spent about $350 for plane time. She believes the fee covered little more than fuel for the plane, and her instructors are part of the program. Since she was taught by CAP instructors, she was able to form more personal relationships with her teachers which, she said, was important to her.
Andrie's focus has been on flying powered aircraft, but last summer she went to a CAP camp where she learned how to fly a glider. Just a few weeks after her first flight in June, Andrie made her first glider solo, which she really enjoyed. "Flying a glider is very peaceful," she said.
Andrie is also a member of a search and rescue ground crew through CAP and has participated in two missions. Most recently, the unit participated in a mission that involved a plane crash near Glenwood. Unfortunately, there were no survivors; both of the plane's occupants died.
Eventually, Andrie would like to be qualified to perform airborne searches.
"I'll never be able to give back what I've gotten from CAP," she told a group of eighth graders she addressed at PAMS in early December. She told the group that flying was incredible, but other aspects of the program are very rewarding, such as disaster relief work and search and rescue. She added that her unit also has a lot of fun.
In the past, the group has gone on camping trips and has held celebrations for various occasions. In the next few months, the unit will hold a lock in, go bowling, and participate in several outings, but the high point of being part of the CAP for Andrie is the flying.
Andrie, a post-secondary student at St. Cloud State University, hopes to use the skills she's acquired through CAP in the future. Next year, she hopes to attend either the U.S. Naval Academy or the U.S. Air Force Academy and is waiting for appointments to be announced. She hopes to fly in the military. The navy is her first choice.
The North Star Squadron has approximately 31 members. Of that, Andrie said, only four are females, but three of those young women hold positions of leadership in the unit, a point of pride for Andrie.
The squadron meets at 7 p.m each Monday at the St. Cloud Armory. While pilots need to be 16 to fly a powered aircraft and 14 for a glider, new members, ages 12 to 18, are always welcome. New members are only accepted until the age of 18, but can stay active in CAP until age 21. "Members are only limited by their own ambition," said Andrie.
For more information visit the North Star Squadron online at www.mnwg.cap.gov/northstar/.
---
Contact the author at editor@paynesvillepress.com • Return to News Menu
Home | Marketplace | Community
---