Jerome and Lorraine Omscheid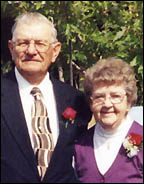 Date of Marriage: Sept. 23, 1947
They celebrated their golden anniversary (50 years) in 1997.
Place of Marriage: St. Margaret's Catholic Church in Lake Henry
How did you meet?
At the Spring Hill Ballroom.
Who proposed and how?
Jerome proposed on the way home from a dance.
How long were you engaged?
Six months.
How large was your wedding?
90 people.
What food was served?
The meal was served on the farm: chicken and ham, dressing, potatoes, peas, and pie.
What was the most memorable moment at your wedding?
The ride from St. Margaret's Church in a Model-T for five miles to the farm. That it was a nice day.
What was your most memorable wedding gift?
Dishes, silverware, blankets, and $50 cash.
What wedding gift do you use the most today?
Dishes and silverware.
Who caught the bouquet?
There was no bouquet in our years of marriage. We are way too old for that.
Whose relatives, or friends, had the most fun at the reception?
Lorraine's sisters-in-law.
Where did you go for a honeymoon?
Madison, Minn.
What do you do to keep romance alive in your marriage?
We have nine lovely children, 27 grandchildren, and nine great-grandchildren. That's what keeps a good marriage together. We enjoy visiting and get togethers and family and friends are always welcome at our house at any time. We sure enjoy that. We also play lots of card games with family and friends and relatives.
If you could travel back in time to your wedding day, what advice for maintaining a happy marriage would you give yourselves?
Just to be honest, work together, and pray together. We did our chores like milking and feeding cattle and pigs and chicken together and field work. That's what you do if you are a farmer. We are now retired, since 1982, and tired! Ha!
Return to Wedding Couples 2005 • Return to Celebrate Weddings 2005
---