Mark and Mary Mackedanz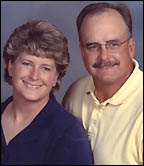 Date of Marriage: Aug. 27, 1983
Place of Marriage: St. Louis Catholic Church in Paynesville
How did you meet?
Just knew each other from high school and living in the same town.
Who proposed and how?
We had looked at rings together already and discussed that we wanted to get married. We had spent the day at the Minnesota State Fair, and when we returned, Mark proposed. The proposal took place at Mary's mom's home while we shared a bottle of champagne.
How long were you engaged?
Almost one year. We were engaged on Sept. 4, 1982.
How large was your wedding?
About 250 people.
What food was served?
A good old-fashioned Stearns County wedding meal - chicken and ham, mashed potatoes, corn, cole slaw, rolls, and wedding cake. We also had M&Ms on the table, too!
What was the most memorable moment at your wedding?
It was HOT! The temperature was 97 degrees. It was extremely hot. The ceiling fans in the church were running the whole time, and we recalled the skinny taped candles, that matched everything so well, were burned down before the ceremony even started.
What was your most memorable wedding gift?
We don't recall a memorable gift; however, if you ask any of our relatives, who were with us the evening we opened our gifts, they'll recall the terrible storm we had. We opened gifts at Mary's mom's home, and a storm moved into the area. Some of our relatives were peeking out the windows, but most of the guests were all crowded down in the basement waiting for the storm to pass. The storm took down power lines and caused severe damage to many homes and businesses. Power wasn't restored for many days after this storm.
What wedding gift do you use the most today?
Our everyday dishes and our silverware.
Who caught the bouquet and did they have to shove to get it?
We don't recall the bouquet - it was probably so wilted by then - but we do recall Mark's brother Roger starting the auction process for the garter. A dear friend of Mary's family bought the garter, as he had done at her brother's wedding, for about $150 and then returned it after the auction.
Whose relatives, or friends, had the most fun at the reception?
Between the Mackedanz and the O'Fallon families, and our friends, we don't feel there was any lack of fun. You put together two fun-loving families, and fun will just happen.
Where did you go for a honeymoon?
We didn't have any big honeymoon plans, which perhaps we regret now, but we had very little money and our honeymoon was paid for from the money we got from the garter and the dollar dance from the reception.
However, we stayed in a hotel in the cities on our wedding night and then returned to the Minnesota State Fair on Sunday. We stayed in a different hotel on Sunday and just enjoyed each other's company after all the craziness of the wedding.
We returned to Paynesville on Monday, opened gifts that night, and went back to work on Tuesday.
What do you do to keep romance alive in your marriage?
We try to laugh a lot. We have similar goals and interest that we share together, but we also have our own interests and goals. With this said, we have to keep our lines of communication open. Also, if you can have humor, respect, and love for each other as part of your relationship, the romance aspect will happen.
If you could travel back in time to your wedding day, what advice for maintaining a happy marriage would you give yourselves?
Do whatever you want and not worry about the cost of things. For example, if a couple wanted to go to a special place for their honeymoon, do it. You may never take that opportunity to do it again. Similar to building a house, put into it what you want from the beginning because you may not do it later.
Return to Wedding Couples 2005 • Return to Celebrate Weddings 2005
---