Ken and Amy Osendorf
Date of Marriage: April 22, 1995

Place of Marriage: St. Margaret's Catholic Church, Lake Henry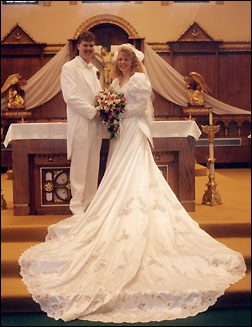 How did you meet?
We first met on Feb. 14, 1992, at the bar in Roscoe. This was the first time Amy had been to a bar dance. For Ken, the bar scene was not new. Amy met lots of guys that night, but Ken was the one that stuck in her mind.
We ran into each other at the bar more times and became good friends. We both dated other people and just were great friends for a year. We were not optimistic about dating because we did not want to ruin a great friendship if a more serious relationship was not in the cards for us.
On New Year's Eve 1993, Ken drove Amy home from a party and gave Amy a new year's kiss. She was so excited but did not tell him that.
But still we did not start dating.
Our friends were sick of seeing us in love and not doing anything about it, so they talked Ken into coming to a school dance on Jan. 15, 1993, with Amy as a friend. At the dance, they played the song, "Everything I Do," and made us dance. By the end of the song, Ken had asked Amy if she would date him. She was so excited and said yes and it all went from there.
Who proposed and how?
We were engaged on April 30, 1994. Ken had planned on proposing this day with a special meal that he would prepare and more.
But Amy - not expecting anything and not knowing he had been looking at rings - had other plans for the day already. Amy called him that morning and told Ken that she had to drive to St. Cloud for a few things and was wondering if he would go with so they could look at some rings so he could have an idea of what Amy wanted when he was ready to propose.
Ken tried very hard to change her mind but she was set on going to St. Cloud with or without him.
So they went to St. Cloud. After looking at a few places at the mall, they went to another jewelry store where the saleslady greeted them with "You're back."
A puzzled Amy said, "We have never been here before," as Ken was waving his arms behind her, trying to let the saleslady know that Amy did not know about the ring, which he had already purchased.
They looked at rings, and Amy thought the saleslady was acting very strangely. She did pick out one ring that was her favorite.
When they left, they headed for Wal-Mart with Amy asking tons of questions about when Ken was thinking about getting engaged and telling him how much she did not like the last jewelry store because the woman acted so strangely.
Ken was running out of white lie answers and when they got to the parking lot at Wal-Mart, he turned to her in his pick-up and asked her: "Would you marry me?"
Amy replied, "Yes, you know I will marry you that is why we are looking at rings."
He said, "You do not understand. I have the ring at home."
Amy said, "Yeah, right," and it took Ken pulling out his checkbook and showing the duplicate check of the payment to convince her.
Amy screamed "Yes! Yes! Yes!" and told Ken she was ready to go home. She shopped quickly.
At home, Ken got the ring, got down on one knee, and proposed again. The ring was almost identical to the one Amy had picked, so he had done a great job shopping by himself!
How long were you engaged?
One year.
How large was your wedding?
Four couples, two ushers, a flower girl, a ring bearer, and 175 guests. The meal was held in the church basement, and the reception at the Sportsman's Den in Lake Henry.
What food was served?
Traditional meal of chicken, dressing, mashed potatoes, corn, bread, coleslaw, etc.
What was the most memorable thing about your wedding?
It was the first warm day of the season. It got in the upper 60s, and the week before it had snowed.
What was your most memorable wedding gift?
There were so many awesome gifts. None pop out as being memorable. They all were very useful.
What wedding gift do you use the most today?
We were starting out with nothing, and we got so many useful gifts so it is hard to pick one.
Who caught the bouquet and did they have to shove to get it?
We cannot remember who got it.
Where did you go for a honeymoon?
We went to Duluth and to Canada for our honeymoon.
If you could travel back in time to your wedding day, what advice for maintaining a happy marriage would you give yourselves?
Do not dwell on the little things. A happy, long marriage is not based on each giving 50/50. A marriage will work best if each gives 100 percent!
Return to Wedding Couples 2004 • Return to Celebrate Weddings 2004
---