Eugene and Kathee Martinson
Date of Marriage: May 13, 1967

Place of Marriage: Methodist Church, Paynesville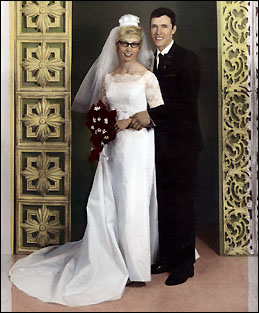 How did you meet?
Our families had always been acquainted, but we really first met in the summer of 1959. It was Eugene's senior summer and my ninth grade summer.
I, of course, thought that he was wonderful - an older guy and from Rochester. He, on the other hand, just thought that I was a cute kid.
We met again through his cousing, Lynette, in 1966 when he was just out of the army. As far as I was concerned, that first goodnight kiss sealed our fate. Eugene was a bit more practical, but soon came to the same conclusion.
Who proposed and how?
Eugene proposed early in 1967... just enough time for us to go together and pick out a ring and for him to deliver it to me on Valentine's Day.
How long were you engaged?
I suppose that you could say that we didn't have a long engagement...first dated in July 1966, proposed February 1967, and married May 1967.
Describe your wedding.
We were married in the same church that our parents - Carmen and Edwin Brown and Mona and Lester Martinson - were married. The Methodist Church eventually became the historical society for many years - now that makes us sound old! And now my country school is part of the historical society, too, but let's not talk about that.
For the wedding, we each had one attendant. My little sister, Jill, was the flower girl, and my brother, Steve, sang. There were about 80 guests (a big wedding for that church).
What food was served?
My mother and the church ladies made all the food, which included a brand new recipe of cold macaroni and chicken salad. I even included a copy of the recipe in some of the thank-you cards, as requested.
What was your most memorable wedding gift?
We had gift openers in those days and the most memorable gifts were the five sets of TV trays. I wish that I had a set or two today.
What wedding gift do you use the most today?
I think that the rolling pin, from Aunty Clarys, is the gift that has survived. You might believe that the sheets and the towels are long gone after three kids, five grandkids, and 37 years.
Where did you go for a honeymoon?
For our honeymoon, we borrowed his brother-in-law's pickup and camped our way through the Bad Lands, the Grand Canyon, Salt Lake City, Las Vegas, and Denver. We did stay in one motel in Las Vegas that actually had air conditioning - it was heavenly!
What do you do to keep romance alive in your marriage?
We suppose that a strong extended family with common backgrounds and values have served us very well these last 37 years. We have exchanged softball, horseshoe, archery, and bowling leagues for our two Gold Wing motorcycles.
Now we camp and travel with our kids and our families. Eugene still trap shoots but now with our son, daughter, and grandson. When your children bloom into productive, interesting people of their own, it is so very easy to spend time with them.
If you could travel back in time to your wedding day, what advice for maintaining a happy marriage would you give yourselves?
If we could travel back in time, we'd tell ourselves to focus on the BIG picture. Daily lives have their ups and downs, but overall a solid commitment will serve us all very well. Really listen to each other with patience and share all of the big and all of the small things. Always be enthusiastic about whatever you do.
Return to Wedding Couples 2004 • Return to Celebrate Weddings 2004
---