By Michael Jacobson
Coming home.

That's what Foster and Karen Hudson have done in building a retirement home on Long Lake. Foster grew up on the north side of the lake, where his grandparents and parents have farmed. Karen, like Foster, is a New London High School grad.

"When I left here, I never dreamt I'd come back," said Foster from his new home on a bluff above Long Lake. "I thought there were all kinds of better places to live."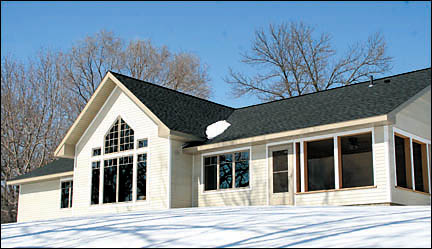 The Hudsons built their retirement home on a bluff overlooking Long Lake.
But after living in many of these places, home compared pretty well. Even spending a month in Hawaii in the winter is enough, said Foster. "I'd rather live here."
From 1972 to 2007, Foster worked for the Minnesota Department of Natural Resources, as a park supervisor in remote corners of the state and then, for the past 19 years, as a regional parks operations supervisor in Bemidji. During his work with the DNR, the Hudsons lived in isolated places, such as Lake Bronson, which is 150 miles north of Bemidji, and Silver Bay, an hour's drive north of Duluth.
Lake Bronson State Park, where the Hudsons lived for eight years, is an eight-hour trip back home or to the Twin Cities. "We were just about as far away as you can get without leaving the state," said Karen. For work, Foster used to fly to meetings in the Twin Cities, else a two-hour meeting would take three days, driving eight hours both ways.
"We want to be out by ourselves," said Foster of retirement, "but we want to be close. We've got New London and Paynesville. Willmar, St. Cloud, and the Twin Cities are not far."
The deciding factor in building a new house back home was family. Karen has three siblings who live close, Foster has his parents next door, and they have their daughter and 16-month-old granddaughter in St. Paul. Both their daughter and son are expecting babies this year, meaning two more grandchildren in the near future.
They are glad to be closer to family. "We were way out of touch in Bemidji," said Foster.
"We've lived in nice places. We liked them, too," he added. "But when you retire, it's all about family."
Actually, their original retirement plan was to be snowbirds, having a condo somewhere down south for the winter and another in Minnesota for the summer. But, despite extensive traveling, they never found a place that they wanted to winter permanently. "All the way from California to Georgia and everywhere in between," said Foster, "we couldn't decide where would be a good place to be for the winter."
"Then, our granddaughter came along, and that plan got abandoned real quick," he continued.
So, upon retiring in 2007, they made plans to build on the family land by Long Lake. Foster's grandfather purchased a 160-acre farm on Long Lake in the 1920s. Over the years, 200 acres was added to the farm, and then 160 acres sold off, leaving about 200 acres still in the family hands, mostly in CRP now.
Foster's dad, also named Foster, milked cows, raised sheep, and farmed grains, as well as driving school bus and operating a cabinet shop. "He pretty much worked around the clock," said Foster of his father. Foster knew he didn't want to farm and, at age 15, took a job off the farm to get out of the chores.
"We had pretty much decided that since we had this farm on the lake it was pretty much the only way we'd have lake access," said Foster.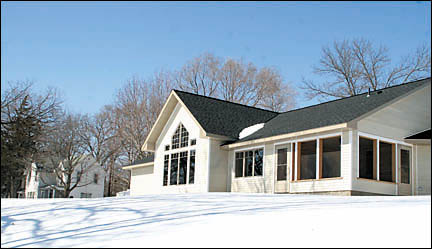 The Hudson family has owned a farm on Long Lake since the 1920s and both Foster and Karen are returning home to retire. At left, Foster's grandparents home is at left of their new house.
Their family has a half mile of lake shore, a quarter mile on both sides of Long Lake. "We walked the whole half mile, twice I think," said Foster. "We looked at ever exposure." On the family's property, they have shoreline that faces south, west, and north, every direction except an east exposure.
They picked a south exposure for their new house. His grandparent's house, built in 1886, still stands next door.
"The view was really the reason for putting the house here," said Foster.
While Karen started planning the house, they stayed in Bemidji until they sold their house. "With the market the way it was," said Foster, "we didn't want to leave until we sold our house." Their house sold in April 2008, and they closed in June 2008.
The site that they chose was the old farm site, so they took down the grainery, machine shed, and walkout chicken coop to build. Demolition began in July 2008, digging in August, and the building in September. They moved into their new house in the second week of January 2009.
Their first plan was walkout, but they had to move the house back due to the bluff.
"I'd venture to say this is one of the best views on any lake in Kandiyohi County because very little development is visible," said Foster. In winter, they can see only three other houses, including his parent's house next door. "There are lots of residences on Long Lake, but only two are visible," said Foster.
When he was born, there were only five houses on the north side of the lake, he recalled, counting three farms, a resort, and a residence. By the time he graduated from high school, there were only six. "At one time, my family owned over half the lake," said Foster.
In the 1990s, development hit, and now there are dozens of houses on the north side of the lake. Houses are two deep in spots.
Karen worked on the house plans for two years. She combined about 150 floor plans into the final design, estimating that she looked at 10,000 floor plans during her research. Ultimately, they built a rambler with unfinished basement.
As retirees, they wanted one-floor living with minimal steps, minimal upkeep, and maximum lake views.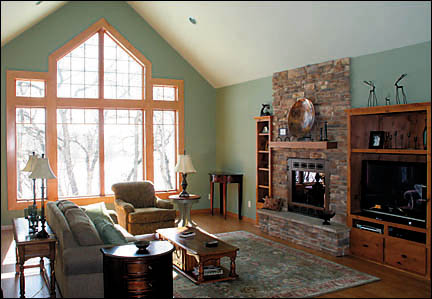 The Hudsons wanted great views of Long Lake in their new home, such as this view from the large windows in the great room. For easy entertaining, the great room adjoins the dining room and kitchen.
"The way it's designed you can see the lake from the master bedroom, great room, dining room, kitchen, laundry room, and porch," said Foster.
"The only two places you can't see the lake are the two back bedrooms."
One-floor design, said Karen, is difficult, trying to get everything to fit. "There are all kinds of little ideas that you can look at," she said.
Some of the things Karen wanted in the house were the master bedroom separated from the other bedrooms but close enough to hear grandchildren, a larger laundry room, and a porch on the lakeside.
The center of the house is the open kitchen, dining room, and great room.
The openness is great for entertaining family. "I think that was the real impetus for the big great room," said Foster. "We had 50 people for Christmas."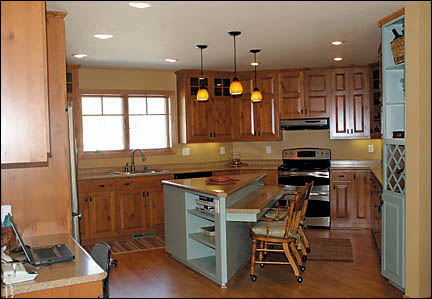 Their kitchen features a triangular island with a drop-down bar for grandchildren, computer nook, stainless steel appliances, a window overlooking the driveway, and a wine rack in the corner.
The only wall between kitchen and the great room is a small section designed specifically as a place for their piano. "I needed one wall for the piano," said Karen.
The laminate flooring in the great room is easy to care for, tough, with the look of wood, reported Karen.
In the kitchen, Karen wanted views of the lake, plus the ability to see the driveway. "Of course, we wanted the main view to be the lake," she said. "But I also wanted to be able to see the driveway from the kitchen."
To have that kitchen view, they turned the garage 45 degrees, which created extra room on that end of the house, including in the kitchen. "It gave us a nice big kitchen," said Karen.
They have a drop-down bar on the triangular kitchen island for grandkids, a computer nook in the kitchen where they can see the whole house and lake, and Foster's grandmother's hutch. "It's been all over the state, and it's come back to rest," said Foster.
Karen wanted painted furniture in the kitchen, as well as the knotty alder cabinets, so the island and the corner wine rack are country blue, matching a color in the countertops.
They chose stainless steel appliances for their classic look, rather than a trendy color that might go out of style.
Next to the kitchen are the dining room, which leads into a four-season porch, and the laundry room, which also acts as a mud room upon entry from the three-stall garage.
Karen wanted a nice laundry room, not just a washer and dryer behind bi-fold doors. "You need space in a laundry room to sort four loads of clothes," she said, wondering if anyone who would design a small laundry room has ever washed clothes for a family.
Her laundry room also needed to be sewing-friendly and includes a higher counter to work while standing, a drop-down table for her sewing machine, and an ironing board that stores in a cabinet drawer.
She sews everything from drapes to clothes. "When you sew drapes, you need a lot of space," said Foster.
A window in the laundry room looks into the porch, through which they can see the lake. It also provides natural light for sewing.
The laundry room also doubles as their mud room. "We love gardening, both of us," explained Karen. So by having the laundry room with a utility sink and half bathroom between the garage and the main house, it serves a double purpose.
Most designs have the laundry room by the master bedroom, but then they would have needed another sink in the mud room, noted Karen. She liked the efficiency of having this larger laundry room as the entry from the garage, though the tradeoff is they have to carry clothes from their bedroom.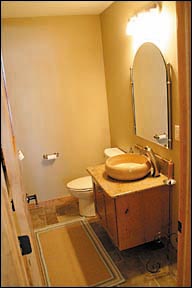 The guest bathroom features a pottery bowl sink and waterfall faucet.
The half bath off the laundry room has a pottery bowl sink and waterfall faucet. Every house needs something funky, said Karen.
Like virtually every room in their new house, Foster and Karen Hudson have a view of Long Lake from their master bedroom.
On the other side of the great room is the master bedroom suite. They wanted their bedroom to have a view of lake and even added a bigger window during construction. "Why not?" said Foster. "You're looking out at the lake."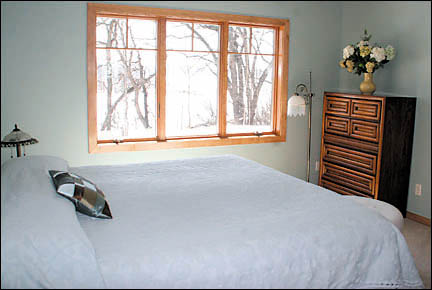 The master bathroom has a sitdown vanity, which Karen foregoing a tub to make space for the vanity. (She can always use the tub in the guest bathroom, she noted.) The master bathroom also has a walk-in closet, a walk-in shower, and a cabinet with space for laundry baskets in the bottom.

The handheld shower is a nod to future needs as they age. They also used three-foot doors in the house for future wheelchair accessibility, if necessary.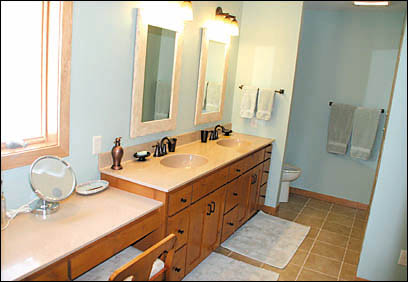 Karen decided against a tub in the master bath so she could have a sitdown vanity.
A short hallway separates the master bedroom from the back bedrooms and the guest bathroom. Karen wanted these slightly apart, yet still near. "I put them as close as possible," she said.
The unfinished basement, in addition to utility room, has future space for extra bedrooms, a bathroom, and a rec room/family room/play room. They also had piping installed for in-floor heat, which could be hooked up to a wood boiler if energy prices rise again, said Foster.
Work to be finished in their new home includes: arranging furniture, decorating, and hanging drapes; the exterior rock work, patio, sidewalks, driveway, and landscaping; cleaning up the yard; and finishing the getaway room for Foster above garage, where he can smoke his pipe.
Return to Home Improvement
---
---
---