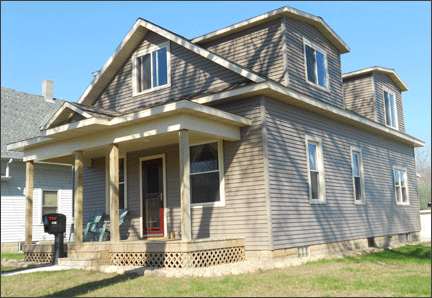 Paynesville native Tyler Wendroth purchased a house in the city of Paynesville in 2008 and has since completed several renovations. The exterior of his home features new siding and doors and a newly-renovated front porch.
By Ellarry Prentice
After putting years of hard work into his Paynesville home, Tyler Wendroth can now relax and enjoy having a cold one on his newly-renovated front porch...at least when he isn't busy starting the next project on his list.
For Wendroth, a Paynesville native and 2006 PAHS graduate, remodeling the house that he purchased in 2008 has been an ongoing process. Like others who have pursued ownership of an older house, his list of projects and "to dos" is never-ending.
"You're never really done," he said with a laugh.
Wendroth purchased his two-story home on the corner of Augusta Avenue and Mill Street - across from the elementary school - in December 2008 and has since completed several renovations, both inside and out.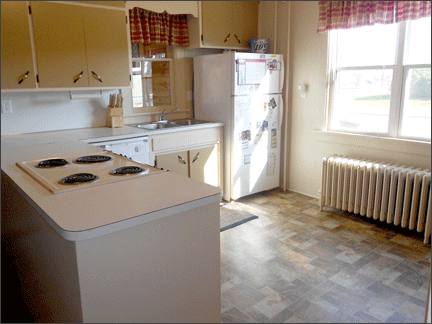 Wendroth installed new linoleum flooring in his kitchen. This room, as well as the rest of the house, has new windows. He plans to add new cabinetry to the kitchen as well.
After graduating from college, Wendroth decided he wanted to avoid long-term renting and purchase his own home. As a single person, he wanted something that was affordable and something that he could fix up, he said. When he toured his three-bedroom, two-bath home in town, he knew it had potential.
Initially, Wendroth, who grew up in rural Paynesville, had some reservations about purchasing a home in town, though he has grown to love the location and its convenience and has even considered building in town someday.
A plumber by day, Wendroth has done many of his home improvements himself, including new plumbing, electrical work, and landscaping. He has also had help from parents, grandparents, and friends. For his hired projects, he used several contractors, since he works with many through his job, he said.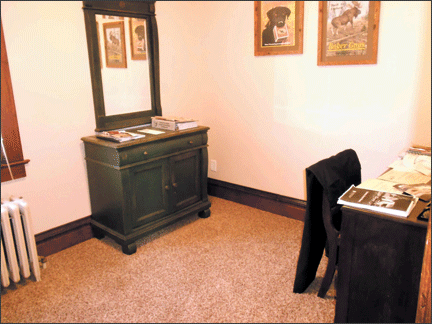 The main floor bedroom is currently being utilized as an office. Wendroth has one friend living in the upstairs bedroom.
"I like making things look nicer," said Wendroth of his improving his home. He especially enjoys doing demolition and construction projects and using his expertise in plumbing to upgrade his systems and make them more efficient. Doing many of the projects himself has been rewarding and has saved money, he added.
Wendroth's house features new exterior siding, new exterior doors, a newly-renovated front porch, and new windows. Inside, the existing original trim was re-finished, and the original interior doors and hardware remain, providing character and a beautiful antique look.
The main floor is home to the kitchen, living room, and dining room; a fully-renovated bathroom; a large back entry featuring new knotty pine; and one bedroom, which is currently set up as an office but has previously been rented.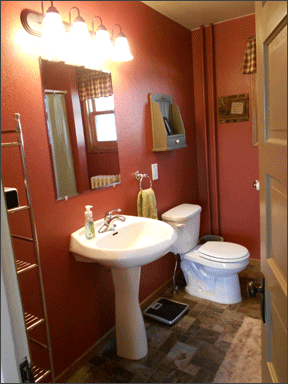 Wendroth, a plumber by day, did a full renovation of the main floor bathroom, including all new sheetrock, new flooring, and a new bathtub/shower, sink, and toilet.
Wendroth and his family refinished the existing interior trim and placed additional trim where needed. The walls in the main floor - which have newer sheetrock - were mudded, textured, and painted. He likes the textured walls and recommends texturing walls in older houses to give them a nice, modern look and cover some of the flaws.
Every room in the house was re-painted, Wendroth said. The house primarily has warm earth tones, while the main floor bath is red and the upstairs master bath is a masculine blue. While he has enjoyed doing many of the remodel projects, painting is a task he's been happy to hand over to others, he explained with a laugh.
Wendroth did a full renovation of his main floor bathroom, which was very outdated, he said. He "gutted everything" and installed new sheetrock, new linoleum flooring, a new tub/shower combination with a rain shower, a new sink, and a new toilet.
Wendroth added knotty pine to the back entry way.
In the kitchen, he also installed linoleum flooring - dark in color, which he prefers - replaced the sheetrock on the ceiling, and added new appliances. He left the existing countertops and painted the cabinetry, which he hopes to replace in the near future. His free-standing water dispenser is "used all the time," he said.
Wendroth enjoys relaxing in his large living room, home to a flat-screen TV and the front entrance and the closest inside access to the front porch. The living room leads to the dining area via an archway. Carpet in both rooms is becoming worn, so its replacement is another prospective project he is considering.
The upstairs level can be accessed from two staircases, an existing arrangement that Wendroth has liked since purchasing the home. Upstairs, just off the landing of one of the staircases, is a den with a TV and lounge area. Here, Wendroth removed a wall to open up the room and added a new banister to the staircase.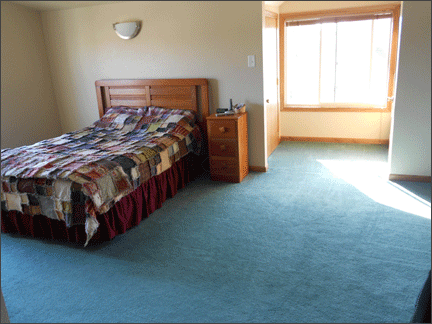 Wendroth has a large master bedroom on the upper level, which is adjoined to his master bathroom. This room had several open spaces, which he has used to create closets and other storage areas.
The upstairs is home to the other two bedrooms: Wendroth's master bedroom and a second bedroom where his friend is staying.
In his large master bedroom, Wendroth built closets using some of the vacant space. From his bedroom, he can access his newly-renovated private master bath, featuring a granite-topped vanity, new flooring, and a walk-in shower with ceramic tile. He just finished renovation, which he started at the end of January.
The master bedroom has older carpeting, though he would eventually like to replace it, as has been done throughout the rest of the upper level. New window treatments and light fixtures compliment Wendroth's house. The new windows greatly help reduce street noise and noise from the nearby elementary school, he said.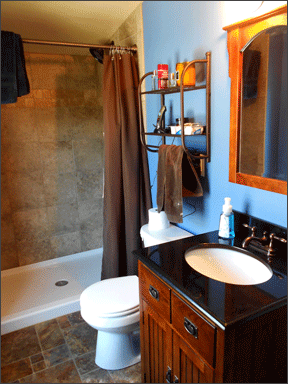 Painted a masculine blue, the master bath features a granite-topped vanity and a walk-in shower with ceramic tile.
The house has a small, cinder-block basement, which houses the utilities and laundry facilities. Wendroth is currently replacing the stairs to the basement. Like the back entry, the stairwell to the basement features knotty pine.
Two years ago, Wendroth had the house re-sided. "I like the color of the siding and the front porch," he said. Formally white, he chose a taupe-colored siding for the house, which is accented by a maroon screen door.
One of his most recent exterior projects was renovating the front porch, which was previously enclosed. Now an open-air porch, it has new beams and decking. "It's a nice place to chill and have a beer," said Wendroth.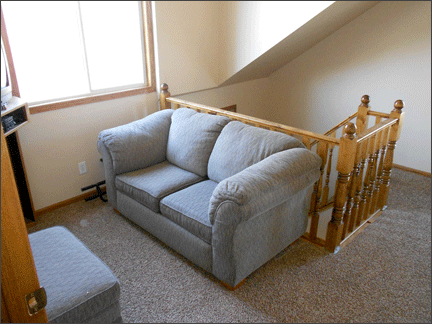 The upstairs level, near the master bedroom, features a den with a TV and lounge area, located near one of two staircases.
Other improvements to the outside included landscaping - re-planting all of the grass - and adding a parking lot near the back alley, comprised of crushed granite and surrounded by large rock.
The property has a one-stall garage. Wendroth would like to build a new two-stall garage facing the back parking lot, another "to do" on his list.
Return to Home Improvement
---
---
---